Disney Parks Cuts 28.000 pracowników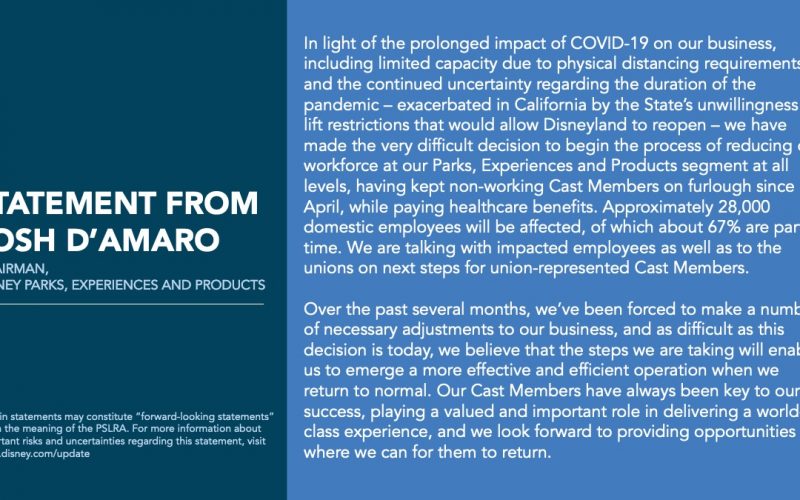 Dzisiaj Josh D'Amaro, prezes Disney Parks, Experiences and Products, ogłosił prawdziwy wpływ wirusa Coronavirus na parki Disneya. Disney zwolni około 28.000 pracowników ze 100.000 po tym, jak 19 kwietnia 2020 roku zwolnił dużą liczbę swoich pracowników, którzy nie byli potrzebni. Parki Disneya wywarły ogromny wpływ na swoje ośrodki w całych Stanach Zjednoczonych, ale również na całym świecie, a ich zyski spadły w pierwszym kwartale 2020 roku o 91%.
Pandemia Coronavirusu wywarła większy i długotrwały wpływ na turystykę na całym świecie, jednak kilka krajów zakazało obywatelom podróżowania po świecie, co spotęgowało jej skutki dla Disney Parks.
Podczas gdy Disney planował ponowne otwarcie swoich dwóch parków w Anaheim w Kalifornii 17 lipca 2020 roku, to Disneyland i California Adventure zostały opóźnione na czas nieokreślony. Walt Disney World Florida rozpoczął stopniowe otwieranie w lipcu, ale rosnąca liczba przypadków Coronavirusa na Florydzie może to jeszcze bardziej opóźnić.
Post Tags: