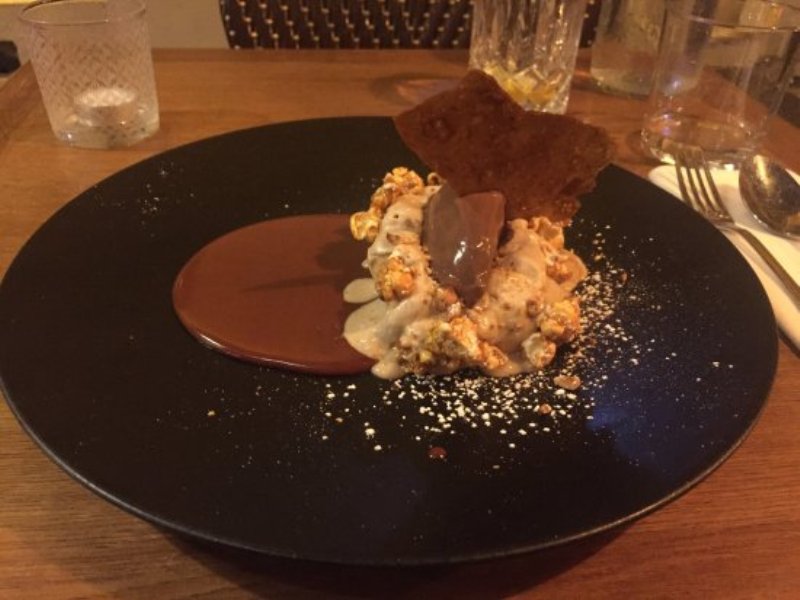 Le Maquis Review
We were lucky enough to get a seat at this place, it was on the outside table so it was dreadfully cold as it was the 4th December 2015 in the middle of winter. We managed to eat the first course outside. It was a wonderful mushroom pasta dish with a parmaham mousse which was just so delicious and delicate, it was something I was unsure of when I ordered it but it was good enough I almost ordered it again.
It was finally time for our main meal but by this time myself and my friend could barely feel our fingers anymore and asked to be moved inside, the staff were ever so helpful and found us a seat almost immediately when saw how cold we looked. We got a lovely little spot that was so warm and comfortable and we were able to finish our main course inside.
I went with the lamb shank with mashed potato as the photos I saw from previous guests showed how amazing it looked. The meat was perfectly cooked and it just peeled away from the bone, the mashed potato was equally well made and the sauce was a perfect compliment to the dish.
I went for the tart for dessert which by this time I could have rolled out the door I was so full, it was probably one of the best meals I've had in a long time. Each one of the meals was perfectly presented and tasted even better than they looked.
Yes as a lot of other people have said the place is somewhat hard to find but it's certainly worth the effort and try and get a reservation if you can apparently up to a week in advanced. It's also a wonderful location if you are looking to celebrate a special occasion while you are staying or just visiting Nice, just make sure you get a table inside if you are visiting in the cooler months.
Address: 7 Rue de l'Abbaye, 06300 Nice, France