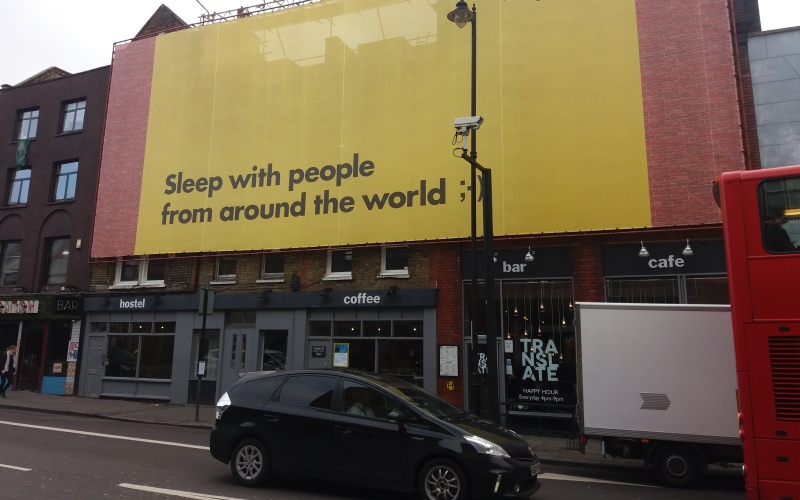 The Dictionary Hostel Review
The hostel is located in Shoreditch an up and coming area of East London where old school mixes with alternative culture and hipster cool.  The hostel is located just a few minutes walk from some of the coolest bars, restaurants, art galleries and heaps of unique independent shops and stores to keep you occupied while you are staying in the area. I stayed here in a 4 bed dorm on the 6th April 2016.
The hostel building is a converted Victorian-era warehouse building that gives it something of a quirky vibe you can't find elsewhere.  The hostel is something of a party hostel with other rooms being much closer to the noise of the bar downstairs, I didn't find this an issue and outside of one guest spending 30 minutes messing around with the luggage cage under his bed, all the other guests in my room were respectful of each other.
The other cool way they could keep track of which guest is sleeping in which bed and which bed was available was the cool little card holder next to each bed, which was green if no card was inserted and red when you claimed your bunk. This leads to many less disagreements on who is sleeping in what bunk which can happen as people usually want the bottom bunk.
The common shower is located in the hallway and is a bit small but it works well enough. I would have to say one of the cool things was the room had a single seat couch was which great as often hostels don't have somewhere you can sit besides your bed, so well done folks!
The room I stayed in had it's own toilet and sink but while clean it's not Wombat hostel standard, which was likely due to the fact the property was in a converted Victorian-era warehouse and not in a purpose built hostel so no such an issue.
Each bunk had their own luggage cages (use your own lock) under the bottom bunk that you could store most things but they were a little small for even two carry-on bags I had but I managed to squeeze them in, while most other guests with larger bags decided to not use them and left their bags in the corner.  There are a handful of power sockets but for the 4 bed dorm it was good enough to get by for 2 nights but not that much longer.
I would congratulate the team for offering one of the best free breakfasts I've had in a hostel in a long while, I enjoyed my Weet-bix breakfast cereal immensely!
I didn't get a chance to check out the roof terrace they mention but it's certainly a key feature of any awesome London hostel to have a roof terrace for guests to hang out on.  The hostel does have a preferred guide for guests to be ages between 18-35 which matches well with the crowd I saw working and staying in the hostel, and be aware they are a hostel for backpackers and tourists not residents of London which I understand as it creates a different atmosphere when locals are staying in a hostel.
They also have a maximum stay of 14 days to ensure their hostel doesn't become a place for long term accommodation as long term residents can create their own unique set of problems.
I would maybe consider staying here again if I wanted to stay near Shoreditch but I've found other hostels that suit my style much more, but if you love something a bit quirky or love East London I would recommend staying here for sure.
Hostel Inclusions
Free WiFi
Free breakfast
24/7 Reception
Linen included
Luggage storage
Self-catering facilities
The Dictionary Hostel Address
10-20 Kingsland Road, London, England
Summary
Reviewer
Review Date
Reviewed Item
Author Rating