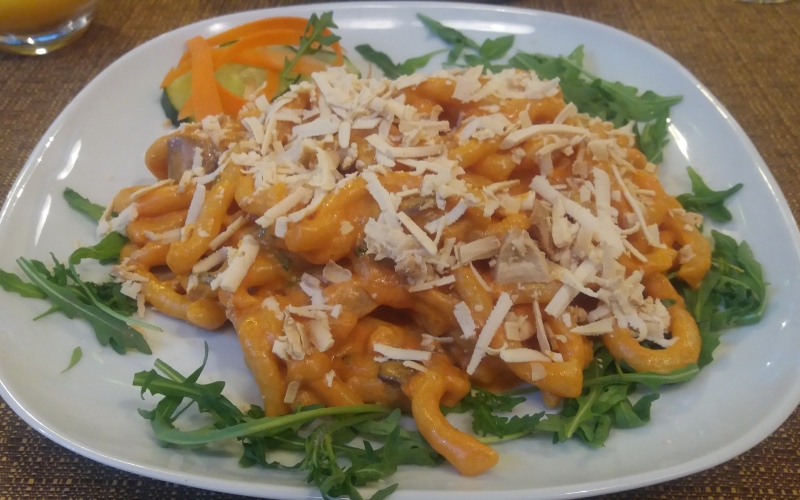 Il Galeone (dinner)
Since it was the last night of my Sicilian holiday and I decided I wanted to pick a wonderful location for a relaxing evening meal. I stumbled upon Il Galeone which was located on the corner of Corso Vittorio Emanuele and Via Amendola, and looked like a lovely spot to have dinner.  I was early of course so I went for a walk for an hour and took some photos around the place before returning around 730pm in time for dinner.
I went with the tried and trusted maccheroni alla norma which was marvellous but maybe a little too much sauce left over at the end or maybe I could have had more pasta… I avoided the green things on my plate I assume it was salad but it looked pretty enough but I wasn't about to be tricked into eating my greens.
The pasta was perfectly cooked and it made for an amazing main course meal, I had picked well and I was happy. I was also impressed as they had amazing bread something similar to damper and was luckily enough they had butter…  I really struggle to enjoy bread without some butter as I found out on this trip in Sicily it was very uncommon for places to have butter "burro".
I ended up ordering dessert which was a lovely chocolate mousse with ice cream centre. I have to say the staff are super friendly and they are very accommodating for their guests and make sure that everything is perfect.
If you are in Lipari I would strongly recommend eating dinner here for sure, don't worry they do have many more options besides maccheroni alla norma. Thanks for an amazing meal and the dessert was epic!
Address: Corso Vittorio Emanuele II 220, 98050 Lipari, Italy
Post Tags: