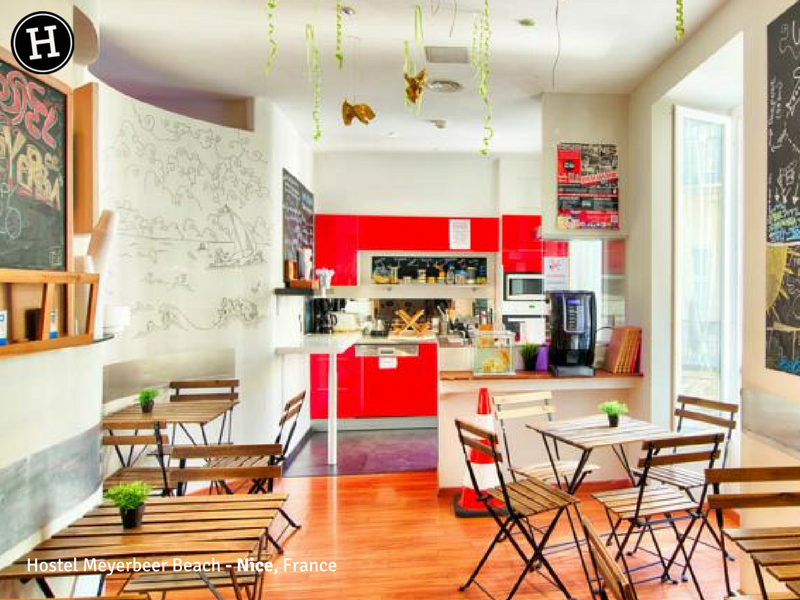 Hostel Meyerbeer Beach Review
The Hostel is located right near the beach, actually the closest Hostel to the beach so is perfect low cost accommodation for your Nice beach holiday! The staff were super friendly and welcoming and they actually remembered the name of my friend who stayed there several months earlier, they do certainly make an effort to engage with guests to make sure they are able to get the most out of their stay in Nice and are comfortable.  But be aware they have a two day cancellation notice if you are unable to make it and have to cancel your booking and if you are arriving late the reception does close at Midnight so make plans to arrive earlier.
The location is great as it's just a few minutes walk from the beach and 12-15 minute walk to Gare de Nice-Ville from the hostel. It's a bit more of a walk to the old town, but you are staying in a beach hostel so you can't always get everything, but don't worry the old town is around 850m away so it's easy walking distance.
The spot is also perfect to take a day trip to Monaco to see the casino made famous by James Bond movies and some of the most impressive Yachts you will probably see in one place.  Depending on the time of year you visit Monaco you will find something to do, in winter you have the Christmas markets and in summer it's when the area really kicks up a gear so expect to see plenty of beautiful people, ultra expensive super cars and maybe lucky enough to attend some of the best parties of the summer. You have a few options to get to Monaco including a bus, hire a car or catch the train, be aware that in summer everyone wants to drive along the picturesque coastline to Monaco so assume there will be a little bit of traffic so I'd suggest catching the train unless your friends really really want to drive….
The rooms are a little small but they have a homely feeling to them which makes it a bit better, the rooms are air-conditioned which trust me you will need if you are travelling to Nice in summer.  If you are staying in one of the larger dorms they also have a common shower you can use if you are in a rush and the shower in your room is already occupied. The rooms don't have a heap of power points so most people charge their items when they are hanging out in the common room, it would be great if the hostel could look at including some more places to charge your devices as most travellers these days rely on their mobile phones.
The lockers in the room aren't anything amazing they are Ikea plastic boxes but good enough for piece of mind, just remind your fellow guests to close the dorm door if you are the super paranoid type, carry your items with you or book a private room.  On the day you check out they have free luggage storage but the only point of note is that the luggage storage area is not huge so if you have a lot of items or a very heavy bag be aware you might have to shift a few bags to make sure everything fits.
The free breakfast provided is a bit light and mostly prepacked items, but folks it's a free breakfast other hostels would charge you several euros for the same thing, so thank you it was very much appreciated! If you are still hungry you can always buy some more food next door at the supermarket which several other guests did and wow their gourmet breakfast looked amazing!
The hostel has a nice common area with English Sky Cable TV, a kitchen area and some lounges to relax and chat with the other travellers.  I did find it was reasonably easy to mix with other travellers so you can be sure to have a fairly social experience if you are travelling on your own and want some folks to hang out with during the day or party with at night.  There is also a supermarket next door if you are travelling on a budget or just need to pick up a few essential items or some cheap beer and wine to share with your new friends.
Hostel Inclusions
Free WiFi
Linen Included
Free Towels
Ensuite Bathroom/Toilets
Security Lockers
Self-Catering Facilities
Luggage Storage
Air-conditioning
Reception open until Midnight
Hostel Meyerbeer Beach Address
15 Rue Meyerbeer, Nice, France
Stayed 4th December 2015
Summary
Reviewer
Review Date
Reviewed Item
Author Rating