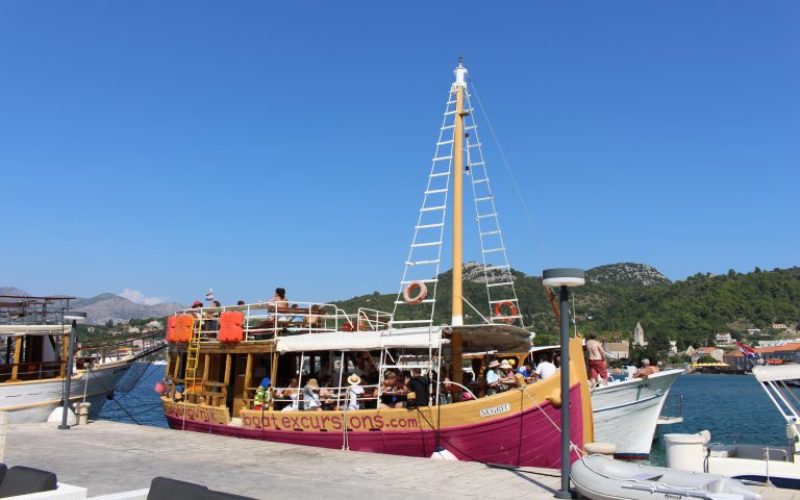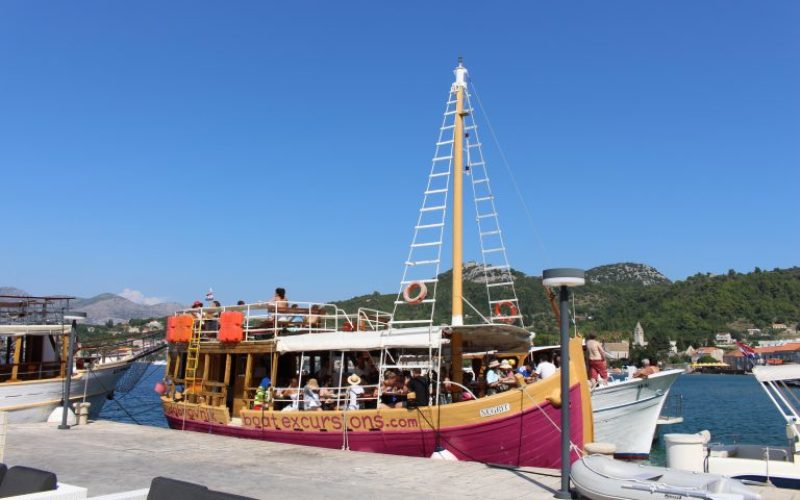 MS Negrit – Elaphite Boat Tour
Let me start by saying this is one of the most beautiful parts of the world and the 3 island cruise of the Elaphite islands on MS Negrit I took in August is probably the worst tour I've ever been on.  I would strongly advise against ever taking this tour, but I'll start with their sales pitch:
Is it a fully guided tour?
Yes but barely as there was some pointing at stuff but hardly what I would call a guided tour, the crew aboard didn't really care or bother to explain much to guests unless they are flirting with them.
Coastal panorama?
Because of the nature of the tour this part is almost impossible to avoid but it did feel we came a bit close to some of the islands at times more of a ship wreck experience than enjoyable. They might as well promise an ocean floor view….
Tour boasts longest stay on Lopud island?
Almost 4 hours well that is if we actually left on time and our boat didn't arrive late
They offer best lunch?
Apparently it's like a restaurant, I must have missed this experience the chicken was barely warm and several pieces were still pink, the salad had been left out in the sun for an hour or two so looked barely edible
Open bar?
Sorry but I wasn't drinking soft drinks or alcohol so can't comment…
Boat offers all guests cushioned seats
This was just bullshit, everyone sat on hard benches with none of the comfortable seats mentioned when booking or shown on the brochure could be found.  There was just hard benches to sit on during the whole days experience.
Jumping from the boat?
yes several times but this is a standard thing and yes once or twice the captain did yell at us for jumping from the wrong spot…. so it's jumping from the boat if you pick the right spot.
Our Boarding Experience?
The general boarding of MS Negrit boat was probably the most disorganised I've encountered even worse than Malta trip (which involved the crew having coffees and cigarettes for 1 hour after scheduled departure) the transfer buses dropped off everyone and left us standing on the road in the sun for close to an hour before we started boarding… the boarding experience was similar to rats boarding a boat and the crew didn't really seem to offer much assistance just stood around and watched the chaos while laughing among themselves.
Bathrooms to be avoided
the bathrooms on MS Negrit were disgusting and the ladies I was hanging out with refused to use them, the mention of faeces on the seat was enough that I was happy to wait until we landed on one of the islands.
Deckhand was still drunk from last night
The deckhand on MS Negrit wouldn't stop begging the ladies for attention in between talking about how hungover he was from last night and how he slept on the boat after his wife threw him out for "banging a girl" who did the tour the day before… he said it was ok as he had only been married a few months so he is still getting used to the marriage idea.
Worst Food Available
The food served was terrible and I've done at least 50+ boat cruises in my life and they had too many people on the boat so they tried to convince guests to eat at different times which was smart only they didn't inform all the guests of this which meant some guests turned up early and were turned away which annoyed and confused other guests who could see other passengers on the same boat eating already. If you have a chance I would eat at the restaurant on Lopud island just near the dock as the food is far better and they have some lovely comfortable cushioned chairs you can relax in.
3 Islands were average
The 3 islands we visited were not really all that special so much so that I didn't really bother to take my camera out of my bag for many photos during the day… if you want beautiful islands I would maybe suggest just doing a trip to see one of the islands for the whole day and not rush about the coast trying to see all 3
Lopud – the first island and the over crowded Sunj beach
Sipan – historical port island
Kolocep – the most relaxing and family friendly island
Boat was dangerously overcrowded
the MS Negrit deckhand was talking about that day we had about 65-70 people on the boat but that's nothing they have had over 120 before… apparently overcrowding a boat is a game, I mean playing with guests safety is fun to them I guess?
Boat felt close to capsizing
The boat struggled to make it out to the first island and most of the time the passengers were worried the engine would stall or the boat would capsize…
the islands we went to was not all that amazing and certainly nothing special…
the only real fun thing on the boat was on the way home sitting on the roof with a whole bunch of passengers taking photos of the sunset and enjoying some snacks….
Back on shore at the end of the tour
Sadly heading home was just as disorganised when we arrived back at the dock we had to wait around 30-45 minutes for our transfer to turn up and basically it was every passenger for themselves with passengers forcing others out of the way to get on the bus first… it was disgusting and drivers doing the transfers didn't really seem to want to get involved.
Tour companies need to stop booking guests on this tour
When I booked this tour with Amico travel they did explain that it was a little more basic, but I was not prepared for the poor quality of this tour based on the 2 other amazing tours I booked through Amico.  Sure this tour was cheap but based on the experience I think I was over charged by 75% for what was delivered.  I spoke with owner of Amico tours who was quite alarmed at the feedback and did offer to try and make it up to me but my only request is that they stopped sending people on that tour.
It's not just Amico guests that were shocked at the MS Negrit experience several other passengers I spoke with requested full refund from their hotel travel desk. So if you visit Dubrovnik do not go on the MS Negrit 3 island tour you will thank me later unless you love gambling with risk of drowning if the boat sinks, food poising from the food or want to bang a deck hand after drinking too much cheap booze.
Summary
Reviewer
Review Date
Reviewed Item
MS Negrit - Elaphite Boat Tour
Author Rating