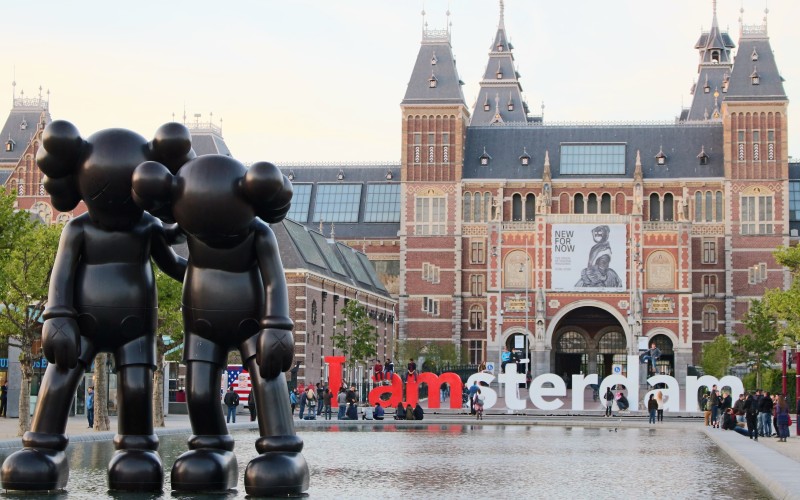 Amsterdam travel guide
Amsterdam is an amazing city and I thought after living hear for over 2 years it would be a good time to share some tips that I've discovered myself or learnt when friends have visited me during this time. The tips are designed to make you feel more comfortable with a holiday in Amsterdam and ensure that you have a great time while here.
Why Walk? Get a bike!
While Amsterdam is not the biggest city in Europe the easiest way to explore the city is on a bicycle, and there are bike lanes everywhere so you can get around safely. Some estimates put the number of bikes to residents around 3:1 and when you look for a spot to park your bike at Centraal station you will soon understand there is some truth in these stats. Amsterdam is made for bikes and you can easily explore it's wonderful parks, canals, tourist attractions easily if you have a bike.
Locals love their bikes
Don't forget to stick to the right side of the bike path, don't ride on the footpath, stay on a consistent path and don't weave left and right as you ride along and always listen out for bells they will often come from the angry locals trying to pass you. Be aware that often Amsterdam cyclists ride too fast and can be overly aggressive at times to anyone that gets in their way. Dutch are brought up on bikes and you can often see couples riding holding hands, texting, playing games on their phone, eating a sandwich and even reading a book. Don't stress too much as the locals are often quite friendly and helpful if you get lost or have some issues with your bike and the city is best seen by bike.
Tips on Rental Bikes & Not Getting Them Stolen
If you rent a bike pay attention when they explain how to correctly lock up your bike as it can be a rather expensive reminder of your trip to Amsterdam should you get your rental bike stolen. The bike has two locks you lock the one at the back wheel and then chain your bike to a stationary object that is fixed to the ground like a bike rack. I know a bit about having a bike stolen as I'm on my 4th bike so please don't leave the key in the bike lock or forget to lock it to a stationary object if you are leaving it overnight.
If you ask for a bike helmet most bike rental stores might look a bit puzzled as the Dutch aren't in favour of wearing them but this is slowly changing so don't be afraid to ask for one if you are really uncomfortable riding a bike without one but not all rental stores may have enough in stock in adult sizes.
Several of the bike companies offer 24 hour rental so confirm when you have to get the bike back and some of the smaller rental locations are often closed Sunday or close early otherwise you might end up paying slightly more than you need to. You will need a photo ID and usually a cash deposit of 50-100 euros to rent a bike but they might also be willing to take a credit card deposit if you are short on funds. You should be able to hire a bike starting from 10 euros a day for a basic bike (fiets) and you can probably get a better deal if you hire for more than one day so have a look online as there are dozens of rental companies around the city.
Pedestrians Please Stay out of the Bike Lanes!
The red painted paths with bike symbols painted on them are probably the worst place to stop and pose for a selfie, so please be considerate and move quickly across bike lanes and don't loiter in the middle of them. You can be sure that most cyclists make all efforts to avoid hitting you and will ring their bell and yell at any pedestrians who decide to stray into their path.
Watch Out for Scooters They are Evil!
This is something for pedestrians, drivers and cyclists to be aware of is the aggressive, chaotic and sometimes suicidal scooter riders that are often using roads, bike lanes and pedestrians paths as their highways. You need to keep your wits about you if you hear a scooter heading your way as they rarely slow down and often weave between people and cyclists like it's an arcade game. Scooters are well known for breaking local road rules that includes speeding, running red lights and driving off if they hit someone so please be careful around the maniacs… I mean scooters.
Watch for Trams & Tram Tracks
Not everyone is used to living in a city with trams, they can move quite fast and often run fairly silently so can surprise you, I've almost been hit by one or two. The other thing to watch is riding into tram tracks it won't end well for you and will likely need both some medical treatment and a new wheel for your bike. So please don't ride too close to the track and if you need to cross them cross almost perpendicular to reduce risk of getting stuck in the tram tracks.
Be Smart and use Public Transport Options
The easiest option to get around the city is walking or cycling but if you have luggage or the weather is not ideal I would suggest catching one of the many GVB trams and buses that criss-cross the city or if you need to travel further into the suburbs the 4 GVB Metro routes are a good option. If you are in town for a short holiday I would suggest looking at buying the Amsterdam City Card which comes in 24, 48 and 72 hour passes and offer unlimited use of GVB public transport during that time and free entry to several great museums and attractions. If you are in town for a longer period of time I would suggest buying an anonymous OV-chipkaart which will save you paying the 1 euro surcharge each time you buy a single use or daily ticket and you can use this card on NS trains if you have over 20 euros credit on your card.
NS Rail is the best option for travelling to and from the Airport, to cities in the Netherlands and to many of the major site-seeing attractions outside of the city but you will need to purchase a rail pass from one of the NS ticket machines at the train stations.
Don't forget to tap on and tap off with your OV-chipkaart if travelling by Metro or Train as they will happily fine you if they catch you. There is a conductor on most trams that ensures you buy a ticket or will ask you to exit the tram so if you want to travel for free you will need to walk.
There are always taxis if you are too lazy/drunk/stoned
You can catch local taxis but I would suggest you download 9292 route planner which is a great free app for helping you navigate the local transport networks which is a cheaper option and available for Android & iOS. If you really need to catch a taxi I strongly suggest you make sure they use their meter and ask if you can pay with cash or card as they will often find a reason they don't want to let you pay by card, they also have an local Taxi app to make booking a taxi easy. Amsterdam also has Uber transport options available if you don't want to catch a local taxi (uberPOP, uberX, UberBlack, UberVAN, UberLUX).
Don't Buy Drugs from Strangers
During your stay you will probably hear this more than once, don't buy drugs from strangers in the street. So don't put your life at risk buying drugs in the street as you will likely be ripped off or sold fake drugs that can ruin your experience of Amsterdam.
Don't Pee in the street or into Canals!
Often drunk tourists or locals end up falling into the canal or being fined by police so please use the public Urinals that are situated near tourist areas or along the canals. Locals will appreciate if you respect their city and use the facilities provided. Free peeing is not appreciated by the locals…
Buy Tickets Online and skip the lines!
If you have some time to plan ahead for you visit a number of attractions such as Anne Frank House & Van Gogh Museum offer online tickets to be purchased ahead of time saving you waiting in line. You can select the date and time that is most suitable for you and skip the pain of waiting in line. In summer the lines can be upto several hours even in winter on the weekend you can expect to wait in the cold for a long time if you aren't organised.
Arrive at museums early if you don't have tickets yet
If you booked a last minute trip or didn't manage to secure an online ticket I advise you need to get to the chosen museum first thing in the morning. It can make the difference between arriving at opening time and waiting 10-20 minutes in line and arriving at 11am and waiting 2-3 hours in line. Make the most use of your time in Amsterdam and plan to see the most popular museums early in the day….
Grocery Shopping in Amsterdam?
Albert Heijn is the main supermarket operator in Amsterdam and most are open 7 days a week and many stores are open from 8am to 10pm, some . You have to remember that you must pay with a Dutch bankcard or cash you cannot use AMEX, Mastercard, Visa or International Debit cards, but the upside is that the stores usually have a ING ATM inside where you can withdraw cash. You have to pay extra for a plastic bag (small/large) so saved some money by bringing your own shopping bag 🙂
AH have three different store types:
Albert Heijn ToGo (7-eleven sized store)
Albert Heijn Supermarkets (standard store)
Albert Heijn XL (hypermarkets located outside city)
Retail Shopping in Amsterdam?
There are several main areas around Amsterdam if you are looking for a retail hit…
The Nine Streets (De Negen Straatjes) for boutiques, vintage stores, galleries and jewelers
P.C Hoofstraat for luxury shopping like DKNY, Mulberry, LV, Chanel, Tommy Hilfiger
Van Baerlestraat for Miss Sixty, Gant and more
Cornelis Schuytstraat for famous dutch designers such as Marlies Dekkers
De Bijenkorf for the best department store in Amsterdam
Kalverstraat for all the international stores like Mexx, Zara & H&M
Leidsestraat for some more exclusive and unique brands like Adidas Originals, Onitsuka Tiger, Lush
The Haarlemmerdijk for independent designers, second-hand stores, interior design and specialty food stores
Where to Stay in Amsterdam?
You need to think what sort of trip you have planned? I've highlighted some travel reasons and suggested what I think a good location you could stay would be:
Are you looking to see a different part of Amsterdam? De Pijp or Sloterdijk is good

Are you looking to see Museums and Galleries? Around Museumplein is good

Are you looking to stay somewhere near cafes and clubs? Leidseplein is good

Are you looking to stay in the busiest areas? Redlight district is good

Are you looking to stay near Heineken Music Hall, Ziggo Dome? Amsterdam ArenA is good

Plenty of accommodation including some great Amsterdam hostels if you are visiting on a budget
Things to eat & drink in Amsterdam?
There are lots of amazing things to eat and drink when you are in town but survival is knowing what they are and how awesome they are!
Vlaamse Frieten (Patat) – These double fried french fries are thicker than McDonald's fries and are amazing!

Poffertjes – These mini pancakes are served with a lump of butter and powered sugar

Bitterballen – These are a perfect compliment to a cold beer and are savory meat based balls that are deep friend awesomeness… don't think about what's in it too much just be aware they are hot inside

Hagelslag – Chocolate sprinkles for your sandwiches… perfect option for breakfast or lunch

Oliebollen – These deep fried balls of dough are treats common around winter and come in natural or raisin versions.

Herring Sandwich (Broodje haring) is a specialty treat with a piece of raw herring with chopped onions

Stamppot – a great winter treat of mashed potato, vegies and a sausage, similar to the British favourite Bangers and Mash.

Stroopwafels – These sweet snacks are a thin waffle cookie with a gorgeous sticky syrup filling in the middle

Drop – Dutch licorice which is typically fairly salty and I think something of an acquired taste

Jenever (Genièvre) is a dutch gin on which English Gin was based

Dutch Mass Produced Beers – Heineken, Grolsch, Brand, Bavaria, Amstel

Dutch Craft Beers – Brouwerij 't IJ, Brouwerij De Prael, Oedipus Brewing, Brouwerij Troost, De Vriendschap, Jopenkerk
Enjoy Amsterdam!
Amsterdam is an amazing city full of history, culture, fun, bikes and warm and welcoming people, you can be certainly you will have a great time no matter what time of the year you visit.
Post Tags: