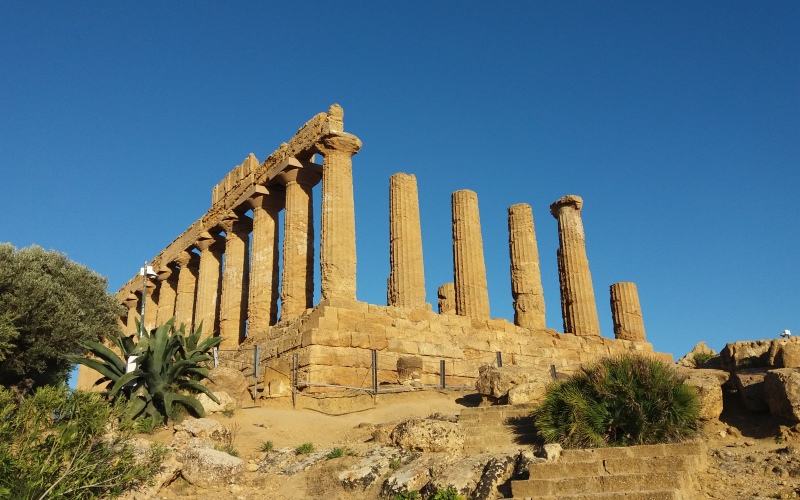 The Valley of the Temples
When in Agrigento one great thing to visit is the temples… you save a heap of money and catch the local bus from the bus station just remember to buy your tickets from the ticket outlet opposite the bus station, I got told catch number 2 but I caught number 1 and it was ok… just be aware the local drivers might be jerks and not stop so keep your eye out about 20 minutes from town when you see the large temple structures hit the stop button and hop-off.
The price to see all the temples is 10 euros and you will have to pass through a security check point which I must say is fairly unique for Europe but I don't really mind as it didn't cause a big delay to my experience, just bag searches but upside I got to leave my shoes on.
I visited towards the end of April so it was warmer and enough light to late so I planned my visit around 5pm and 2 hours was more than enough time most guides say 3-4 hours but if there isn't a lot of people I think that's too much time.
I don't think you would want to spend that much more time here unless you want to stop and read every single plaque, most of them are in Italian anyway.
There was also the famous Kolymbetra Garden which I passed up on seeing as it was almost 6pm by the time I arrived and it was only open from 9:30am-630pm and last tickets were sold at 6pm.  I had more so come to see the sculptures than plants on this particular trip to Agrigento and I could always come back again to see the Gardens which after speaking with other travellers were quite amazing.
The other benefit of going towards the end of the day was that there was less tourists as those on day trips had left and the sun was setting which made for a magical transformation of colours.
There are three temples here and it makes me think of Athens and what might have happened if they didn't have so many things go wrong and the monument is being eaten away by pollution. The Temple of Concordia is probably one of the most amazing structures I've seen, I would almost put it above the Parthenon in Athens because of how impressive it is in it's persevered state.  You can also see in the photos that there are hardly any tourists around which makes the place even more magical as you can appreciate the structures and take some amazing photos without bus loads of tourists getting in the way.
Because of the timing, I arrived as the sun was really starting to set and the colours of the Temple of Juno Lacinia was really starting to change and it was very beautiful.  I had a wonderful few hours exploring The Valley of the Temples, it was certainly worth the trip to Agrigento for sure, it was an amazing experience. It was easy enough getting back to town I just had to wait 20-30 minutes for a bus.
Post Tags: