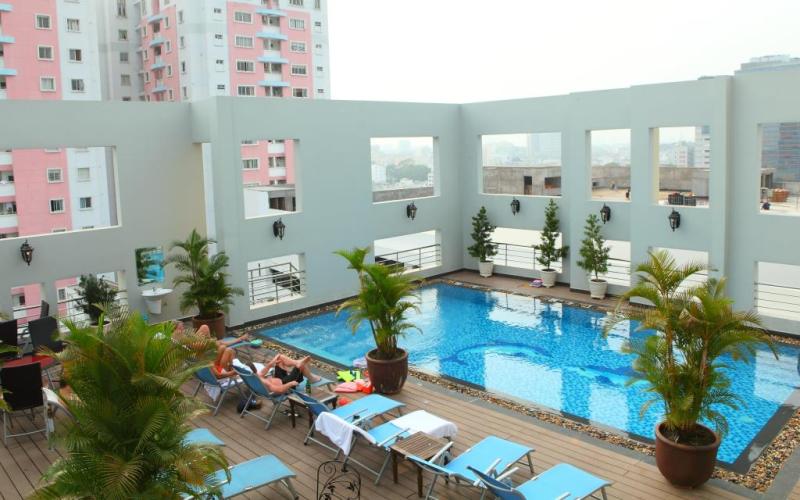 Sunland Saigon Riverside Hotel Review
The freshly cooked omelettes each morning were great and they usually had a decent range of items that were changed each morning.
I ended up booking the Deluxe Double Room with River View as I wanted to spoil myself for the first day of my Vietnam holiday.
The room was quite comfortable but it took a bit to get the air-conditioning to work as expected and I ended up leaving the window slightly open so the air didn't dry out too much.  The downside to the hotel rooms was the glass wasn't so soundproofed and each morning the sound of the neighbours Roosters woke you up.
It wasn't so bad as it was a unique experience just remember to close your curtains as the sun gets up just as early and with the sun streaming in and the roosters corwing it did make it harder to sleep in and shake the jetlag.  The other advantage of being on a higher floor is that you hear less noise from the local neighborhoods below.
Rooftop pool was wonderful
The rooftop pool was also a welcome feature to relax and refresh yourself after breakfast or after a day of playing tourist. The pool area wasn't too busy and there was plenty of sun lounges available, the only downside is that there was usually a handful of guests smoking that wasn't pleasant.  The hotels crowd is a mix of Europeans and Australian's and not too many young families so it was a good place to chat and meet fellow travellers, also the pool area wasn't taken over by kids.
Gym & Sauna is NOT free
The downside to the hotel is they had a fairly decent fitness center and Sauna but that was an additional fee.  The hotel makes it seem that the leisure amenities are complementary but you will find out when you checkin this is not the case…
Staff are good for booking tours
The hotel staff's level of English was very good and they were quite helpful in helping you book tours, but be warned they do sometimes mix up the times so get them to write down the time they booked the tour on the brochure.
Some WiFi issues
There was noticed across the hotel that there was some WiFi issues across the whole of Vietnam but this was still annoying as it was the first day of my holiday and I needed to finalise some travel options.  They did have a few free PCs in the lobby that you could print from that offered slightly faster internet access and helped finalise some travel plans and being able to print was awesome.
Sunland Saigon Riverside Hotel Address:
302-304 Vo Van Kiet St | Co Giang Ward, District 1, Ho Chi Minh City 70000, Vietnam