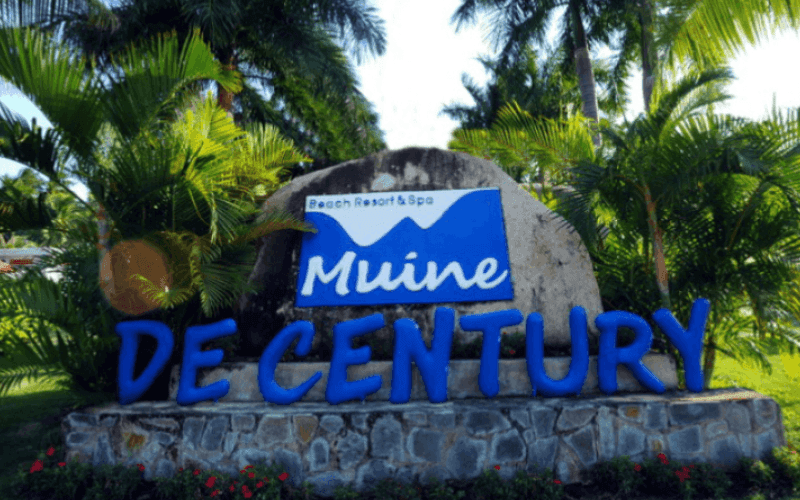 Muine De Century Review
There was sadly more things I disliked about Muine De Century resort and Muine, Vietnam in general than liked…. I want to start with what is good about the resort and I'm not going to focus on the standard too many Russians comments I saw on every review.
Resort offered a Free upgrade on checkin
When I checked in they very kindly upgraded my booking to a private beach front villa. As this was a couples resort they assumed I was travelling with a partner and were rather perplexed when I said nope just one room key and there is no Mrs just me. This is a fairly common thing I noticed in Vietnam that they assumed you were not travelling alone, which wasn't always a bad thing.
Muine De Century Pool area is great for families
My beach front villa was amazing and was a perfect place to relax and escape from the chaos that was Muine. The pool area looked nice but there was always families with kids there so I stuck to the beach. If you are travelling with kids the resort pool area is great and it's in the middle of the resort so you have peace of mind you won't have too many random people passing through. I didn't end up using the pool as I had easy access to the beach but if the surf was a bit rougher it was good to have the pool option.
Breakfast menu could be better suited to guests
The staff in the restaurant for breakfast were super friendly and helpful, but the resort could invest in providing them with some more training as not all of them were good in general restaurant service. The food was good quality but it was a shame to see how much food was likely wasted at the end of the day, it seemed the menu was preset and not following what items guests continued not to eat each day, it would be offered again and left uneaten.
Watching the sunset on the beach is priceless
The advantage of the resort is you have your own semi-private beach so you can either relax and watch the sunset from your private patio if you are staying in a villa, or relax in the many free deck chairs that line the beach. Watching the sunset each day is part of the charm of Muine. It's also a perfect moment for some great photos to remember your time in Vietnam.
What I didn't like about the resort or needs improvement
Overall I didn't like Muine in general, part of it was the locals were quite rude and aggressive compared to other parts of Vietnam. Taxi drivers often kept change and if you have any local services such as massages or spa treatments a lot of places demand that you tip, which I really didn't like. You also have to watch the bars as they often will charge you for a premium spirit but give you a local vodka and again love keeping your change. I didn't find this happened at this resort and the staff here were always very polite and honest, the scams were just something that happened at Muine in general.
Onsite Resort Security guards are useless when you need them
The worst part of my trip was that I got attacked by a taxi driver who tried to charge me 5 times the fare for the return trip from the red dunes back to the resort. The taxi driver tried to drop me off around the corner from the hotel and when I insisted he drive me to the front door he kept driving right past it and started screaming at me that I'm not paying. He ripped my shirt as he threatened to hit me and I jumped out as the taxi was still moving, the onsite security guard that I yelled to for help just stood there and watched. I really wonder what the f*ck is the point of resort security guards if they don't intervene to help guests in trouble. I was quite shaken by the whole incident and the front desk staff helped diffuse some of the situation and eventually with 2/3 of the total fare the driver extorted out of me he left. The reception manager was good and sat with me and talked about what happened and helped me book a "guided trip" and gave me some advice on where to avoid when by myself such as the "red dunes". The main job the guards at the resort entrance seem occupied with doing are chatting, playing on their cellphones, smoking and parking motorbikes…
Ground staff not focused on keeping beach clean but should be
The other complaint was that staff often spent more time picking up leaves and weeding the lawn that cleaning up the large amount of rubbish along the beach in front of the resort. This is a general issue I found in Vietnam in general but if this resort wants to attract more guests they need to pick up their act and take far better care of the beach people come to see. It was a shame to see how much rubbish was floating in the ocean at times and washing up on the beach…
Cleaning staff were rude and did a bad job of cleaning my room
I really hate being negative on staff as I got told how little they make, but I was thoroughly disgusted with the cleaning staff compared. There was 3 occasions were i was disturbed around 8-830am by the cleaners wanting to clean the room, they bashed and yelled on the door until I responded. When I advised I had just woken up or was still getting ready they advise they had to clean the room. When I said I needed more time and could they come back they said no we have to clean the room and sat on the sofa on the balcony and starred at me. The overall cleaning job done each day was marginal at best, often items were missed like my plate of room service (took 2 days to get removed), bins emptied and no bag replaced and overall just not a great room clean. The reason that I focus on these items is that this is an expensive resort and I was staying in one of their most expensive rooms so I expect things are done perfectly as I have found at far far cheaper hotels. This was something that made me feel most uncomfortable and I put this down to poor training of house keeping staff by their manager more so than the cleaning staff having no concept of hospitality.
Location is a little too far away from clubs/bars
The location of the resort is around 4-5 kilometres from the main clubs/bar area so just be aware it's not really a simple walk so you will have to rely on local buses, taxis or hire a motorbike. I did ask at the resort about the options to hire a bicycle but i got a blank look… they are possible to be rented just not an option at this resort which was a real shame.
Resort outdoor dining experience could be better
I did have the BBQ one night and was quite disappointed for the price it was lacking in menu options, most of the items listed such as crocodile were not available, it was a very fish/shellfish menu which was devastating for someone that doesn't like to eat fish/shellfish. If I knew that would be the case I would have skipped it, there was also apparently a complementary glass of wine included but I never was offered it… The biggest shame about the outdoor dining area was they insisted on blasting the music volume at something along the lines of a nightclub which really undersold the unique experience of dining under the stars, I'll maybe skip over the fact that in January they were still playing Christmas songs in the play list…
No location guides for guests
I did visit a few other resorts in my stay to get an idea of the difference and found other resort locations do far more for their guests than just sell 1-2 tours and tickets to their BBQ. Other locations such as Pandanus Resort had a large activity board with free activities for guests, times for shuttles, recommended local activities, things to eat, seasonal events, weather guide etc… this is something that is so easy for this resort to do and would help.
The resort Wifi sux
The disadvantage of the beach front villas is that wifi signals are horrible and you have to stand at random spots in the room to get a decent signal. This could also be easily improved with some signal boosters or a stronger broadcaster as it's also not great across the whole resort and non-existent in the restaurant.
Overall Review of Muine De Century Resort & Spa
The resort is good, the beach front villa is great but there are a lot of problems this place needs to address if they want people to recommend their friends and family visit. There is a lot of beach and this is not the only beach resort people can choose from so I would advise the management invest heavily in decent training for all staff asap! Given the choice between beach resorts I'd suggest Vung Bau Resort on Phu Quoc Island.
Summary
Reviewer
Review Date
Reviewed Item
Author Rating