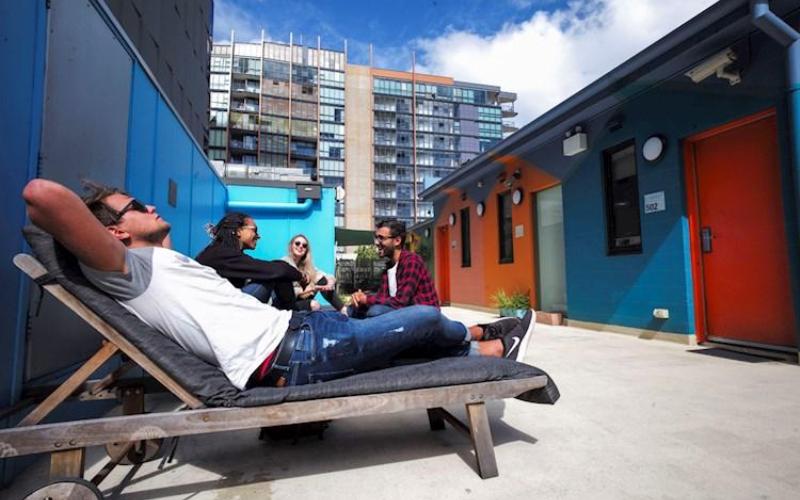 Melbourne Central YHA Review
This hostel is located in an amazing spot but the rooms certainly could do with some renovation, the 1880s called and asked for their room back.  I have to stay in terms of a historical feeling my room is probably in the running for a Unesco listing it was that old and dated. When you enter the hostel you get the feeling the place is hyper modern with NFC cards required to even access the toilets and bathrooms but the actual rooms don't appear to have been touched.
The bonus for this hostel was the location in right near the Yarra river and walking distance to Southern Cross Station (Trains, Buses & Airport SkyBus). The hostel is located in the free tram zone so getting about the city of Melbourne is pretty easy if you are staying here.
It was also pretty cool that the hostel featured a rooftop terrace which is perfect for socialising over drinks or during a summer BBQ. The interesting part is that even with a rooftop terrace this is not a party hostel, but I assume that's more to do with the mix of travellers staying here.
The mixture of the residents is skewed towards older residents and I had to swap bunks as the poor man that was staying in the room with me had a hip issue and couldn't climb the ladder so advised he would sleep in the chair as the staff couldn't find him another room with a bottom bunk available. I was a bit disgraced with the staff that they were unable to resolve the situation as allocating a 70+ year old man on the top bunk is just stupid and cruel.
I probably had one of the worst nights sleep I've had in a long while, as the window was single pane glass which let in all the noise from the laneway before, it was in the middle of summer and the room temperature was well above 30 Degrees Celsius and there was no blind so when the sun rose the room was too bright to sleep. It didn't help that the beds were also squeaky and the mattress was horribly uncomfortable which made getting a decent nights sleep that much harder.
The showers were a decent enough experience with plenty of space and were well lit, with a separate change room section so your clothes didn't get wet which is often the case. Also I didn't have any issues with having to wait which I would have expected based on a Hostel of this size which was a relief after my horrible nights sleep.
Based on the room and sleep experience this is probably one of the second worst YHA hostel experiences I've had, but it wasn't even close to how terrible YHA Oxford was, but I would not consider staying here again based on the quality of sleep that I had.
Hostel Inclusions
Linen
24/7 Reception
Lift access to all florrs
Self-catering facilities
Paid WiFi only
Melbourne Central YHA Address
562 Flinders Street, Melbourne, Australia
Stayed 12th Feb 2016
Accommodation: 3 bed dorm
Summary
Reviewer
Review Date
Reviewed Item
Author Rating