Hotel Villa Royale Review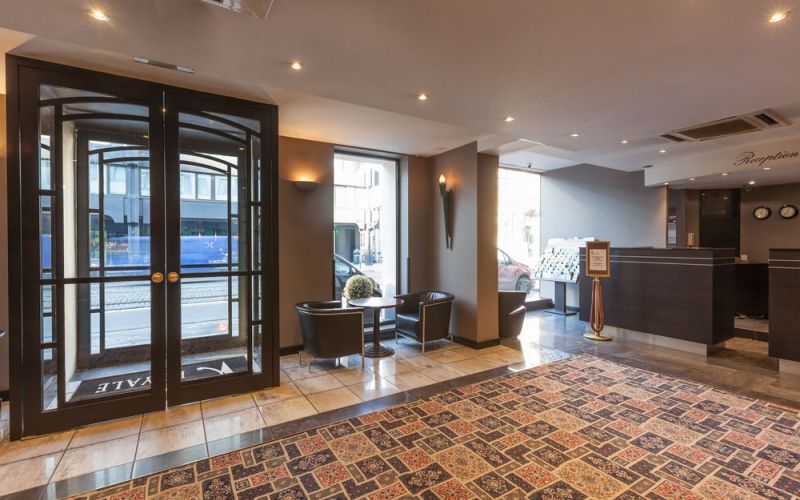 I want to start this review off with the statement that this place is around 50 euros a night and that's super cheap for Brussels.  The place across the road Hotel Bloom is charging anything from 100-200 euros a night so put that into perspective when staying here. If you are spending a long time in Brussels this place might not be ideal but if you just need a place to crash this place is perfect for the price!
As several other reviews confirmed the staff do remind you of faulty towers… with strange policies of not allowing a single carry on bag to accompany you when having breakfast, and insist on you storing it in the luggage room which actually means putting it just next to the reception counter.
Very strange to enforce such rules when you are the only person in the breakfast area… also I was advise by other guests don't take any breakfast items with you if your friends didn't pay the 10 euros for breakfast as the staff will advise you are not welcomed back for anymore breakfast items.
Downsides to Hotel Villa Royale:
The 10 euros breakfast was disappointing for price
The heaters in the room are set on hellfire mode so expect to wake up sweating
The elevators are tiny and only hold 4 people and no luggage
The toilet seat did not fit the size of the toilet bowl
The toilet roll holder was broken
There was no hook for the shower head so you had to hold it
The towels in the bathroom were a little small
There was no free toiletries (but they have soap/gel dispensers instead) which is better for the environment as less waste and you already have enough hotel soap at home you never use anyway…
Upsides to Hotel Villa Royale:
The place is cheap
The rooms were clean
The bathroom is quite big and reasonably renovated
The room furniture was renovated and quite nice
There is soap and bath gel dispensers in the bathroom that are hypoallergenic
The shower pressure was insanely good, firehose level if you open the taps on full
I had a decent new Samsung LCD tv in my room
My bed was reasonably comfy
Breakfast is served until 10am so you can sleep in if you had a late night
Hotel Villa Royale Address:
195 King Street, 1210 Sint-Joost-ten-Node, Belgium
Perfect if you just need a place to sleep
Location -

80

Accommodation -

60

Price -

100

Staff -

60

Food & Drink -

40

WiFi -

30
Summary
Higher floors have nicer rooms with spa baths, I couldn't get wifi working and their central heating was set to hellfire.
Summary
Reviewer
Review Date
Reviewed Item
Author Rating