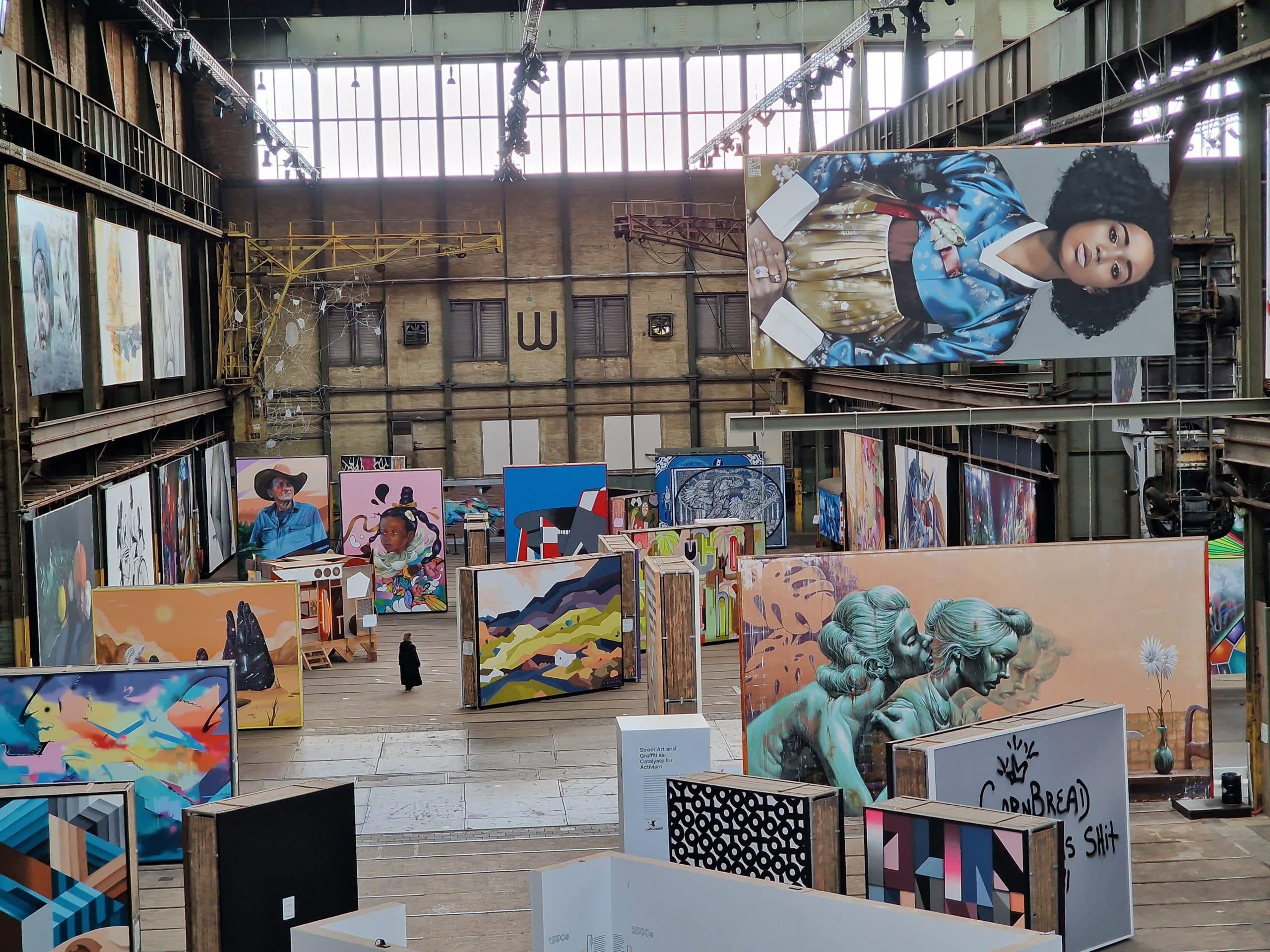 STRAAT Museum for Street Art
The 8000m2 former warehouse located at NDSM wharf houses STRAAT a world class museum for street art & graffiti with over 180 art works on display from atleast 170 artists from around the world. The surrounding area of NDSM features NDSM walls which is a legal area for street artists from around the world to create 24/7. STRAAT is curated by a world class team of street art enthusiasts and recently hosted an amazing exhibition from Shepard Fairey (OBEY) and regularly hosts international artists in their dedicated exhibition space next to their main exhibition.
Visiting STRAAT is one of the must things to do when you visit Amsterdam and exploring around the museum you will likely see local and international street artists creating new pieces on NDSM walls.
There are two options for planning your visit you can do a self-guided tour which can happen at any time during opening hours or you can book a slot with a guided tour to get the most out of your visit. If you are visiting in a group you might want to organize a private guided tour.
Opening Hours of STRAAT
Open every day 10am-5pm (only Monday is 12pm-5pm)
Location of STRAAT Musuem
NDSM-Plein 1, 1033 WC, Amsterdam
How to get to STRAAT Musuem?
The easiest option is to catch the FREE ferry from Centraal Station to NDSM which runs every 15 minutes or the ferry from Pontsteiger to NDSM. You can also catch the 391/394 Bus but the ferry offers the best views of Amsterdam. The M52 is an option but also requires catching Bus 35 from Noorderpark station. Look for the amazing giant Anne Frank Portrait "Let me be myself" by Eduardo Kobra on the front of the musuem.
Food & Drink Options?
STRAAT has its own cafe with an amazing view of the artworks but IJver Amsterdam offers an amazing industrial style restaurant with outdoor terraces on a sunny day. You will also pass an Albert Heijn supermarket on the path from the ferry to the museum.
Post Tags: