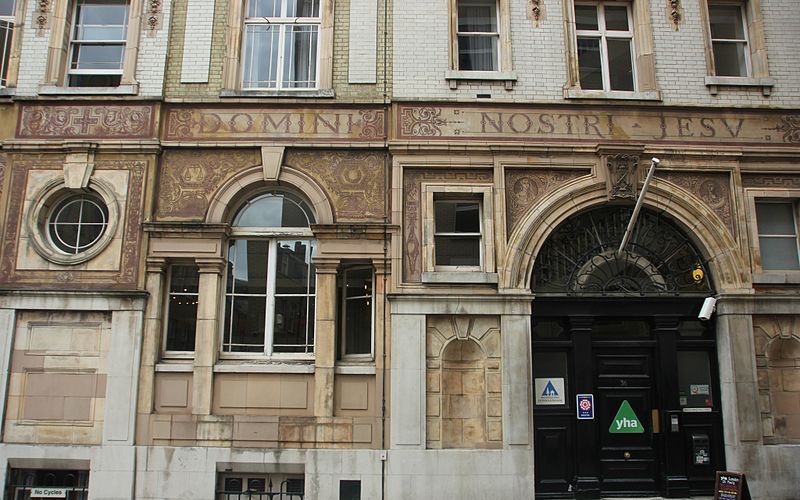 YHA London St Paul's Review
The location is probably one of the best spots you can stay in London, also there are very few hotels in this area so certainly a great spot to stay.  Apparently there are two parts to the hostel, the old wing and the new refurbished part of the hostel, I'm not sure which part I stayed in. The mix of guests is a combination of teens, business travellers, families, tour groups and older travellers, it's not a party hostel. I stayed here in a 6 bed dorm on the 17th March 2016.
Rooms were noisy
Rooms 4, 5 & 6 are located right next to Cartner lane way which has a lot of road noise and the windows are standard windows and not the modern soundproofed double insulated versions.  I was staying in room 5 and I would avoid bed 5 because it's location next to the window so is the coldest in winter and would experience the most noise from outside.  The room does contain some thick curtains that I would suggest keeping closed if you want to get any sleep but doesn't completely solve the issue.
I didn't stay in room 8 but it seemed to be the quite option as it was located on the inside of the building away from the noise of the Carter lane way near a small courtyard. Remember the name of this hostel is YHA London St Paul's so you can expect some reverberation from St Paul's church bells so if you are a light sleeper consider a decent pair of ear plugs.
Room had a sink
The room I stayed in was a decent size and the good thing about room 5 was that it featured a sink which was good if you just needed to grab a glass or water or brush your teeth.
Interesting bunk layout
The beds were fitted into each other like something of a puzzle but that also meant it wasn't the easiest process to get in and out of the top bunk.  The best two things about the beds were that the beds were already made and because of their construction were rather stable and didn't make much noise during the night.
A nifty place to store your personal items
Each bunk had an interesting little sliding draw next to your bed that you could put items such as your phone, wallet etc that you might want to keep close. It could have been good to have a few more powerpoints to charge electronic devices but I had a portable powerbank so used that to charge my phone. The only one I saw was next to the heater by the door which makes it easy for someone steal what ever is on charge if the door is not closed properly.
Huge personal lockers
The personal lockers provided in the room were huge and I had no trouble fitting my both my bags which was a welcome bonus, you have to provide your own lock but that's not much of an issue as that's fairly common in hostels.
WiFi was poor
WiFi was not something I found particularly amazing so I didn't end up streaming Netflix I did some reading and went to sleep early but other guests were a bit more upset that WiFi wasn't great as the hostel is in central London so no excuse for not having amazing WiFi.
Showers were decent
The common showers are quite decent and they actually have central heating units in the shower so you don't notice if it's in the middle of winter or not, I did have a bit of trouble getting the temperature of the shower ideal, which is more of a minor annoyance feeling ice cold water or third degree burns depending on which way you turn the tap.  The toilet I found them a little cold in winter as it didn't appear to have any heating units which is mostly fine if you don't plan on spending more than a few minutes in there.
Breakfast buffet seemed ok
The breakfast buffet seems quite decent for the price but be aware it does get quite busy in the morning so plan your breakfast time a bit earlier if you want a more relaxing start to your day. I didn't eat at the buffet but saw many other guests enjoying it.
Improvements to be made
Overall the hostel is quite a great spot to stay but it is overdue for some renovations to make it an awesome location to stay, the areas they should improve are:
New carpets which don't make you afraid to sit on, you are scared to walk barefoot on or have a strange smell
Sound insulation in the rooms next to the laneway so guests staying here can actually sleep and yes it's next to St Paul's
Double insulated windows to keep a more consistent temperature all year round which will save money in heating bills and keep guests alive in winter
I would consider staying at St Paul's again but would consider why I'm visiting London (business/pleasure) and what is the time of the year, not a great place in the middle of winter or summer when temperatures are at their most extreme.
They have a reasonable common area to hang out in and the hostel did advise that they did a number of fun stuff for travellers but I didn't join any of these as I had existing plans on what to do already.
Hostel Inclusions
Free WiFi (spotty coverage)
Linen included (bed pre-made)
Huge security lockers in rooms
Luggage storage
YHA London St Pauls Address
36 Carter Lane, London, England
Stayed 17th March
Accommodation: 6 bed dorm
Summary
Reviewer
Review Date
Reviewed Item
Author Rating