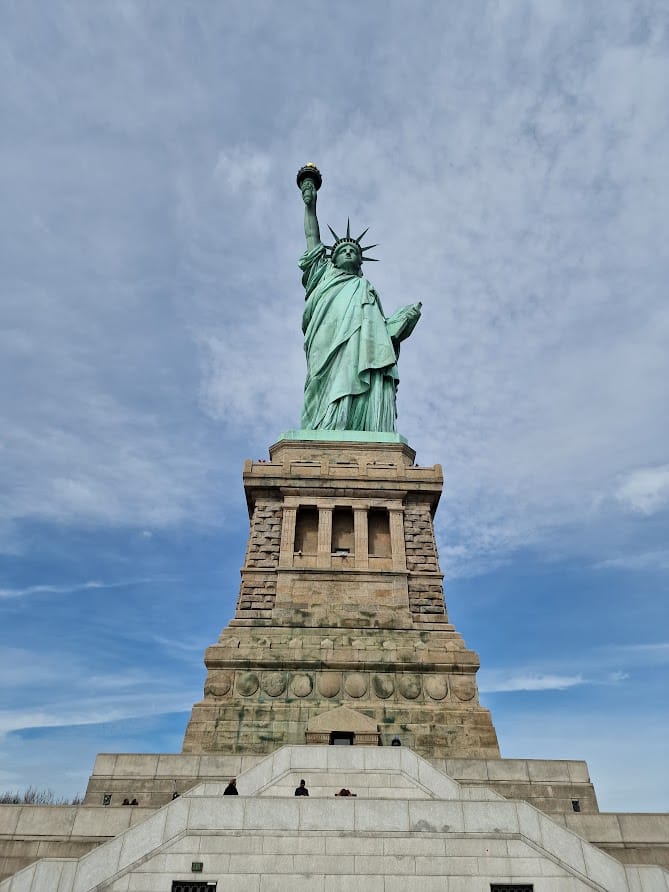 Statue of Liberty City Cruises
I would suggest booking an early morning tour if you can as a number of people stay on the island for several hours… I had a 9am ticket which meant waiting in a massive line for airport style security checks. The whole process took at 45 minutes as I arrived at 845am and was packed aboard the boat with hundreds of other people. Remember that Statue City Cruises is the ONLY vendor authorized to provide tickets and transportation to Liberty and Ellis Islands. No other ferry company can give you access to the Islands, monuments, and museums.
First on the island means lots of amazing photos without lots of tourists in the way. On the way out the best view is on the left side of the boat but as you get closer you want to be on the right side for the best photos.
I overheard one of the guides saying to her group when the boat turns towards Liberty Island start to head down to the front of the boat to be the first off the boat. I took this advice and was one of the first 5 people off the boat onto the island, I headed straight ahead while most of the people on the boat took the first turn to the right. By heading straight ahead I was also the first to find out that the access to the base was delayed due to a security issue they were trying to track down and resolve. I continued my path around to the front of the statue while most people who took the first turn were stuck in a slow moving crowd that stopped to take photos constantly.
After about an hour they opened up the statue and those who had pre-booked the tour to the pedestal base tour were able to enter again through another airport style security checkpoint. They did mention tours to the Crown were not extra but typically you had to book atleast 2-3 months in advanced. The access to the pedestal was certainly worth it and the views of the statue were outstanding and on the base you also have an elevated private view of the entire statue without too many tourists blocking your photos.
Also please note that you need about 3-4 hours for this tour and the boat going back goes via Ellis Island and waits before returning to Battery Park. Also no large bags are allowed so consider leaving you bags at your hotel if you plan on doing this tour on a day you are flying home or when you first arrive in NYC.
Did you know Liberty island was originally called Bedloe's Island and was used as a quarantine station, a military fort, and an immigration depot before becoming a national monument.
Total Comments ( 1 )
Comments are closed.