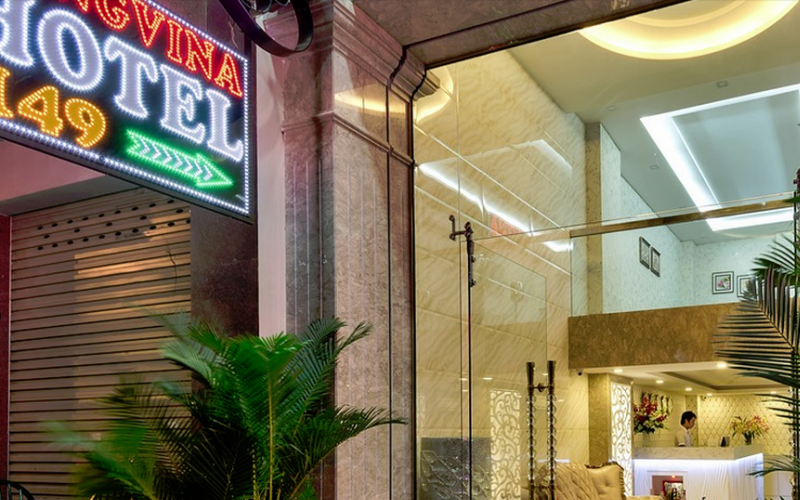 Hong Vina Hotel Review
This is a perfect hotel if you are flying out late and night and just need a place to crash and refresh or you plan on spending way too much time and money at Chợ Bến Thành markets.
What I liked about Hong Vina Hotel
The staff were great, they recommended a shoe repairman where I got my sandals fixed in district 1 near the markets that was great. The staff also helped me find a large Co.opMart Dinh Tien Hoang supermarket so I could do some shopping for Vietnamese candies and treats to take back home. The Co.opMart address is phường 3, Bình Thạnh, Hồ Chí Minh, Vietnam if you are also looking for a great place for cheap souvenirs to take home.  The free breakfast was good certainly a good hotel for a quick stop over or if you want to be really close to the Chợ Bến Thành markets.
I booked a Deluxe Double Room with Window, and my room was nice and quite with sound-proofed glass and a fairly powerful air-conditioner was amazing at keeping the room cool. It was a welcome break after 3 weeks of travelling to just kick back and relax.  I only stayed here 2 days and checked out early as I had a flight at midnight back to Amsterdam.
What I didn't like about Hong Vina Hotel
The area was very touristy as it was so close to the markets, so this was not a criticism of the hotel, it was just I was worn out by the end so being in such a touristy area wore me out a bit.  I had no issues around the hotel just when I started walking down Calmette towards Phạm Ngũ Lão and Chợ Bến Thành markets the requests for taxi rides and street vendors started.  I'd love if their hotel was back just a street or two from the Chợ Bến Thành markets.
My room was good but there were a few small items such as my shower drain didn't also drain very well so I had to have quick showers or flood the bathroom.
While the room was a little small but for the price I guess it was ok as the shower was a decent size but you couldn't spend too much time here and it might be small if you were travelling as a couple, but everything was modern and comfortable enough.
Hotel Vina Hotel Address:
149 Calmette Street, Ho Chi Minh City, Vietnam
Summary
Reviewer
Review Date
Reviewed Item
Author Rating