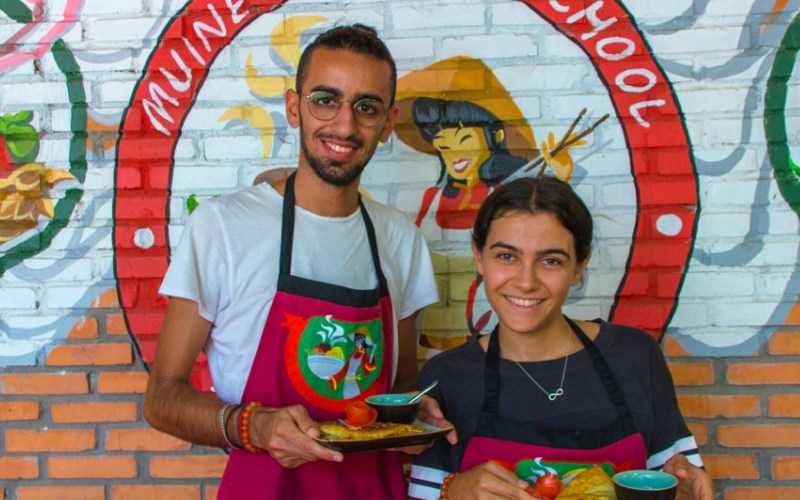 Mui Ne Cooking School
I attended this class when I was staying in Muine De Century Beach Resort in 2015 and I have to say it was one of my highlights of my trip to Mui Ne. I asked if they could swap out seafood items for beef or chicken and they were happy to obliged. I was the only person on both days as I assume the other guests managed to drink too much the night before and were apparently too hungover to wake up?
The price for each lesson was USD$35 which was an amazing deal considering the costs of the same food in a decent restaurant in Mui Ne, how can you go wrong?
Menu A – 26th January 2015
Beef noodle soup
Mui Ne pancakes with sweet and sour sauce
Fresh rice paper spring rolls with peanut sauce
Seafood salad served in half a pineapple
Menu B – 27th January 2015
Chicken curry with sweet potato
Rice noodles with grilled beef or pork and garlic sauce
Vietnamese fried spring rolls with chilli sauce
Fresh coffee or coconut jelly with sweetened milk
The staff were great and it was a wonderful personal cooking class, the best thing was the trip to the local markets with the staff each morning.
They made a real effort to explain about the local produce, meat and fish and how to pick the freshest items including several items for that days cooking lesson.
They also organised to try several local specialties such as the pancakes shown in the photo above which was almost as much fun as the cooking lessons. If you want to visit the markets it's important that you get to the cooking school early before 9am!
I would really recommend doing both days at the cooking school if you can as you still have the afternoon to do what ever you want.
You have to pay cash but they accept US Dollars or Vietnamese Dong for payment.  You can make awesome dishes such as the one I made below and you can find them here.