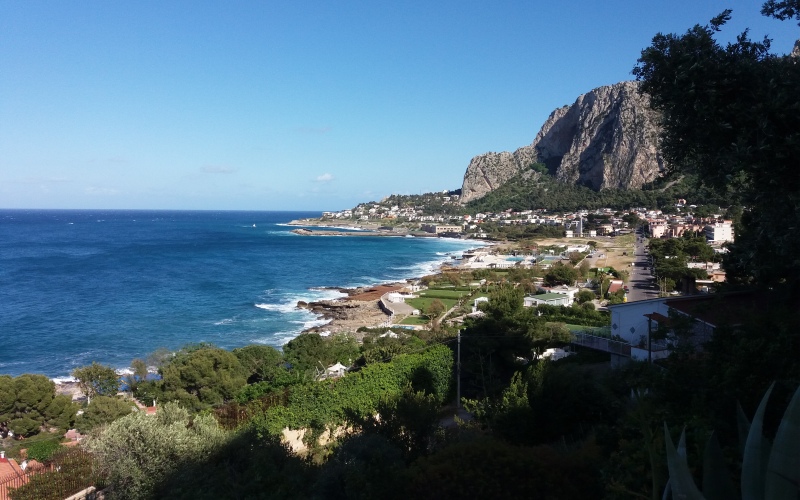 Mondello
Be aware if you are using Google maps to get around Palermo that it's mostly out of date and the route the buses actually take seems to vary widely… If you are heading north to Mondello Google tells you about bus 863?? but you actually catch bus 101 to the stadium and then bus 614 to Mondello… but be aware you have to buy your tickets from a ticket booth before you board the bus. It was a public holiday so I only ended buying one ticket as all the other ticket booths were closed and the driver never asked to see my ticket or pay again which made my trip to Mondello a very cheap day trip.
I would advise getting off at the first stop just before the roundabout and explore the south part of the beach first. I ended up heading south along the main road Lungomare Cristoforo Colombo until I reached Via Pinzon Vincenzo that I followed upto the end of the road. I ended up climbing thru several meters of scrub and bushes shown below to reach a point where I could climb upto the road Via Monte Ercta, let's say it's not the easiest route but it's the most direct.
I finally reached View Point Mondello, I had taken the most direct path and I ended up getting there far faster than if I had of walked around the long way to get there and the views were worth it for sure!
Then make your way north up the beach towards Antico Stabilimento Balneare di Mondello which is a lovely pier area with bars and restaurants.  It's also a lovely spot for views of the coast and certainly a spot worth visiting if you are in the area.  When I dropped by the restaurant was closed as it was a public holiday.
You can continue along the coast north towards Riserva Naturale del Monte Gallo but I was tired and starting to get cold and hungry so made the decision to head back on the bus to Palermo. I also wasn't sure how late the buses would run back to town so best thought it was a good idea not to get stuck so far from Palermo I would have to catch a taxi back.
If you really wanted to explore Riserva Naturale del Monte Gallo I would say you can easily spend a full day doing it and if the weather is good it's probably worth doing it.
Post Tags: