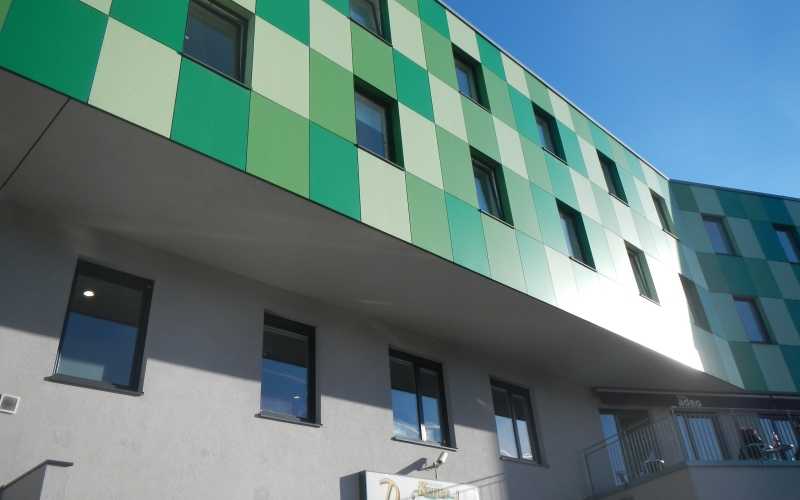 7 Days Premium Salzburg-Puch Review
The Adeo Hotel Puch-Urstein is now known as 7 Days Premium Salzburg-Puch which before that it was known as Q24, so it might change it's name again by the time you end up staying here.  The 7 Days Premium hotel is a modern budget hotel located just off highway A10 and about 20 minutes drive south of Salzburg, Austria and 4 minutes drive away from the nearby town on Anif where you will find a wider selection of restaurants and cafes. The 100 room hotel is just over 10 minutes drive from Salzburg Airport which makes it a great hotel if you are meeting friends or family that are flying and need to be picked up early or arriving late.
The 7 Day Premium hotel is perfect if you are looking for a cheap stop over near Salzburg but don't want to break the bank and just need someone clean and warm to sleep. The average price of accommodation in Salzburg is €99 per night with most budget accommodation costing €145-€234 which makes 7 Days Premium Salzburg €48 rooms a true bargain. I stayed at this hotel twice the first time on the 27th December 2015 and on the 1st January 2016 on a NYEs trip to Slovenia with some friends.
Don't expect too much in terms of atmosphere or hotel facilities but you can be sure of a comfy nights sleep. They also have a 24/7 checkin terminal if you are arrive late, so don't worry you can be sure that you can checkin even if their office is closed.
The rooms contain everything that you need, free WiFi and a large LCD TV with cable channels.  The room has a private bathroom that is a reasonable enough size for the price and has free toiletries which is a nice bonus.
The room was very well soundproofed and I didn't hear anything from other guests, I must say they could work on the atmosphere a bit as I felt I was entering solitary confinement.  It would have helped to have a bit of soft background noise in the hallway such as music which would have created something of a warmer experience.
The breakfast next door at the cafe is not the best, it's a little overpriced and is the usual mixture of cheese, meat, pastry and coffee/hot chocolate. I would suggest grabbing something to eat at the Eni service station next door before you head off on the next part of your trip. I would recommend 7 Days Premium Salzburg if you are travelling on a budget and just need a place to sleep for the night.
7 Days Premium Salzburg-Puch Address
Urstein Nord 11, 5412 Puch bei Hallein, Austria
Other Accommodation Options Nearby Anif?
There are a few other options in the area if you are looking for something with a bit more traditional or romantic but they will also be slightly more expensive. My friends stayed at the very quirky Schlosswirt Zu Anif on the 27th December which is more than 400 years old and decorated in traditional Biedermeier style at evolved in the 1840s. The family run hotel has 29 rooms and according to the photos and my friends comments one of the best breakfasts they have had in a while.
On the way back on 1st January my friends stayed at the cute little Boutique-Hotel & Apartments am Essigmanngut which was located in some farm land just off the A10. If you are travelling with a wife or girlfriend I would recommend staying at Am Essigmanngut as it was just the cutest based on the tour I had when my friends checked-in! Am Essigmanngut have a decent range of accommodation options for all types of travellers such as regular rooms, studios and 2 bed room apartments.