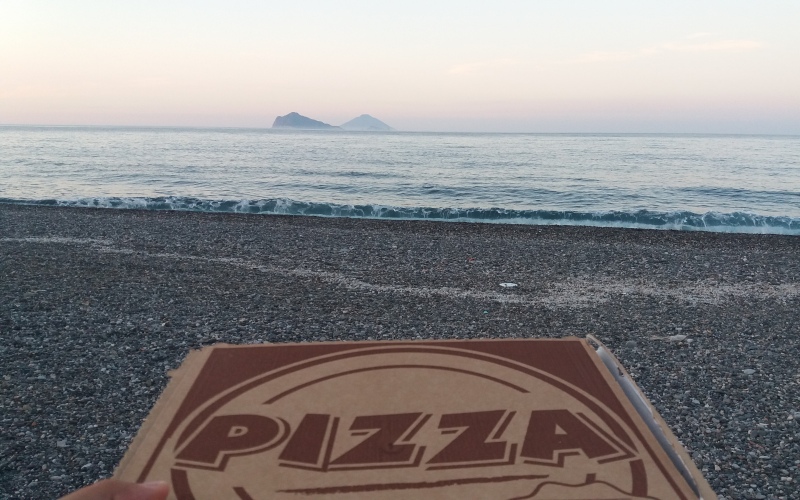 Ultimate guide to exploring Sicily
Why the trip to explore Sicily?
So I was leaving my job at ebay classifieds after almost 3 years… wanted to visit somewhere I hadn't been before… picked somewhere close… picked somewhere warmer…  I wanted somewhere with good food… I wanted somewhere that offered variety… I didn't want to spend too much…
I also had a fair bit of time between my old and new roles so I decided to take a 17 day trip around Sicily as people said 1 week was not enough and 3 weeks might be too much.
Amsterdam to Sicily?
There are a few options to get to Sicily from Amsterdam, you can fly into one of 3 airports
Palermo (KLM/Alitalia via Rome)
Catania (direct flights on Easyjet/Transavia)
Comiso (RyanAir + 1.5 hour bus to Catania)
Vincenzo Florio Airport Trapani–Birgi (RyanAir)
Amsterdam to Palermo
I decided to pick Palermo to start my tour as I wanted to do something of a roundtrip of the island and Palermo looked like a good spot to start. I looked at various travel options but found the times that suited me best and were the most affordable on KLM included a stop over in Rome.  You can certainly get direct flights they often more expensive to Palermo, but Transavia and Easyjet does offer direct flights to Catania which I might consider next time I travel to Sicily as it's quicker and cheaper.
Alitalia Lounge
The stop over in Rome Airport was easy enough I decided to check out the SkyTeam lounge while I was there it was in terminal D so it was a 10-15 minute walk from my gate, also as I'm only FlyingBlue Silver I still had to cough up 30 euros but it was a quite enough spot to relax and have some time to unwind before my next part of my trip to Palermo.  I would say the SkyTeam lounge in Rome wasn't anything amazing but it's toilet facilities were magically compared to airport standards and probably worth the money as they also offer showers.
They also have some super comfy seats and a few lounges you can catch a bit of shut eye on.  They have complimentary magazines and newspapers but I had already read them so stuck to playing on my phone and reading my copy of the economist.
But they had some nice little snacks and the place was much more peaceful and relaxing than the airport waiting areas so I was happy enough. I would have to say my favourite items were the desserts with crushed pistachio nuts and the tomato & buffalo mozzarella sicks. They also had some cute little puffed pastries and some cold meat slices and cheese if you wanted to do a small tasting platter.  The Prosciutto cotto was not amazing I would have preferred if they had Prosciutto crudo there instead.
The main meal options were not anything amazing and most of the passengers seemed to stay clear of the Asparagus savarin with Mascarpone sauce bulit I found the Spelt soup with vegetables was not too with the rosemary flavoured croutons.
Compared to other airport lounges I've visited I found that the service was not the most amazing and I had quite a stack of cups and glasses next to my chair by the time I left to board my flight. But I was relaxed and well fed by the time that I left the lounge to board my flight to Palermo. The best thing about being Silver Status flying on SkyTeam flights from some airports is that a heap of other travellers don't have the same status so you get to avoid the huge line and skip straight to the front with Priority Boarding which does make you feel super special!
Palermo Airport to Palermo City
There are shared taxis similar to Uber Pool that offer travellers a flat rate of 7 euros to the city and to their preferred part of the city so it's actually faster and more useful than the shuttle bus, the trip took around 25 minutes compared to the 60 to 90 minutes estimated on the shuttle bus to the Train station. Be aware this was a shared taxi not a standard taxi fare, if you caught a taxi by yourself you could probably expect to pay far more than 7 euros for a 40 minute trip from the airport to the city.
The good news was that I was basically at my Airbnb accommodation Allegretto House by the time the shuttle bus had just left the airport so it was a good decision to use the shared taxi service. The most worrying moment was when he missed my street and proceeded to drive in reverse at high speed back several hundred meters to my drop off point.  Be aware that Sicilian drivers are somewhat aggressive and love speeding along the streets so let's just say I was glad when I arrived at my destination.
Allegretto House Palermo (Airbnb)
When you arrive at the street Allegretto house is located on, just look closely at the buzzer and you can see a small hand written note Allegretto house and buzz that floor.  Be aware that the apartment is on the top floor and there is no lift so be prepared to carry your bags up several floors of stairs.
If you are arriving at night there is a light switch that turns on the lights in the stairwell for about 30 seconds which is enough to almost make it to the top of the stairs.  If you don't make it to the apartment before the lights turn off again be aware the difference between the light switch for the stairs and a neighbours door bell… I accidentally rang their neighbours door bell at around 11pm one night but luckily no-one appear to be home and I found the light switch with the help of my phone light.
Great host welcome
MY Allegretto house host Ermanno was super friendly and spent a decent 10-15 minutes explaining how to get the most out of my time in Palermo, he then marked the best spots to visit on the map her provided me including his favourite restaurant Trattoria Ai Cascinari (Via D'Ossuna, 43/45, 90138 Palermo, Italy).  Sadly I never got a chance to visit the restaurant as it wasn't yet opened (12noon onwards) when I went there on the last day so it will have to be next time I visit.
Nice private room with desk
The private room has a cute little private balcony at the back that is great to open up in the morning when you are brushing your teeth in the bathroom.  The only downside to this place was that there was only hand soap and no shower products so consider bringing your own toiletries along.  The room was fairly nice with a decent sized bathroom and there is a writing desk in the room if you need to write up a long article about Sicily or want somewhere to sit while you plan the next part of your trip.
Free WiFi and A/C
There is free WiFi so you can be sure you are able to watch Netflix or stream Spotify, backup photos from your phone to Dropbox and try to record some holiday Snapchat moments as the WiFi is a decent speed.  The room I stayed in has a TV and air-conditioning which is an important necessity if you are staying here in summer.
Comfy bed
The bed had two different types of pillows a soft and a hard one depending on your preference which is a nice little touch.  If you do want to sleep in the tip I would say is to make sure you close the wooden shutters on the outside of the window before you head to bed, I left them open as I wanted to wake up early so I could explore the city without needing to use my phone alarm.
Unplug the TV at night
But one thing I didn't do the first night that I ended up doing the next night was to unplug the TV as the blue standby light is quite annoying and lights up the whole room, which if you wake up in the middle of the night you think aliens have come to kidnap you… I dozed back off asleep when I noticed it was just the Telefunken TV.  I unplugged the TV on the second night and had a most wonderful uninterrupted sleep.
Breakfast not included
Breakfast is not included but there are plenty of places to grab something light to eat in the morning around Palermo so I wasn't too concerned.  There is a restaurant downstairs but I found it was never open for breakfast when I wanted breakfast and was only open when I was on my way home after already eating somewhere else.
Good central location in Palermo
The accommodation is not a bad spot to stay when in Palermo as it's a nice authentic home right near several tourist spots (name several of time) and walking distance to the main train and bus station (name and walking distance).  I had a good rest in Palermo and it was a good start to my holiday and would recommend staying here if you get the chance.  This is also a great spot if you have young kids as the owners have a young family of three boys your kids can interact with.
Exploring around Palermo
I found Palermo an interesting city, it was a mixture of beauty and chaos with piles of rubbish in some areas and graffiti basically everywhere including on monuments, churches, buildings and any other surface you could imagine.  Most of the graffiti was nothing more than vandalism but I did find several wonderful street art pieces in my time exploring the city.
I was only in Palermo for 2 nights but it was a enough time to explore the city and Mondello to the north. I'm not sure if I would have spent more than 2 nights in the city as I saw most of what I wanted to see.
There are 3 markets in Palermo but I only visited Ballaro and Capo, I didn't end up visiting Vucciria this time.  I did make the mistake of heading out exploring with just a tshirt and after 10-15 minutes I had the sudden urge to buy any jumper I could find as the temperature was not as warm as I thought when the sun was not shinning.
I did not find Capo that amazing but I did buy some amazing Mandarins from a vendor there but maybe I missed something. It was located just nearby the antique markets that run parallel to Piazza Domenico Peranni which were quite interesting to explore. Also be aware that Google maps may not be completely accurate when you are looking for directions or local transport options.
Orto Bontancio de Palermo (Botanical Gardens)
The weather was a bit hit and miss when I was in Palermo, I dropped by the botanical gardens which is an attraction I usually try and visit when exploring a city.
I dropped by here almost by accident when I was exploring the city, it was only €5 for entrance so I thought heck why not take some time to explore it and try out my new macro lens I bought for my digital camera. The gardens history can be traced back to 1779 making it the oldest garden in Europe and now covers 10 hectares, the gardens has certainly been run down which is a shame. The garden has a number of Australian plants which always makes you a little homesick such as the Moreton Bay Fig.
There is also a free garden next door that you can also explore, if the weather is good or far too hot I would suggest dropping by the gardens to cool down as there is plenty of cover to escape the heat and plenty of paths to explore.
I did find some interesting places to eat when I was exploring around Palermo listed below.
Bisso Bistro (Dinner)
This was one place my host suggest I check out and it was something that I just stumbled upon by accident on the way home one evening. The location is a unique spot as it's a historical Liberty style bookshop "Liberia Dante" that was converted into a bistro. The main dishes are traditional Sicilian pasta, fish and meat dishes along with some decent priced appetizers.
I went with a main course which was the pasta with broccoli which I must say I wasn't really that impressed with. It tasty bland and fishy not the most amazing pasta dish I've had, it kinda resembled craft glue which was a real shame as I was looking forward to enjoying it.
I was lucky that I ended up ordering a second dish which was caramelized meatballs and with a side dish of oven roasted potatoes. This was much more pleasant and filling, I should have just ordered this and I would have given this place 5 stars for sure.
The place does get pretty busy around dinner so if you are travelling in a larger group consider phoning them +39 328 131 4595 to make a reservation. I was travelling alone so they managed to squeeze me into a spot but I would have preferred to have a bit more space and not squeezed up against a wall on a high chair. A lot of their food seems to revolve around simple cooking so it's certainly authentic but I was hoping for more based on the reviews.
The place certainly has a lot of atmosphere and I could imagine a lot of people loving this place but it wasn't a place for me. The staff were helpful and kind but I would probably only recommend going back here with a group of friends. I did see a number of people relaxing by the bar with a book which might have made for a better location for dinner so be aware when you visit of where you are seated if given a choice.
Opening Hours: 9am-11pm everyday
Address: Via Maqueda 172, 90133 Palermo, Italy
Antica Caffetteria (Breakfast)
A lovely little cafe just near the markets, I had a hot chocolate and pistachio croissant and it was amazing. They seem to have a great coffee judging by the stream if locals dropping by for a caffeine fix. They have a number of drink options for that hot summer day including frozen ice coffee and some daiquiris. The place has a nice outdoor area where you can sit and relax in the warm Sicilian sunshine. It's a great spot to people watch as you soak in the experience of staying in Palermo
Address: Via Ballaro 29, 90134 Palermo, Italy
Vino e Pomodoro (Lunch)
I dropped by here as my parents recommended I visit while I'm in Palermo as they ate there and enjoyed their meal.  I stopped by for lunch on a public holiday so was happy that they were open as many other restaurants I passed by were closed.  I ended up ordering a calzone which was nice enough for lunch.  I did find it interesting that another tourist dropped by wanting a pizza for lunch but they said they don't make pizzas when a calzone is basically a folded pizza.  The place was mostly empty when I dined during lunch but it was nice to sit and relax with some peace and quite for a bit.
Address: Via Principe di Belmonte 87, 90139 Palermo, Italy
Ke Palle (Snack)
What a great little snack place, if you visit Palermo you have to try Arancini they are wonderful stuffed rice balls, which are coated in breadcrumbs and deep fried. For only €2 they make a reasonable treat for yourself… I had the traditional meat and peas one and it was amazing.
Address: Via Maqueda, 270, 90133 Palermo, Italy
Cattedrale di Palermo
I would advise if you have time and you are in Palermo on a day that has great weather I would suggest paying the 5 euros to climbing to the roof of the Cattedrale di Palermo as it has an amazing view of the city and is a pretty damn unique thing to be able to do.
The tours run fairly frequently and the groups are around 10-15 people so I would advise buying your ticket for the next tour before exploring the interior, I made the rookie error of exploring the church first and having to wait around for the next tour to start.
The Cathedral also has a wonderful garden outside that offers amazing photo opportunities and certainly worth a walk through after you have explored the interior and done the rooftop walk.
Opening Hours: Monday to Saturday the Cathedral is open from 7am-7pm and Sunday from 8am to 1pm and from 4pm-7pm.
Address: Corso Vittorio Emanuele, 90040 Palermo, Italy
Mondello
Be aware if you are using Google maps to get around Palermo that it's mostly out of date and the route the buses actually take seems to vary widely… If you are heading north to Mondello Google tells you about bus 863?? but you actually catch bus 101 to the stadium and then bus 614 to Mondello… but be aware you have to buy your tickets from a ticket booth before you board the bus. It was a public holiday so I only ended buying one ticket as all the other ticket booths were closed and the driver never asked to see my ticket or pay again which made my trip to Mondello a very cheap day trip.
I would advise getting off at the first stop just before the roundabout and explore the south part of the beach first. I ended up heading south along the main road Lungomare Cristoforo Colombo until I reached Via Pinzon Vincenzo that I followed upto the end of the road. I ended up climbing thru several meters of scrub and bushes shown below to reach a point where I could climb upto the road Via Monte Ercta, let's say it's not the easiest route but it's the most direct.
I finally reached View Point Mondello, I had taken the most direct path and I ended up getting there far faster than if I had of walked around the long way to get there and the views were worth it for sure!
Then make your way north up the beach towards Antico Stabilimento Balneare di Mondello which is a lovely pier area with bars and restaurants.  It's also a lovely spot for views of the coast and certainly a spot worth visiting if you are in the area.  When I dropped by the restaurant was closed as it was a public holiday.
You can continue along the coast north towards Riserva Naturale del Monte Gallo but I was tired and starting to get cold and hungry so made the decision to head back on the bus to Palermo. I also wasn't sure how late the buses would run back to town so best thought it was a good idea not to get stuck so far from Palermo I would have to catch a taxi back.
If you really wanted to explore Riserva Naturale del Monte Gallo I would say you can easily spend a full day doing it and if the weather is good it's probably worth doing it.
Pasticceria Alba Gelato (Ice Cream Stop)
This place looks more like a high end store than an ice cream and dessert spot. It's fairly trendy with young Italians and some of the most beautiful people I've seen so far in Sicily. This was certainly something of a place to be seen so in my hoodie and shorts I certainly fitted right in with everyone…
Their range of Gelato and assorted desserts and cakes are just to die for so you must drop by and visit when you are visiting Mondello beach. I had to fight the temptation to buy everything I saw in the display cabinets.
I had the mixed berries and chocolate ice cream and for €4 not such a bad deal, and the ice cream was just magical, certainly one of the best I've had on the whole trip for sure. I would recommend dropping by here for sure if you are looking to escape the summer heat and want some nice Italian treats.
Address: Viale Margherita di Savoia 2, 90149 Palermo, Italy
Palermo to Agrigento
I had a few options to get from Allegretto Guesthouse to Palermo Centrale Railway station, there was 4 bus options (101/102/107/122) that would have taken about 4 minutes and cost me €1.40 that were running every 5 minutes.  But after my initial experience of Google Maps I decided walking was the best option, and it was only 700 meters away or about 9 minutes and it would be a good test to see if I infact packed too much luggage which I suspected.
I arrived with plenty of time to spare I was catching the 12:43pm train so was due to arrive in Agrigento around 3:45pm so I sent a message to my Airbnb host to advise him I would be arriving early.  He responded that it would be no issue.
Agrigento
The train to Agrigento was interesting it was about 20-30 minutes late due to a random stop about 1 hour into the trip which involved 2 staff and a passenger standing outside on the platform pointing at the roof and arguing about something… it also involved several frantic phone calls from the conductor and after 20-30 minutes it was over and we were on our way again. It was all very weird but a passenger reminded me this was Sicily so accept this type of thing happens a lot.
When you arrive in Agrigento you will notice there is a lift or stairs, unless you love walking with you bags I would suggest you wait a while and take the lift the 5 floors up… I was feeling confident and went for the stairs and passed several other travellers struggling up the stairs, it was probably something I wouldn't be in a rush to do again with all my luggage but I felt a great sense of accomplishment.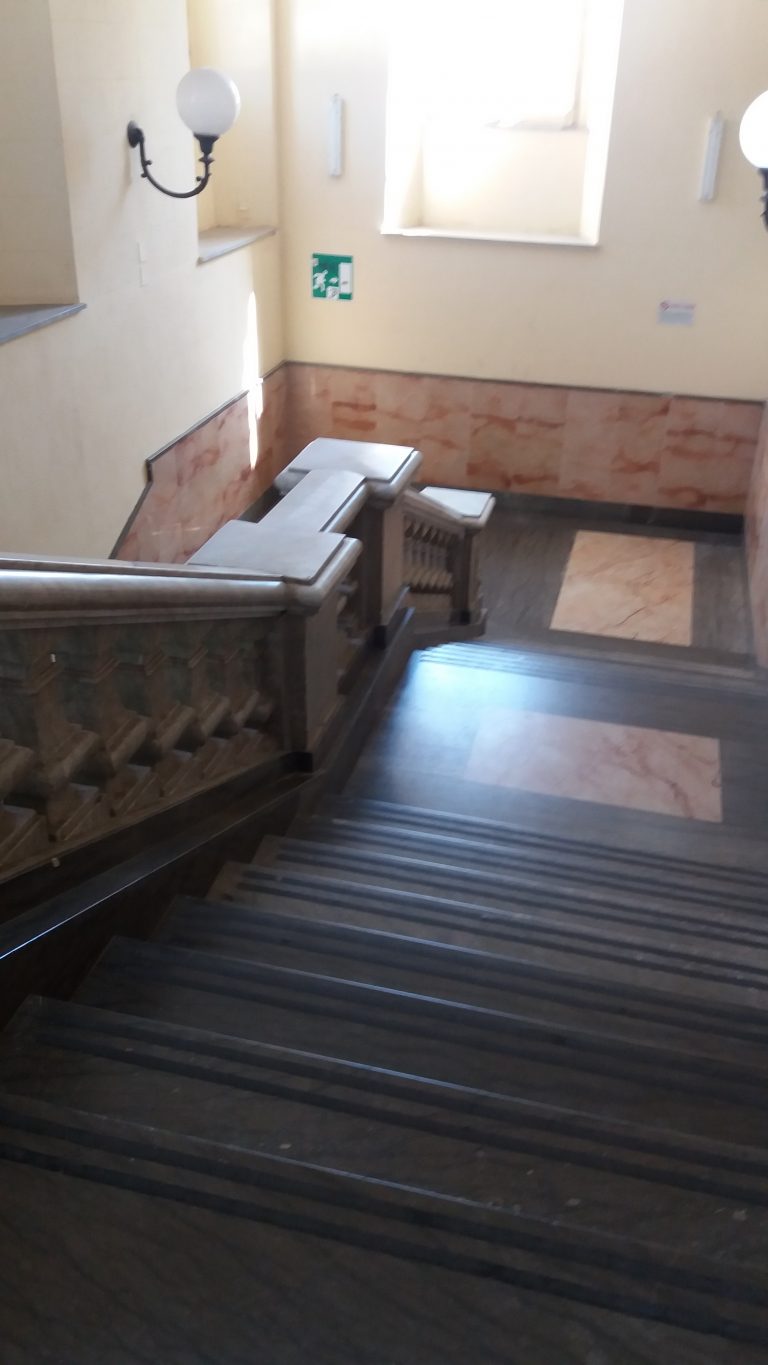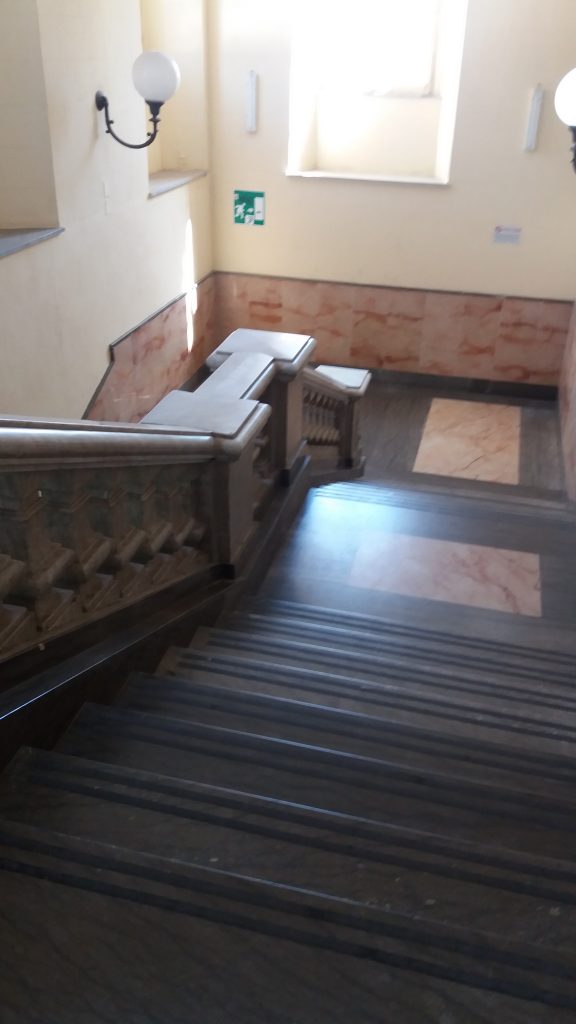 A tip there is a lot of stairs in Agrigento so bring some decent walking shoes and don't pack too much luggage that you can't carry or drag from the station to your accommodation.  Google maps said that it's only 500-600 meters to my Airbnb checkin office but it forgot to mention most of that was up a heap of stairs and the train station is at the bottom of a large hill. Don't get me wrong Agrigento is a beautiful city for sure just so many steps!
The Valley of the Temples
When in Agrigento one great thing to visit is the temples… you save a heap of money and catch the local bus from the bus station just remember to buy your tickets from the ticket outlet opposite the bus station, I got told catch number 2 but I caught number 1 and it was ok… just be aware the local drivers might be jerks and not stop so keep your eye out about 20 minutes from town when you see the large temple structures hit the stop button and hop-off.
The price to see all the temples is 10 euros and you will have to pass through a security check point which I must say is fairly unique for Europe but I don't really mind as it didn't cause a big delay to my experience, just bag searches but upside I got to leave my shoes on.
I visited towards the end of April so it was warmer and enough light to late so I planned my visit around 5pm and 2 hours was more than enough time most guides say 3-4 hours but if there isn't a lot of people I think that's too much time.
I don't think you would want to spend that much more time here unless you want to stop and read every single plaque, most of them are in Italian anyway.
There was also the famous Kolymbetra Garden which I passed up on seeing as it was almost 6pm by the time I arrived and it was only open from 9:30am-630pm and last tickets were sold at 6pm.  I had more so come to see the sculptures than plants on this particular trip to Agrigento and I could always come back again to see the Gardens which after speaking with other travellers were quite amazing.
The other benefit of going towards the end of the day was that there was less tourists as those on day trips had left and the sun was setting which made for a magical transformation of colours.
There are three temples here and it makes me think of Athens and what might have happened if they didn't have so many things go wrong and the monument is being eaten away by pollution. The Temple of Concordia is probably one of the most amazing structures I've seen, I would almost put it above the Parthenon in Athens because of how impressive it is in it's persevered state.  You can also see in the photos that there are hardly any tourists around which makes the place even more magical as you can appreciate the structures and take some amazing photos without bus loads of tourists getting in the way.
Because of the timing, I arrived as the sun was really starting to set and the colours of the Temple of Juno Lacinia was really starting to change and it was very beautiful.  I had a wonderful few hours exploring The Valley of the Temples, it was certainly worth the trip to Agrigento for sure, it was an amazing experience. It was easy enough getting back to town I just had to wait 20-30 minutes for a bus.
Sogni d'Oro (Airbnb)
When I was planning my trip I felt that one day in Agrigento is enough but to make sure I made the most of my time there I left Palermo earlier than planned to depart on the 12:43pm train instead of the original 15:43pm train I had in mind.  Keep in mind the checkin times for your accommodation as my B&B was from 4pm-830pm so I was lucky that I advised my Agrigento Airbnb that I would be arriving earlier and it was good timing as one of their team Mariarita had just arrived at work early to get everything ready for checkin time. If you arrive outside of these times you can call them direct on +39 347 13 97 653
The Airbnb spot that I had been allocated was a short 5 minute walk from their office location and Mariarita advised that they had upgraded my booking and I was staying in their lovely modern Sogni d'Oro B&B.
This is certainly a lovely modern b&b spot with two wonderful rooftop terraces, and in summer breakfast is served on the top terrace which overlooks the town towards the ocean. Sadly I was too early in the season so it was still a bit cool to eat breakfast on the rooftop patio, but the staff reminded me that I could have easily taken my breakfast outside to the patio if I wanted.
The staff do a wonderful job making sure you have a nice breakfast prepared each morning, the only hiccup was when I asked for Tea and got a lovely cappuccino, after some awkward moments I used Google Image search to show what I wanted. The poor staff member was embarrassed and quickly put the kettle on and found some tea bags in the cupboard.
I had a lovely nights sleep here and the bathroom was modern a good size and the bedroom was a good size. The bed was very comfortable and it was great to have some decent shutters so I could get a bit of a sleep in after several days of getting up early playing tourist.
It was very peaceful at night and I ended up hanging out upstairs taking some photos of the night sky. They also have a common lounge area inside you can spend sometime hanging out if you don't want to spend the whole time in your bedroom or the weather is not nice enough to spend the time on the upstairs patio.
The only negative point is the kitchen in the apartments is for exclusive use for their staff and not guests, not an issue if you are staying one night but for longer it could be useful. The property does have a chilled water filter for fresh water during your stay which is a lovely touch as the local water in Sicily is not always drinkable.
I would certainly recommend staying here if you are coming to Agrigento if it's just for a night like I did or for several nights just be aware you don't have access to the kitchen.
Perbacco (Dinner)
Yes this was a lovely authentic restaurant experience in Agrigento, I found this place by following some candles up a flight of stairs which led to a lovely courtyard where you can sit on warmer nights.
The night I visited it was quite chilly so I opted to sit inside which was a much wiser decision as it got quite chilly that night. I went for a mushroom risotto style dish which was nice but not the traditional risotto I was used to but was nice enough, I did ask for some Parmesan cheese which confused the waiter a bit but I ended up getting some and it made the dish a bit more like risotto that I was used to.
I followed up with a second course which was a legume soup which was quite a large serving maybe a little bit too much this could have easily been a dish for 3 people.  But I would strongly recommend adding some of the salt they offer with it if you want to bring out the flavour in the dish. I struggled to finish half of it as it was my second dish.
For dessert I ended up going for a chocolate cake which was nice enough, but I was maybe hoping for something a bit more authentic.
Overall a lovely night and very lovely spot but I didn't enjoy the food as much as I would have hoped, but I would recommend you check this place out if you are visiting Agrigento.
Address: Vicolo Lo Presti, 2, 92100 Agrigento AG, Italy
Bus from Agrigento to Gela
If you are travelling via bus from Agrigento to Gela make sure you get there early as you don't want to miss your bus and you get a decent seat as it's just a minibus not a full sized coach.  You buy your tickets at the office at the end of the platform, the Nuova Omniabus building and you can pay in cash or use your card.
The Societa' Autolinee Licata timetable for Agrigento to Gela is shown below.
It was a long trip in the bus and I had my small day pack squeezed between my legs and about 10 minutes into the trip I kinda wished I had of just thrown it in the back of the bus with my backpack and there was still over 1.5 hours left in this trip.
To pass the time on the bus I got talking to an English couple that were travelling around Sicily after having first visited it 40 years ago when they were both students.  We passed some wonderful industrial parks, oil wells and refining stations on the trip to Gela which didn't help make the bus experience seem any better. I decided it would be my last bus I would take in Sicily, I would only take trains from this point onwards.
Gela (Lunchtime layover)
Having caught the bus from Agrigento to Gela and the bus arrived at the train station just after 2pm there was quite some time to spare before the train was due to depart Gela to Ragusa.  I found that Gela was something of a depressing city, the station's public toilet was one of those magical moments I'm glad I don't throw up easily due to strong smells, and there wasn't really anywhere decent to get some food.  I was feeling hungry and took the gamble and bought a custard croissant as apparently there wasn't really much else on offer, I really needed to get some proper food for lunch.
I had spent the time with a lovely English couple on the bus and they were also wondering what other options were available as they didn't want to spend the next few hours in the train station and wanted to get some food.
Gastronmia Self Service (Lunch)
We took the gamble and walked into town to try and find a decent place to eat, after several false starts we settled on Gastronmia Self Service, it was a lovely clean, modern and friendly cafeteria that offered a good range of food at a decent price. I ended up ordering a plate of vegetables and pasta as I wasn't sure how it worked but I needed my fix of veggies so not such a bad end result and it was only €8.50 which was amazing value!
The place we ate at was located at Via Generale Cascino, 249 which is on the corner of Via Generale Cascino and Via Niscemi which is a 15 minute walk from Stazione FS di Gela (Gela Station).
After a nice lunch break we headed back to the train station but not before stopping by a fruit vendor to buy a kilo of apples and two punnets of strawberries for snacks. It was an interesting conversation with the vendor who only spoke to me in German but I managed to scrape by and I paid him the right amount he asked and I left with my fruit and more things to carry…
Train from Gela to Ragusa
The train was a very small carriage of just two compartments, you have two options of getting to the train on the other platform.  The first is the most logical is using the underground subway tunnel to safely walk to your train.  The second is do what the locals do and cross at the raised area of the tracks when there are no trains passing.  We picked the underground subway tunnel that was dark, wet (just hosed down) and way too many bloody steps, we made a rookie error and should have taken the path across the train tracks.
The train from Gela to Ragusa passes a few wonderful small towns, castles and churches so consider having your camera ready, most of the best things to see are on the left side of the train carriage.
Ragusa Apartment (Airbnb)
It was an interesting start I arrived a little earlier than expected only to discover the host was not at the property, I had sent her several messages but not received any confirmation and now her phone was going straight to voicemail.  I was standing in the middle of the old city around 4pm with not an idea what the hell had happened. Eventually after contacting Airbnb customer support in Dublin, Chris (staff) was able to contact her family and advised that they would be in touch. It was kinda weird so I waited the son eventually got in contact with me via chat on the Airbnb app and advised that she went to Rome and her friend was supposed to drop the key off.  After about an hour her friend arrived with the key and they completed the checkin process to explain the apartment to me, how things work and what the process for checkout would be.
The home was a bit hard to find but the directions were good and I've put in a request for Google Maps to include the location of GreenCorner so it will now be easier to find.
This trip was a bit of a digital detox but it would have been nice to have some wifi at times, there was a 4G modem sitting on the kitchen counter but I couldn't manage to get it working. The home was simply magic and it was what I think Airbnb is all about, a real authentic experience.
The home is a split level with the lounge and kitchen downstairs and the bedroom and bathroom upstairs.  The bathroom was a reasonable size and the shower was good but would have been good if it was a little bigger as there was space in the bathroom.
I had a lovely nights sleep just advise you to close the bathroom door and wooden shutters if you want to sleep in, it certainly is a peaceful place for sure.
The Airbnb spot is perfect for a single traveller or a couple looking for a romantic getaway and a perfect base to explore Ragusa.  The home was set at the bottom of the street so it was away from any road noise and overlooked a lovely valley from the lounge and the bedroom.
There was a flat screen TV downstairs that I often had Italian MTV playing in the background while I read at the table.  I actually moved the table into the middle of the lounge room as it offered such a better view.  There was also a bar fridge if you plan on doing some shopping, and if you are looking for the plates and cups they are on the right side just near the entrance.
Each morning I woke up, put the saucepan on the gas stove and boiled some water, added a tea bag and chopped some of the apples I bought in Gela and had a relaxing breakfast with the church bells ringing in the distance.
Exploring Ragusa
Ragusa was a most wonderful place, with beautiful buildings, amazing scenery and wonderful food! There are a few areas to Ragusa, the more modern part of the city near Ragusa train station, the area around Piazza Matteotti that has larger hotels, the area of old town "Ragusa Ibla" where I stayed near Chiesa di Santa Maria delle Scale.  There is also the much more expensive places on the upper town "Ragusa Superiore" that offers accommodation nearby Duomo di San Giorgio, San Giuseppe Church or Parrocchia San Tommaso Apostolo.
I had a lovely stay in Ragusa which involved a walk to the upper town just in time for lunch which involved walking down a heap of steps and took around 20-30 minutes.  After lunch I began the trip back up all those hundreds of steps that took about 30-40 minutes with plenty of stops for gorgeous photos.  This town was simply wonderful but is a place that you really gotta love steps and if you really really must drive get the smallest car possible as the streets are crazy narrow.
The only thing I hated about the old town was I couldn't stand walking past Duomo di San Giorgio who had installed some high pitched speakers to deter bats/birds from nesting there but gave me one hell of a headache and made me feel lightheaded and wanting to cry. For this reason I'm glad I wasn't staying anywhere there this church and often took the long walk around to avoid passing nearby it.
Antares PUB Pizzeria di di Benedetto / Giuseppe (dinner)
They have a great range of pizza, red pizza(tomato sauce) , white pizza (cheese) and pizza with diced tomatoes and for those with a sweet tooth the sweet pizzas. I went for the Al porcini which was a pizza with diced tomatoes, mozzarella, porcini mushrooms and ham. It was only €10 which was more so a point that it was their most expensive one so you can easily get a pizza from €3 which is how much I've seen people pay for a single slice on this trip….
The location is great right next to San Giuseppe Church which is a great spot to relax after a busy day sightseeing. They have both an indoor and outdoor seating area I went for the outdoor option as it was still light and I could watch the setting sun change the colours of the buildings which was awesome. They have both English and Italian menus. I've just finished my pizza and it was most magical, the cheese was perfect and not too oily, the base was crisp but not over cooked that you couldn't fold it and shovel it into mouth. Must say you have to drop by and try their pizzas if you are in Ragusa.
Da Luigi (Lunch)
This was probably one of my favourite meals in Sicily for sure, I had amazing Ravioli with tomato and pork sauce that included a pork rib to show it's authenticity.
For dessert I had the best Cannoli with pistachio nuts, it was actually my favourite cannoli of the entire trip. I really should have gone back here for dinner again it was that good, and some of the photos of their other dishes looked amazing!
Address: Corso Vittorio Veneto 96, 97100 Ragusa, Italy
Ristorante Il Barocco (Dinner)
I dropped by here early around 6:30pm and they were not open until 7:30pm so I sat outside in a chair on the patio and read until they opened. The staff didn't mind and they just setup the outside tables for dinner around me.
They were even nice enough to take my order before they officially opened, I went for Tagliatelle Zucca e Ricotta (Tagliatelle with Pumpkin & Fresh Ricotta) which was only 7 euros which was a great deal!
My pasta dish was wonderful and the staff were really great I would recommend dropping by here for dinner if you are in Ragusa.
Address: Via Orfanotrofio 27/29 | Piazza Pola, 97100 , Ragusa, Sicily, Italy
La Bettola (Lunch)
I dropped by here for lunch, sadly all the seats outside were already taken as the sun was out so I ended up sitting inside. The staff were nice and friendly and the place felt really authentic, I started off with Porchetta e mozzarella which was basically mozzarella cheese wrapped in ham and thrown on the grill for a bit…. it was a magic start to my lunch.
For my main dish I went with spaghetti alla siciliana which was quite tasty and a really good deal for just 5 euros.
For dessert I went with 3 small cannoli which tasted nice and was a lovely end to my lunch.
It was a really nice atmosphere and I would recommend this place for lunch for sure and try and reserve a table outside if the weather is nice.
Address: Largo Camerina 7, 97017 Ragusa, Province of Ragusa, Italy
Magna Magna (Dinner)
I had to say I had a pretty good run when it came to pizzas, I picked Magna Magna as it was on the way to the train station. I assumed it would offer takeaway and I was lucky that they just opened when I arrived. The place was mentioned several times as a place that locals choose to go for pizza so I thought I couldn't go wrong. If you check TripAdvisor a majority of the reviews are from Italians which is also another sign that this was a good choice.
The place has won a huge amount of awards for their pizza and watching their staff work was like watching a well choreographed routine, they were experts at work preparing my dinner.
I recall that you can pay with card but cash was preferred by them for smaller orders. I got takeaway and enjoyed my pizza sitting outside of the train station thinking about how Ragusa is such a wonderful city with such amazing food!
Address: Via Dottor Filippo Pennavaria, 44, 97100 Ragusa RG, Italy
Train from Ragusa to Syracuse
I had a few options to get from Ragusa to Syracuse, there was an early morning train at 7:27am which means I would miss out spending more time in Ragusa and have to get up early and rush to the station.  There was a bus option early in the afternoon which meant I would have to endure 3 hours of punishment on a bus and I wasn't ready for the constant feeling of motion sickness after the Agrigento to Gela experience.
I went for the train departing at 19:18pm which was due to arrive in Syracuse at 21:15pm, the trip was just under 2 hours so not so bad.  I advised my Syracuse Airbnb host of the late arrival and she offered to pick me up from the station which was a wonderful thing, also the late arrival worked much better for her work schedule.
The station felt quite strange and I arrived early as I wasn't sure if I would stop for dinner on the way but ended up getting a wonderful takeaway pizza Magna Magna which is one of the popular pizza places for locals and sat outside the abandoned station and enjoyed my dinner.
The station was something of an interesting place having been shut down except for a single automated ticket machine which had the rather annoying habit of announcing in an extremely loud voice be aware of pick pockets, this was also worrying as I was the only person in the station so I had to keep my wits about me….
About 20 minutes before the schedule departure an American traveller from New York turned up who I ended up chatting to for a bit until her stop.  Like many Americans I met on this trip she was travelling around Sicily with her sister tracing her family ancestry and most journeys ended in a tiny little village that had no public transport options so required hiring a car.
The train to Syracuse was fairly uneventful except for the poor Italian traveller who got fined 40 euros for not purchasing a ticket on the platform before boarding the train. The train was not that busy and it was a comfortable enough trip and far better than the bus option.
Yes Syracuse station does feel a little sketchy at night but I had no issues but I would advise to get picked up or catch a taxi if you are arriving late at night. There is a bar next to the station that was open when I arrived late at night and that apparently also has luggage storage if you need it.
Syracuse Room (Airbnb)
My next lot of Airbnb accommodation for 3 nights was located on the top two floors of a 4 story apartment building, with a large bedroom and private bathroom (not ensuite).  The room also had a shared balcony next to bedroom and large expansive balcony on the top floor overlooking the city of Syracuse. The host was nice enough and offer to pick me up from the train station which saved me something of a 35 minute walk with all my luggage the 2.7km to her apartment.
I stayed 3 nights here and it cost $303AUD which was one of my more expensive parts of my trip but according to TravellersPoint the average place is around A$125 per night so it was cheaper than an average hotel room. I found that it was a good location out of the city which offered a good spot for exploring but next time I'll stay closer to Isola di Ortigia (old town).
I did find the downside of being in the suburbs was that there wasn't a great number of places to eat in the area and I didn't have access to a kitchen in the apartment so I had no choice but to eat out.  The host did offer to make me some food once or twice but I ended up finding somewhere.
The apartment is located outside the old city just near the park Parco Giovanni Paolo II just northwest of Santuario Madonna delle Lacrime.  I walked home at night with no issues but if you were not comfortable walking alone at night there was a bus you can take most of the way to and from the main tourist area.
The bedroom was a good size and remember it also had that small balcony that you can use to hang your clothes if you need to do some washing.  My host was so kind that she offered to throw my clothes in the wash for me, wow that saved me a lot of time I would have wasted waiting around the house.  I felt very special that she was that kind it was not something I would have expected but very much appreciated.
Each morning my host prepared a lovely breakfast with homemade marmalade, juice, pastries and scrambled eggs and toast.
The family also have two cute dogs to keep you company during breakfast and when you are relaxing on the roof deck.
My host was also kind enough to drop me at the train station in the morning on the way to work which again saved me having to hike back the 2.7km to the train station from her apartment.
Exploring Syracuse (Siracusa)
I had a super busy first day exploring Syracuse because the weather was good I thought I should take advance of it. I left my Airbnb accommodation after a lovely breakfast and headed down towards Isola di Ortigia (Città Vecchia) via the marina.  I had a chance to see the locals fishing, repairing boats and sitting around having all sorts of conversations.
As I was crossing Ponte Umbertino into the old town, I saw a stand for boat tours which was offering excursions to the Sea Caves of Gargano and around Oritiga island which I decided should be fun.
I asked the girl how much and how often they were departing she said it depended on if I went for the 60 or the 90 minute tour.  She got on the radio to check and was told the next one was in about 90 minutes which was ok but after yelling into the radio she said oh it's fine there is one leaving in 15 minutes if you want to join. I recall the ticket was about €15 or something like that, I couldn't find my receipt.
There was 4 other people on my boat, all Dutch folks who were like myself escaping the last of the European winter.  But were just as annoyed that it was warmer in Amsterdam than it was here in Syracuse.  The boat took us out into the ocean and past Pista Ciclabile Rossana Maiorca towards the caves, the seas were a little bit rougher than they looked and we couldn't get too close to the caves which was fine as I didn't feel like being shipwrecked and I was feeling a little sea sick so happy to head back towards the calmer water of the bay as the swell felt like 6-9 feet at times.
The tour around Ortigia island was much better and offered a wonderful view of the ancient city from a different perspective.  I would recommend just doing the Ortigia Island tour if you visit Syracuse, but do make sure it's good weather and there aren't too many waves as it gets really rough.  I did find it interesting once we passed around Castello Maniace that the waves stopped immediately and you can see how calm the water is in the photo above.
We were dropped back at the main dock where the tour started and I set off to explore the Mercato di Siracusa "Markets". The Ortigia Street market is really great place to explore when you are in sircacuse, the markets are nice and authentic with a stream of locals snapping up the best and freshest produce and fish you can buy. Also if the weather is amazing this is the perfect place to stop by for picnic items on the way to the beach.
Be aware that prices for the same item can change significantly, I paid €5 for almonds in a pretty package while I saw almonds in a plain package at a different store for €2.50 so maybe have a bit of a look around before buying…
I got some amazing fresh strawberries for just €1.75 which was pretty reasonable for a market snack. But sadly I didn't find any mandarins but I did see plenty of blood oranges.
There are also plenty of restaurants around the markets if you are wanting a decent meal. If you are unsure where to buy from get there early and follow the locals, I would recommend Fratelli Burgio. Any market store that sells out early is usually the one with the best stuff so get in early and follow the locals…
The markets sell everything you could imagine…
* fruit & vegetables
* spices and herbs
* flowers
* fresh fish
* meat
* cheese
* fresh olives
* tourist junk
* clothes
* miscellaneous items
Temple of Apollo "Tempio di Apollo"
The 7th century BC ruins are located right next to the markets, and you probably only need a few minutes to admire what remains.  You would barely know the significance of the attraction based on the signage around the monument.  You can admire the temple from the rails erected to protect the site.
Exploring the Island
I ended up walking around most of the island and almost went for a swim, I could see a heap of people lying on the pebble beaches suntanning but only a handful of them appeared brave enough for the water.  I had hopes that the weather would get warmer during this trip and this wouldn't be my only chance to swim in the sea.
I walked along the marina and stopped at Marina Cafe for a quick recharge… some amazing ice cream as the sun was out and it was quite a bit warmer now. After my recharge I was now prepared to explore some more of the city and head over towards Teatro Greco, Orecchio di Dionisio, Archageological Park Neapolis and Roman Amphitheatre to get my dose of history and why I came to Syracuse.
Roman Amphitheater
While the amphitheater is well persevered considering it's age the access areas are poorly maintained and when I visited a majority of the paths were closed so you couldn't explore the remainder of the area.  As per the photo below you can see a majority of the structure including the seating areas,tunnels that have been dug into the rock that was fairly impressive.  It wasn't that busy when I visited which allowed for some great photos without people blocking my photos and the sun was out so I was able to take some great photos. I have seen in other travellers photos that at times they do allow visitors to enter the field in the middle of the stadium but this was not possible when I visited.
Teatro Greco – Greek Theater
The interesting part about this historical attraction is that it's still regularly used to hold concerts still during summer, when I visited in May they were placing down wooden planks to build seats over the top of the original stone seats.  Sure the view is nice it was a shame when I visited that it was more like a construction zone. I would imagine it would be impressive either without the temporary seating is finished watching a live performance or seeing it in it's original condition.  I felt that the Teatro Antico di Taormina was much more impressive and offered a much more exciting view of the coast.
There are some interesting caves along the top of the theatre including a lovely waterfall shown in the picture below that flows under the theatre, I found this the most interesting part.
Latomia Del Paradiso
These are the remains of the huge limestone quarries that were dug out to build a large number of the buildings in the city.  You can see Abbey of Saint Trinity in the center of the gardens rising up out of the orange groves.  You can visit the gardens on the way to Teatro Greco and on a hot summers day I'd much prefer to spend a few hours here sitting and relaxing under the shade of a tree. They could certainly improve the area with better signage and open up several of the paths they have closed.
Orecchio di Dionisio – Ear of Dionysius
It was by pure dumb luck that I stumbled upon this spot, if you are lucky you might catch someone singing in the cave which allows you to experience the true acoustics of the cave.  Sadly I only caught someone singing a few random words but the sound was pretty incredible, just make sure you avoid this when there are a bus load of tourists as the random yelling followed by their echos can be a bit annoying. The limestone cave was man made and according to legend Dionysius used the cave as a political prison and is probably the most interesting part of the tour.
Syracuse Street Art
Just like Palermo I noticed that Syracuse had a huge amount of street art scattered about the city, along with plenty of tags and vandalism.
Santuario Madonna delle Lacrime
The Shrine of Our Lady of Tears was probably one of the more interesting churches I've visited and very modern structure completed in 1994 but started in 1966.  It was built to accommodate pilgrims drawn to a plaster image that tears were said to emanate in 1953.  The structure can be seen from almost everywhere in the city and is a good way point if you are trying to gauge the direction you should be going.
I also found plenty of places to eat but the food was a little bit more expensive than Ragusa.
Cannoli del Re
This is a wonderful little local dessert shop tucked into the wall just next to the Chiesa di Santa Lucia alla badia, so if you are in Palazzo Arcivescovile you can't miss it! They have 4 different options for Cannoli the plain, lemon, chocolate and pistachio and two sizes Small "piccolo" or Large "grande". I would suggest if you have to wait a while for dinner consider the grande option!
Prices start from 2 euros upto 3.5 so it's a fairly good price for a decent Cannoli, I went with the pistachio one in a small size as I didn't want to ruin my appetite.
Marina Cafe (Ice Cream Stop)
I almost walked past this place, I wasnt sure if I wanted an ice cream but after much hesitation and coaching from friends back in Amsterdam I gave in…  I was actually shocked how amazing their ice creams looked,  they had some of the most amazing flavours I've seen so far in Sicily. Sure it's not like Baskin &  Robbins with 101 different flavours but everyone looked wonderful. I went with a large cup (€3.50) wasn't the most expensive and I could have gotten a larger cup but decided to save some room for dinner. I went with chocolate, strawberry and coconut and it was simple epic.
I did think about the cheesecake option but stuck to my choices…  Drop by here and grab an ice cream if you are in the area for sure, you can see how amazing some of the options look below.
Fratelli Burgio (Lunch)
I stumbled upon this lovely little eating area at the end of the markets, they had a decent menu of slow food options but I went with the prosciutto crudo di parma (parma ham with buffalo mozzarella) and it was amazing! I found the prices were a bit high but for the location and the quality of the ham and mozzarella it was worth the €12.50 for a platter and a bottle of mineral water. As other people have pointed out you can head inside and order the same meat/cheese from the counter cheaper but I was happy to sit down, relax and enjoy the market atmosphere.
Uttichina (Lunch)
I had a lovely walk thru the ccity and stumbled upon this place after reading the advice of another Yelp elite member Enzo. I ended up having a lovely carbonara pasta that used ricotta cheese and parsley which made for a refreshing mix of what can be a very heavy pasta dish.
The staff were super friendly and welcoming and I would strongly recommend you drop by here if you are heading into Ortygia as the prices are far better here than in the old town, as I paid €10 for my pasta and a bottle of water.
Address: Corso Umberto 56, 96100 Siracusa, Italy
Leonardi (Snack)
A great little coffee shop serving just magical hot chocolate…  They have 5 different types. To select from: dark, pistachio, white, normal and another one I forgot…  I went with the pistachio and 3 small cakes and it was a perfect sugar hit to keep me running until dinner later.
Train from Syracuse to Taormina
On the third day in Syracuse I left for Taormina.  Syracuse train station is good enough but agree with others reviews that it's a bit small for such a large city. But the good point is that unlike other smaller stations they do have both automated ticket machines and actual humans who are able dispense tickets or help you.
They have a few tracks but the main intercity trains leave from the main platforms, the regional trains arrive at the back area past the bar on platform one.
The station does have a few services such as a newsagent that sells reading material (mostly Italian)  candies and a few other treats and there is also a bar/Cafe if you are needing some Dutch courage or just want something to drink…
The only part I hate about Syracuse train station is all the passengers standing along the platform having a cigarette…  I mean there was only one other person that got aboard my train that wasn't smoking heavily before they boarded, not impressed!
When you are heading up on the right side about halfway along the trip you have a wonderful view of Mt Etna, then on the second half of the trip Mt Etna is on the left side of the train.
Stazione Taormina-Giardini
This is probably one of the most exquisite stations I've come across in my travels, it certainly retains a lot of the style from back in the day when this was a exclusive destination for Europe's rich and famous. This is the main station for destinations of Giardini, Naxos, Taormina and Isola Bella.
There is a staffed ticket box where you can buy your tickets from and there is a bar where you can buy your bus tickets from or get something to eat. The staff was very well maintained unlike every other station that I visited in Sicily.
When you arrive there is a cafe outside on the left side as you exit where you can buy your tickets for the bus and get something to eat and drink.  It will cost you about €1.90 for a one-way ticket  and be aware which bus you catch if you are staying in Isola Bella beach area as I caught the normal bus that took me to the main bus terminal in Taormina instead of the bus that would have dropped me outside of my hostel.
So I actually ended up having to walk 2.3km or so to reach Isola Bella beach and then worked another kilometer or two as Google Maps didn't have the correct location (I fixed it in Google Maps later). The main thing to understand is that Taorimina village is on top of a mountain so there are more than a few hundred steps between there and Cohen Hostel.
Cohen Hostel (HostelWorld)
The hostel is a tough one to find as it's located in Isola Bella Beach area not in the main part of Taormina. It's above Isola Bella cafe and the entrance is around the back about 50 meters up the stairs heading back to Taormina.
It's a decent location, downstairs is a larger apartment while upstairs is smaller but a more modern apartment with a better lounge area, nicer kitchen and because it's higher a better view of Isola Bella.  The bathrooms were ok in the top apartment but downstairs bathroom certainly needs some renovations which I recall they said was due to happen.  The showers aren't the greatest but it's a self-contained unit so you win some you lose some. The downside to the upstairs apartment is that there is 3 rooms sharing a single combined bathroom/toilet.
Be aware there is a washing machine in the top apartment but if you need to ask to use it and the manager will charge you €10 to use it to cover any damage or maintenance that is required. WiFi is hit and miss but it's free so when it works it's great!
If you get a dorm room you don't get a key to lock your door downstairs and upstairs you have curtain only.  It would be great if there was some kind of locker supplied or made available to travellers as only the private rooms get to lock their doors. The area was safe and I never heard any other guests complain about the security but would be a good idea for the owners to think about fixing.
They had some baskets of fresh fruit for the guests that included a massive amount of Mandarins which we managed to demolish in 2 days.  The manager did help guests to make sure they knew the right buses to catch to get to the tourists attractions or Taormina village.
The cost was reasonable just €80 for 4 nights plus a €20 refundable key deposit which is a pretty decent deal.  A really good place to stay but considering your are staying next to a 4 star hotel Panormaic Hotel that charges €99-229 a night you are getting a great deal and the same view. Most of the other travellers were reasonably friendly and offered to join you for dinner or on tours to places like Mt Etna.
It's a wonderful place to wake up to in the morning, and a reasonable nights sleep.  If you are staying in the cooler months consider using their supplied blankets and sleep in a shirt as it does get a little cooler at night.
Taormina
Isola Bella is a wonderful beach spot to relax and if you cross thru the water to the patch of beach attached to the island you are safe from the annoying ladies selling massages on the beach.  They are very push so beware while they are friendly they really start to piss you off after a few hours if you are trying to relax and it's too cold to go swimming.  Prices for beach massage €20 for 30 minutes or €10 for 10 minutes which is certainly wonderful I just wished they weren't so pushy about it all, so don't rule out getting one.
There is a small island that is currently a nature reserve that you are able to pay to explore.  I ended up paying to explore the island and was annoyed that a majority of the paths were closed or blocked and then after 30 minutes a staff member found me and said they were closing so i had to leave.  I was quite annoyed but the staff didn't seem to care, they kicked out several other travellers that had just paid the entrance fee and locked the gates.  There was no reason as there was still staff on the island but it seemed they closed at 130pm for lunch and I didn't see it re-open again that day which confused a lot of tourists who saw the opening hours said should be open but couldn't work out why the gates were locked.
Teatro Antico di Taormina – Ancient theatre of Taormina
I would have to say this was one of the most impressive archaeological locations I have visited, the view over the city, Bay of Naxos and Mt Etna is equally impressive consider the Ancient theatre of Taormina was built sometime around the 3rd Century BC followed by an expansion in the 2nd Century AD.
When I visited the theatre was basically in it's natural condition but I could see work had begun to get it ready for the summer concert season as it's still in use for live performances like Teatro Greco in Syracuse.  The ticket price was a little high at €10 but the experience was amazing even with the hundreds of tourists climbing over everything like it was a playground.
There was also a rather impressive museum that showed several artifacts recovered from this site and several other sites in the area.  The sad part is that the artifacts are not protected and open for dumb tourists to touch them which will only cause them to deteriorate faster.
Giardini della Villa Comunale
This is a lovely spot to explore on a warm sunny day, it offers you a great place to go for a romantic stroll or find a cool and quite place to sit down and relax.  It's something most people struggle to find but are happy with they do, I would suggest 60-90 minutes is a good amount of time required to see the gardens and enjoy the amazing view.
The gardens are very well maintained that offers a perfect break from the chaos of the tourists hustle and bustle of the old town.  It's certainly somewhere I would recommend you visiting if you have a chance.
Mendolia Beach Club (Lunch)
I dropped by here as it had just started to rain and when I say rain it was raining cats and dogs. The location was right on the beach along Isola Bella cove so was a wonderful spot to watch the storm roll into the beach.  I ended up ordering the maccheroni alla norma pasta dish as this seemed the most simple and authentic item on the menu that wasn't seafood based.  I also got a large bottle of mineral water to wash it all down.
For dessert I ended up ordering a cannoli which was one of the strangest ones I've see so far on this trip, with chocolate sauce, glazed cherries and chocolate chips. It tasted ok but it wouldn't be something I would consider ordering again giving the option. Considering it cost €5 I would have probably skipped it if I knew what I was getting.
I ended up ordering a cup of team because I was so cold with the weather change brought about by the rain, but they managed to screw up and sent me a cappuccino which I sent back which then meant another 5 minutes waiting for my cup of tea I needed just to warm up. My meal came to €24 which was a little pricey considering I was used to Ragusa prices.
Address: Isola Bella Beach, Taormina, Italy
Da Giovanni (Dinner)
Had a wonderful dinner here, we got in early around 7pm so didn't need a reservation but by the time we left around 830pm the place really started to fill up. So if you are planning on eating later I would suggest you make a reservation you won't be disappointed by the food for sure!
Had a nice maccheroni alla norma pasta dish and my friend had the seafood spaghetti, both meals tasted great and was not a bad price for two of around €25 including a large bottle of sparkling mineral water.  We skipped dessert as the meal and bread was so filling, but I really have to fight the urge not to order dessert.
I would certainly recommend eating here if you get the chance, it's recommended by Cohen Hostel guests for a good reason, it's consistently good and well priced for the location.
Address: Via Nazionale Isolabella, 98039 Taormina, Italy
Il Gabbiano (Dinner)
I had high hopes for this place being it's location was opposite my hostel so was overlooking the beach. The menu was heavily skewed towards seafood but I found penne alla norma which would do me just fine.
It did take more than a bit of effort for myself or other guests to attract the wait staff's attention, I don't really like to work for my meal.
I was going to eat next door but they were full so being after 8pm I was just happy enough to get a table. Sadly the table they gave me while offering water views (only front row got Beach views) my table was right in the middle of the walkway. I was squished into my table and constantly had my chair bumped by people passing thru (mostly staff).  The table was also lopsided so it moved all the time which just added to my annoyance during my meal so once I finished my meal I wanted to leave…
I was happy they had butter to go with the bread and while the food took a bit longer than expected it looked amazing when it came out.  I accepted the constant bumping of my chair and the wonky table while I cleared my plate, the penne alla norma was delicious but I didn't enjoy my meal as much as I wanted to.
I was feeling better once I had finished and was prepared to spend a bit more money so I asked for the dessert menu. Sadly two items I actually wanted to order were not available…  A Sicilian restaurant being out of cannoli just seems impossible, so I gave up paid my meal on my card and left saddened but satisfied…
Could have been better
The table situation was just not good enough
The waiter staff were kinda disorganised and not warm and friendly as I've come to expect in Sicily
No cannoli… How?
Address: Via Nazionale 202, 98039 Taormina, Italy
La Zagara (Dinner)
Located in the main village I have to say I almost walked past this spot as I thought it was closed, they had in fact closed the door because it was so damn cold and to block out the street noise. So if you pass by have a look inside to see if the lights are on and the staff are waiting before you walk past, don't assume it's closed and and it's a sliding door so trying to push or pull it doesn't work 😉
Because of the location in the old city like most places you can be sure of a little road noise once in a while but they have music softly playing so it mostly drowns it out. I wouldn't consider the road noise an issue the ambiance manages to make up for it 🙂
I ended up ordering the Carbonara pasta as it's one of my favourite dishes and the picture I saw of it made it the only choice I could make. I ended up asking them to leave out the pepper as I felt it would mask the beautiful ingredients that goes into the dish. It wasn't an issue for the chef to leave it out.
They did make sure it was just I didn't like pepper and it wasn't an allergic reaction that I wanted to leave it out. Once my dish came out and the staff showed a little bit of their humour by betting me to try just a little pepper and left the pepper shacker on the table with a huge grin. I was eating alone so it was nice to have a bit of interaction with the staff as most restaurants just ignored me and let me eat alone. So thanks for hiring great staff that do make a bit of an effort to ensure the guests are comfortable.
I decided to skip dessert as ive already had three treats today but I'm sure their desserts would be amazing. They have a decent range of seafood and seafood pasta options but don't worry they have a good range of meat alternatives. The staff were great and had a little fun and interacted with the customers which was a nice change.
I would say drop by here if you are in the area you can be sure to have a wonderful meal. Also if you arrive before 9pm you can beat the rush as most Italians don't reserve a table until 9pm or later…
Address: Viale San Pancrazio 3, 98039 Taormina, Italy
Taormina to Lipari
There are a few options to get from Isola Bella to Taormina-Giardini Naxos train station the first is a bus that runs direct but it doesn't run that frequently and bus drivers have a bad habit of ignoring passengers waiting and drive by.  I went with the other option was to catch the cable car to the top of Taormina village which runs about every 15 minutes and takes 5 minutes to reach the top and costs you €3.  From Taormina village the buses run more frequently to the train station so that is the option I picked.
The train from Taormina drops you off at it's final destination Messina Train station which is a fairly decently large station but if you are heading to the ferries just continue along the platform north following the ferry signs and don't go into the main station area. The station is a little rundown and be aware the walk to the ferry area is a little bit of a hike and there is a few different paths you can follow.
Messina (Layover)
The train drops you off at Messina Train station which is a fairly decently large station but if you are heading to the ferries you have two options to get to the ferry terminal
Continue along the platform north following the ferry signs. The station is a little rundown and be aware the walk to the ferry area is a little bit of a hike as it's the longest path to Ustica & Bluferries
Exit the station and walk along the road to the station, while it's longer I would suggest walking along Via Calabria as it's not as busy as Via Guiseppe la Farina
The area around the train station and ferry wharf is kinda depressing but the most amazing thing is the wonder street art decorating the buildings around the station area. That is certainly worth checking out if you are passing through the area for sure!
Canneto (Lipari)
I was staying in the next town north of Lipari, Canneto so once my ferry dropped me off I headed to the local bus which runs frequently between Canneto and Lipari.  Be aware that this was the island town Canneto (Lipari) not Canneto, Sicily which is located on the mainland halfway between Palermo and Messina.  The bus was easy enough takes about 10-15 minutes depending on traffic and I think it was 1.30 each way, I've included the time table that is valid until 31st May 2016.
My host picked me up from the Catholic Church opposite Parrocchia S. Cristoforo on her scooter, this was interesting and partly terrifying experience as I had my backpack weighing me down and the streets are fairly narrow.  I would have considered walking as it's not really that far from where the bus drops you off opposite the church you just head up Via Risorgimento and walk up the hill towards the power transformer with the giant member spray painted on it and up a steep hill and turn left.
B&B Da Patrizia (HostelWorld)
I ended up looking on HostelWorld for my Lipari accommodation as I had been staying at more expensive Airbnb options for most of the trip.  I decided to pay a little bit extra €45 a night for the deluxe twin private with ensuite since it was my last 4 nights of my holiday.  I sent a WhatsApp message to the property to inform them of my arrival date/time as per their request. The property was located in Canneto which was about a 10-15 minute bus ride from the main town of Lipari.  The town of Canneto is a wonderful spot with a lot of friendly locals and a lovely pebble beach.
One note is that you need to pay for your stay in cash, so either get some money out when you arrive on the ferry or if you walk to the Bar Blu Cafe just a few hundred meters up the beach there is an ATM at the Banca Agricola Popolare Di Ragusa.
The guest house I was staying in was quite nice with a large LCD TV, a comfortable double bed and plenty of power points.  I would advise to close the shutters if you want to sleep in but you can be assured of a peaceful nights sleep.  If you love seeing stars at night you will see some of the most amazing skies that I saw during my whole trip across Sicily because of the low amount of light from the town.  I woke up at 2am and went down to the nearby Canneto pier and enjoyed staring up at the milky way and would also recommend catching a sunrise/sunset or two if you can.
The apartment had a nice sized kitchen with gas stove and dishwasher which I used a few times as it was getting to the end of my trip and my budget was spent.  The only point is that you can't drink the local tap water so get used to drinking and cooking with bottled water only. The apartment also has a washing machine if you are running out of clean clothes which is a nice bonus and you can just hang your clothes on the line outside the kitchen window.
There is a nice kitchen table and small lounge area which I didn't really use much as I usually ate my meal in bed while watching a movie on my laptop.  The only issue was the main fridge was not working but they had organised a small bar fridge that was more than sufficient for my needs.
It was really nice of Patrizia who took me into the garden in the courtyard when i arrived and gave me a large handful of Loquat fruit picked off the tree and three lemons for my tea that were the size of my hand. I had several lovely cups of tea each time with a slice of freshly cut lemon.
I would have to recommend staying at this property if you are looking for somewhere relaxing, I love the town of Canneto and really enjoyed the peace and quite of the area.
B&B Da Patrizia Address: Via Risorgimento 21, Canneto di Lipari, Lipari, Italy
Mt Etna Trip
It was great Claudia at Etna People was able to accommodate my last minute request to take a trip to Mt Etna, they sent two SMS messages with details about my guide Emanuele and that he would pick me up from the entrance of Isola Bella at 9:05am.  It was great they were just 1 minute late as they were stuck behind a truck unloading for one of the nearby cafes.  Once aboard Emanuele introduced me to everyone and made sure we were all ready for an amazing day out exploring Mt Etna.  This wasn't the cheapest tour option but it was all inclusive so you can't really go wrong as all the additional costs add up quickly on other tours.
Our guide was really great on the way to Mt Etna as he made everyone feel part of the group and had some fun true/false questions about Volcanoes and the history of Mt Etna. He was also talking about the age of the different lava flows and how you can tell the age of a lava flow by the colour of the rock and if there is vegetation growing there.  The shots below were from a lava flow about 200+ years ago apparently after 200 years it's very hard to easily notice the difference in age. It was also interesting to hear that the lava flows around Mt Etna had produced several endemic species but due to it's lack of water it's more of a dessert region and due to hunting not many larger species of animals have survived.  It was interesting to watch how the vegetation changed as we drove from the low Mediterranean plain, through the mountainous Mediterranean plain upto the high Mediterranean plain.
After a fun drive upto the chair lifts at the base of Mt Etna we arrived and Emanuele got out the provided hiking equipment.  I would listen to the guides advice and take the hiking shoes they offer as your own shoes will get rather dusty and certainly take a jacket and gloves for sure if you are here in early spring (April-May) as it does get very cold on top of Mt Etna.  It's best not to wear shorts if you are travelling in Spring as two people did on our tour.
It was really great being part of an organise tour as Emanuele was able to organise all the tickets for the chair lift ride and we were able to skip the massive line as we already had our tickets and were in an organised group.  It was the first benefit of getting an all inclusive tour that we didn't waste anytime waiting in line.
Once we arrived at the top of the chair lifts 2000m up Mt Etna we walked down a bit to some massive 4WD buses to take us up to the 2900m point to the base of the main crater. Passing a lot of people in the chair lift and in the 4×4 bus I was glad I opted for the transport option as a number of people we passed were really struggling to climb in mountain ash and loose rocks as you can see from the chairlift view below.
We had a good amount of time at the top of Mt Etna and our guide stopped every 40-50 minutes as we walked around the crater to explain a bit more about what we were seeing and about the geography of the craters and geology of the area.  This gave us plenty of time to take some amazing photos and the only thing that was missing was a great photo of the tour group while on the mountain.
There was still plenty snow around and some amazing ice formations due to the cold temperatures and extremely strong winds.
The smoke from the main crater drifted over once in a while bringing with it the smell of rotten eggs and a slight burning sensation but it wasn't too bad as the winds quickly changed and again we had fresh cold mountain air.  I'd make sure you pick a day that doesn't have too much cloud cover as you won't be able to enjoy as much of the mountain.
If you want to see the true beauty of the area watch this amazing footage in 4k filmed by Vegas video.
After the exploration of the crater finished we headed back down via 4×4 buses to the chairlift and stopped at a lava tube, again all the equipment was provided including hard hats and led lamps to explore the tube.  One of the ladies was claustrophobic so she stayed outside while we explored inside the lava tube. The tube was small but that was because the other 1.5 kilometers was closed off to tourists, but our guide was able to tell us the history of how the tube was created and how the locals used the tubes to create ice in winter.  The locals could sell the ice in summer by covering it in volcanic ash to keep it insulated and even  ship ice packed in volcanic ash to places as far away as Malta, before the arrival on the island of refrigerators in the 1950s.
For lunch we stopped at Cantine Don Saro, a lovely little winery where had a lovely lunch package included in our trip.  We were seated and soon greeted by The Don who talked about his wine, food and enjoying life.  The table had several wines during lunch a white, a red and a rose but I didn't have any but most people seemed to enjoy them all.   Entree was a plate of local salami, soft cheese, potato bake, garlic bread and Parmesan cheese.
The food was good and certainly appreciated by everyone at the table, some of the ladies on our table received some free gifts of jewelry as a thank you for visiting the winery.  They also have a number of great wines for sale in their store so I would suggest you pick up a bottle or two if you can.
Our last stop was Alcantara Gorge which was an amazing lava flow that has been reclaimed by the river for form an awesome natural attraction, it's a paid attraction but yet again it was paid of the all-inclusive tour.
There are a few hundred steps down and back so be prepared to work lunch off but the steps are worth it.
The water was quite cold but it was so refreshing to walk through and some people on our tours were even brave enough to let their friends push them into the stream, but this was not me this day.  Our guide talked a bit more about the rock formations that we were seeing and how they were created and how they were similar to the Giant's Causeway in Ireland.
Probably one of the more expensive tours I've been on but certainly one of the best I have been on, can't recommend it enough, you must do a tour with Etna People for sure! They also have several other tours such as an all-day hiking trip that I would maybe consider doing next time I'm there.
I also missed the Etna eruptions that happened two weeks after my tour which would have been amazing to have witnessed!
https://www.youtube.com/watch?v=UcVcdNfgehk
Stromboli Trip
The tour was fairly cheap and recommended by my Hostel host as she said they were a smaller boat and better experience.  The Gruppo di Navigazione Regina picked us up from Marina Corta Lipari around 2pm and I was a little worried as the boat was much smaller than I expected as I knew the seas could get rough in the evening.
The trip out to the first island Isola di Panarea was ok but I certainly miss having a bigger boat already.  There was some announcements about the tour but they were all in Italian and every once in a while there was a brief announcement in English, this wasn't good enough as most of the travellers on the boat that day were not Italian. This was a big reason that this reason wasn't an amazing tour, it was something more of a ferry. It was also very weird that the crew dropped us off each time and then took the boat out fishing before returning.
We arrive on Panarea around 3pm and had about 45 minutes to explore the island which I mostly spent exploring the rocks along the coastline and doing some shopping for souvenirs. It might be a decent spot to spend a few days relaxing at one of the many resorts on the island as it was very peaceful. The downside to this tour was the lack of direction from the crew outside of when to be back on the boat there was no guidance on what to do or see on this island.
We arrived at Stromboli around 5pm and picked us up around 6:45pm, I took a bit of a walk through the old town, bought a heap of souvenirs and had some pizza for dinner at Ritrovo Bar Ingrid which offered amazing views over the coast.
I did have a look at some of the hiking tours that looked interesting and something I really wished I had of done.  The hike to the top of the crater (918 meters) was around 5-6 hours so it wasn't possible to do it this time.
After I finished dinner I headed back to the port area and while I waited for the boat crew to arrive I explored Spiaggia Nera beach which was quite amazing with the contrast of the items along the beach and the black sand.
What was both interesting and concerning was that by now the seas became quite rough and they couldn't pick us up at the main dock, we had to hear to Molo vecchio pier which was in a slightly more protected part of the island.
Once aboard the board we headed towards the nearby lighthouse Isola di Strombolicchio which while interesting was not what we had come for and soon we headed to the west side of the island for the view of the Volcano.  We stayed around waiting for the lava fireworks to start to happen but all we saw was a large plume of smoke, I think it was also too much light as the sun had still not set and lava is almost impossible to see during the day as it just appears black.
Eventually the seas started to become too rough and it was time to head to back to the safety of Lipari as there was word of rough weather coming.  After a rough few hours at sea we arrived home at Porto di Lipari around 10pm, it was a long day and I was exhausted but I wanted to walk off the sea-sickness feeling so I ended up walking home to my accommodation.
If I was going to do it again I would consider staying on the island for a few days and doing a hike with a guide up to the crater and spend the night there and watch the sunrise over the crater.  This way I could be sure to get a decent view of the lava flow which was the one thing I really wanted to see this trip.
I had wanted to go the Sunday which I found out was a better day as the seas were calmer and the tour group actually saw some volcanic activity. Annoys me when sometimes I don't stick with my plan and I feel like I was tricked into going on Saturday. Also consider in summer the day is longer so it's far harder to see the lava flows when it's not dark.
Ritrovo Bar Ingrid, Stromboli (Dinner)
The service was good, the food was cooked quickly and tasted great but the downside was the pizza was a little soggy due the tomato sauce they used. I got the pizza parma which was a good choice but would have been 5 stars if the crust was a bit crunchier in the middle. Overall a decent meal and lovely freshly squeezed blood orange juice.
When I visited on a Saturday evening they had a fun band duo playing music which really made for a great atmosphere even when they hummed through some of the lyrics they seemed to forget 🙂
I would certainly recommend dropping by here if you are on a stromboli cruise even if it's just for a drink and enjoy the view. They also have several other food options such as buffet, set menu, antipasti, and plenty of pasta options.
Address: Via Michele Bianchi 1, 98050 Stromboli, Italy
Vulcano Trip
The ferry from Lipari to Vulcano runs fairly frequently so you don't have to worry about planning this trip too far ahead of time if the weather is good.  If the weather is bad I would not take this trip, one other option is the hydrofoils that also travel across but not as frequently.
The ferry was about 15 minutes late and it was somewhat of an older ferry and felt like riding in an old school bus, so consider bringing a pair of headphones to drone out the noise. But for a cheap day out it's perfect at just 5.50 each way it's very affordable compared to doing an organised tour.
Since I didn't climb Stromboli I thought I wouldn't pass up the opportunity to climb another Volcano and certainly not one on an island called Vulcano! I arrived around lunch time and had about 5 hours until my schedule time back to Lipari which I assumed should be more than enough time to explore the place.  Also it was my last full day of my holiday so I had to still explore a little bit more of Lipari before the sunset and the shops closed.
The first tip I would suggest is avoiding walking past the sulfur mud bath as the smell is very over powering and I have no idea how people were enjoying covering themselves in the mud.
I quickly walked by the area and grabbed the first bunch of gumtree leaves and crushed and inhaled them to try and remove the horrible smell of rotten eggs.  After managing to survive my first major crises of senses I headed off to the shops to buy another bottle of water and some snacks for my climb up the mountain. I found the Conad supermarket (Via Porto Levante Vulcano) easy enough and there was a second one so you don't have to worry about bringing everything from Lipari.  The 800 meter climb to the top the the crater is reasonably well sign posted, if all else fails head towards the giant mountain and follow the stream of tourists.
I would suggest you take your time getting to the top of the crater as it takes about 1/5 of the time to get back down.  The paths are a combination of loose gravel, rocks, mud, and in some places gravel a few inches deep which is like walking in sand so don't wear your best shoes and try not to do this in open shoes like sandals or thongs.
I would be also careful doing this climb in the rain as some parts of the mountain are very slippery.
But the best thing about climbing mountains is the view you get when you stop for rest!
It was worth the effort for sure once I reached the top, you get to admire this amazing crater and awesome views of the island.
You can then walk around the crater edge which starts with walking through some sulphur fields which are both horrible smelling but amazing.  I would certainly recommend a trip to Vulcano just to spent some time exploring the sulphur fields.
I stopped and spent probably too much time here but it brought back all my memories of high school science an the amazing things that can happen on a volcano.
I was able to observe sulphur in liquid form that was several centimeters long which I had only heard about before, which meant the temperature was over 200 degrees.
I was about to observe several fumaroles with tiny yellow sulphur needles around them, which while looking beautiful were extremely hot!
I also spotted several thin layers what I think was Calcium sulphate around some of the hottest vents that has a melting temperature of around 1,460 °C.
After spending too much time photographing the sulphur fields, I set off around the rest of the crater edge, which involved yet another fairly steep climb to the top east corner.  From the higher side of the crater you had an amazing view of the islands but also the crater below which made you put your size compared to a volcano into perspective and made me respective them a fair bit more.
Once I finished exploring the crater I thought it was finally time to go for a swim, since the weather was warm enough and it was my last chance to do it.  I found a lovely cove on the west side of the island that was mostly deserted and far enough away from the sulphur baths that I could enjoy the tranquility.
Oh yeah the only downside was the Jellyfish that I found floating just off the shore so I didn't do too much swimming just stood there at weight height and cooled down.  I checked later and found out they were one of the most dangerous of all the species in the region, the Pelagia noctiluca have a horrible sting and can leave scars their toxin is so strong.
It was finally time to depart and begin the 10 minute walk back towards the port to catch the ferry back to Lipari.
Il Galeone (dinner)
Since it was the last night of my Sicilian holiday and I decided I wanted to pick a wonderful location for a relaxing evening meal. I stumbled upon Il Galeone which was located on the corner of Corso Vittorio Emanuele and Via Amendola, and looked like a lovely spot to have dinner.  I was early of course so I went for a walk for an hour and took some photos around the place before returning around 730pm in time for dinner.
I went with the tried and trusted maccheroni alla norma which was marvellous but maybe a little too much sauce left over at the end or maybe I could have had more pasta… I avoided the green things on my plate I assume it was salad but it looked pretty enough but I wasn't about to be tricked into eating my greens.
The pasta was perfectly cooked and it made for an amazing main course meal, I had picked well and I was happy. I was also impressed as they had amazing bread something similar to damper and was luckily enough they had butter…  I really struggle to enjoy bread without some butter as I found out on this trip in Sicily it was very uncommon for places to have butter "burro".
I ended up ordering dessert which was a lovely chocolate mousse with ice cream centre. I have to say the staff are super friendly and they are very accommodating for their guests and make sure that everything is perfect.
If you are in Lipari I would strongly recommend eating dinner here for sure, don't worry they do have many more options besides maccheroni alla norma. Thanks for an amazing meal and the dessert was epic!
Address: Corso Vittorio Emanuele II 220, 98050 Lipari, Italy
Da Pina (Specialty Items)
I found this cute little specialty food store just opposite the main Lipari Post Office on Corso Vittorio Emanuele.
I was impressed by the presentation of food and range of traditional Sicilian delicacies and their prices seemed quite reasonable compared to other places.  The lady that ran the store was ever so helpful finding several items I had on my shopping list that I had to purchase and even suggesting several items that were a bit more affordable after my initial total was 3 times as much as I planned to spend.
I would recommend dropping into this store if you are looking for some amazing Sicilian food to bring home for sure! They have plenty of jams, spreads, Malvasian wine, liqueurs, a lot capers and plenty of yummy treats! Also note that Google Maps isn't the best when it comes to accuracy in Sicily so just look for Poste Italiane , Ufficio Lipari Centro and it's opposite that.
Lipari to Palermo Trip
Wow what an early start to the day, I was up by 5:30am, showered and set off on the short walk to the nearby bus stop.  I was aiming to catch the 6:10am bus so I would be at Lipari marina with plenty of time to spare as I couldn't afford to miss the ferry, sure I could have probably caught the 6:30am bus as I had plenty of time for the 7am ferry but it wasn't worth the risk.  But I knew the biggest benefit of catching the earlier bus was that I got to relax and watch the sunrise over the beach on the last day of my holiday which was worth it! The ferry left just after 7:05am so don't expect to have a lot of time to spare unless you arrive at the port nice and early.
Chef Express (Lunch)
This Chef Express location was inside the main Messina train station terminal and I would have to say the staff do a wonderful job at keeping the place clean and tidy. The food prices are reasonable enough for a train station and the food is quite good quality. I ended up having a toasted ham and buffalo mozzarella panini which filled the spot, it was only €4 which I think is fine for the location and the quality of the food.
It's a great place to burn a bit of time better trains if you are like me and have the 1122am train to Palermo which means I've had almost 2.5 hours to wait since I arrived on the Lipari ferry this morning.
It also feels a lot more comfortable to wait for your train, the red chairs are more comfortable than the wooden benches in the main ticket hall and you have Italian MTV playing to keep you entertained.
They have plenty of items for long train trips such as books for adults, books for kids, toys, snacks, kids packs and plenty of good takeaway food options. They even have fonzies which is the Italian version of twisties the essential Australian snack.
They also have ice cream, chewing gum, candy, 2 meters of kinder chocolate, several beers, ice tea, water and the usual and local soft drinks.
I would have to rate this as my best train station cafe for sure. There is also plenty of space between tables if you have a bunch of luggage which is always appreciated.
Palermo to Amsterdam
It was a long few hours but the train was a decent option and more comfortable than taking the bus but I would have maybe flown out of Catania next time or gone all out and taken the night train to Rome.  There is luggage storage at Palermo train station you follow the blue line markings to find it, there is also clean public toilets available near the bus terminal but they cost 0.80 which is a bit pricey but they are safe and clean so worth it.
I ended up catching the bus from Palermo station to Palermo airport, which had free WiFi most of the way but did take forever to get there stopping at several spots along the way to pick up passengers.  It was a cheap enough option but I would have preferred a direct trip if given the choice even if it cost a little bit more.
When I went to checkin they advised that they had the option to put me on an earlier flight, which I said yes immediately it was only after I noticed that it was an earlier flight to Rome and same flight back to Amsterdam.  So with my earlier boarding I headed straight to the gate and because of the priority boarding I was able to skip the giant line of passengers and was one of the first on the plane.
The flight back was good, I had sometime in Alitalia lounge and it was the same food options as on the way over 3 weeks earlier just this time a few more people were there. The final trip home from Rome to Amsterdam was good and I was exhausted by the time I got home.  Overall it was a wonderful trip I would maybe consider going a few weeks later so it would have been warmer for swimming and I wouldn't have needed a jumper.
This article is also available in: