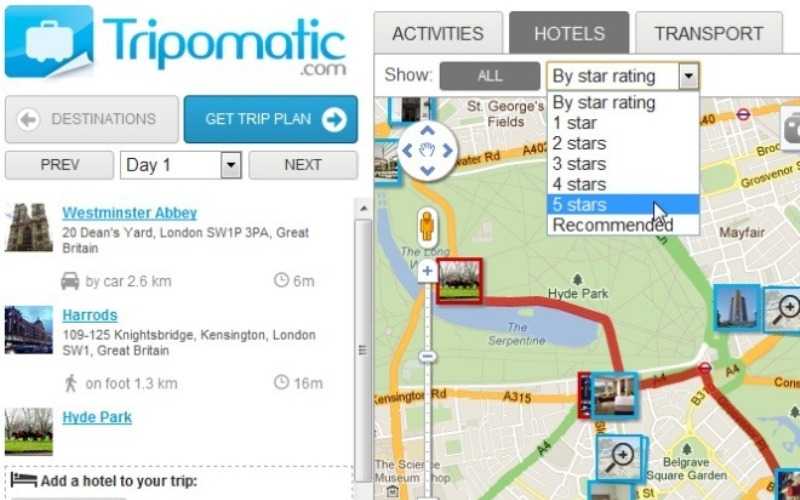 Itinerary planner for independent travelers – Tripomatic 3.0
Every once in a while there is a cool travel platform that gets a decent upgrade in functionality and this time it was Tripomatic which just launched version 3.0.  Tripomatic is a powerful travel planner that offers you a custom itinerary based around the city or country you are visiting.  Below is a video walk-thru of their updated itinerary planner you can watch to get an idea of what is possible.
https://youtu.be/r1-mDDYHEnQ
The idea behind Tripomatic is simple enough, they offer a web interface where you can create amazing travel itineraries easily with a few clicks.  The platform also offers both a responsive version for tablet and mobile users but also mobile apps (Android, Blackberry, iOS and Amazon). If you have a premium account you can also get access to your maps offline. While most of their functionality is available for free but there are some advanced features only for premium accounts.
Their app offers features such as walking friendly maps that arranges interesting places you want to visit in the most suitable order and estimates the total times and distances to travel. But they also offer driving times for travel between locations that are outside the city or the distance that is too far to walk easily. You can also include travel details to and from your accommodation to make things even easier for you and the platform allows up to 80 days in your trip which should be enough for most trips.
You can also add custom places if that location is not already a known location but also will allow you to re-use these locations which might be locations of family and friends homes or workplaces you plan to visit.
Tripomatic Offers Printable Tourist Maps
As you can see below another cool feature are they offer printable maps of must things to see in popular travel locations. They also offer free PDF tourist guides available to download if you need access offline.
Location Attraction Guides
Tripomatic also has a basic location guide that gives you a popularity ranking for that city and a guide on how many trips include that location which is a good way to judge should you consider including it on your trip. You can also use this insight to understand which are the tourist attractions you might want to avoid if you want to see a different side of a city.
Local City Guides
Tripomatic also offers a great list of hotels to stay but also a heap of great tours and activities you should consider doing when you visit. This along with what to do in that particular city including some suggested trips you could do if you didn't want to create your own.
Suggested Trips
Another cool feature of Tripomatic is their growing list of suggested trips that you can use as a trip template to get you started. You get a nice little map to get you started so you can orientate yourself on what is the main things to see and even where you might want to stay.
So I would suggest heading over to Tripomatic and having a play around with their trip planner you can be sure that you will be much more organised for your next trip.