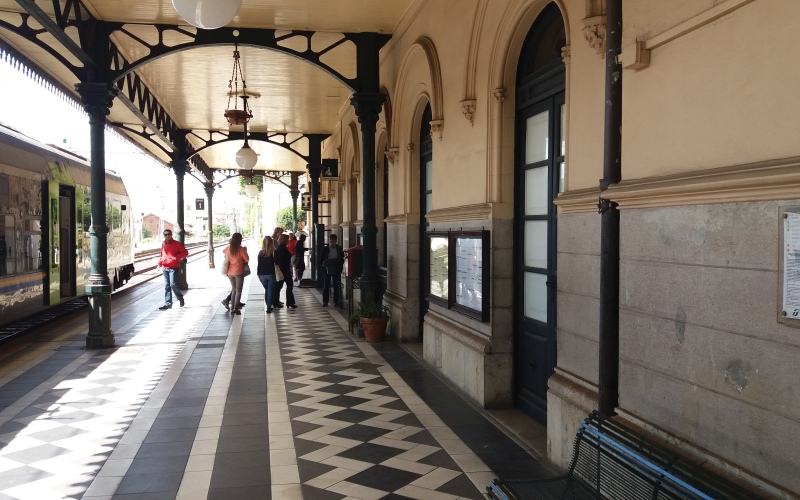 Train from Syracuse to Taormina
On the third day in Syracuse I left for Taormina.  Syracuse train station is good enough but agree with others reviews that it's a bit small for such a large city. But the good point is that unlike other smaller stations they do have both automated ticket machines and actual humans who are able dispense tickets or help you.
They have a few tracks but the main intercity trains leave from the main platforms, the regional trains arrive at the back area past the bar on platform one.
The station does have a few services such as a newsagent that sells reading material (mostly Italian)  candies and a few other treats and there is also a bar/Cafe if you are needing some Dutch courage or just want something to drink…
The only part I hate about Syracuse train station is all the passengers standing along the platform having a cigarette…  I mean there was only one other person that got aboard my train that wasn't smoking heavily before they boarded, not impressed!
When you are heading up on the right side about halfway along the trip you have a wonderful view of Mt Etna, then on the second half of the trip Mt Etna is on the left side of the train.
Stazione Taormina-Giardini
This is probably one of the most exquisite stations I've come across in my travels, it certainly retains a lot of the style from back in the day when this was a exclusive destination for Europe's rich and famous. This is the main station for destinations of Giardini, Naxos, Taormina and Isola Bella.
There is a staffed ticket box where you can buy your tickets from and there is a bar where you can buy your bus tickets from or get something to eat. The staff was very well maintained unlike every other station that I visited in Sicily.
When you arrive there is a cafe outside on the left side as you exit where you can buy your tickets for the bus and get something to eat and drink.  It will cost you about €1.90 for a one-way ticket  and be aware which bus you catch if you are staying in Isola Bella beach area as I caught the normal bus that took me to the main bus terminal in Taormina instead of the bus that would have dropped me outside of my hostel.
So I actually ended up having to walk 2.3km or so to reach Isola Bella beach and then worked another kilometer or two as Google Maps didn't have the correct location (I fixed it in Google Maps later). The main thing to understand is that Taorimina village is on top of a mountain so there are more than a few hundred steps between there and Cohen Hostel.
Post Tags: