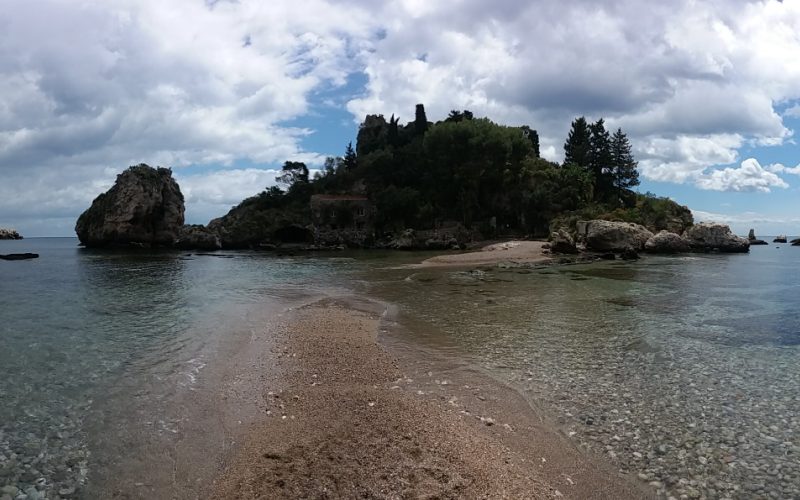 Cohen Hostel Review
The hostel is a tough one to find as it's located in Isola Bella Beach area not in the main part of Taormina. It's above Isola Bella cafe and the entrance is around the back about 50 meters up the stairs heading back to Taormina.
It's a decent location, downstairs is a larger apartment while upstairs is smaller but a more modern apartment with a better lounge area, nicer kitchen and because it's higher a better view of Isola Bella.  The bathrooms were ok in the top apartment but downstairs bathroom certainly needs some renovations which I recall they said was due to happen.  The showers aren't the greatest but it's a self-contained unit so you win some you lose some. The downside to the upstairs apartment is that there is 3 rooms sharing a single combined bathroom/toilet.
Be aware there is a washing machine in the top apartment but if you need to ask to use it and the manager will charge you €10 to use it to cover any damage or maintenance that is required. WiFi is hit and miss but it's free so when it works it's great!
If you get a dorm room you don't get a key to lock your door downstairs and upstairs you have curtain only.  It would be great if there was some kind of locker supplied or made available to travellers as only the private rooms get to lock their doors. The area was safe and I never heard any other guests complain about the security but would be a good idea for the owners to think about fixing.
They had some baskets of fresh fruit for the guests that included a massive amount of Mandarins which we managed to demolish in 2 days.  The manager did help guests to make sure they knew the right buses to catch to get to the tourists attractions or Taormina village.
The cost was reasonable just €80 for 4 nights plus a €20 refundable key deposit which is a pretty decent deal.  A really good place to stay but considering your are staying next to a 4 star hotel Panormaic Hotel that charges €99-229 a night you are getting a great deal and the same view. Most of the other travellers were reasonably friendly and offered to join you for dinner or on tours to places like Mt Etna.
It's a wonderful place to wake up to in the morning, and a reasonable nights sleep.  If you are staying in the cooler months consider using their supplied blankets and sleep in a shirt as it does get a little cooler at night.
Summary
Reviewer
Review Date
Reviewed Item
Author Rating