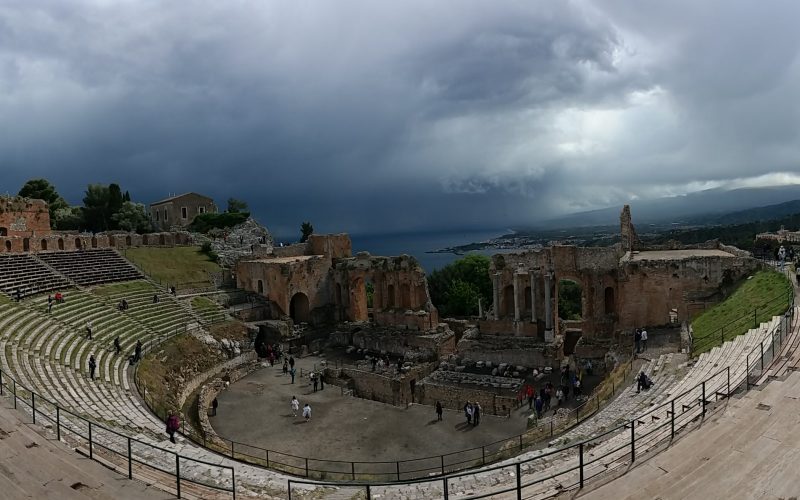 Exploring Taormina
Isola Bella is a wonderful beach spot to relax and if you cross thru the water to the patch of beach attached to the island you are safe from the annoying ladies selling massages on the beach.  They are very push so beware while they are friendly they really start to piss you off after a few hours if you are trying to relax and it's too cold to go swimming.  Prices for beach massage €20 for 30 minutes or €10 for 10 minutes which is certainly wonderful I just wished they weren't so pushy about it all, so don't rule out getting one.
There is a small island that is currently a nature reserve that you are able to pay to explore.  I ended up paying to explore the island and was annoyed that a majority of the paths were closed or blocked and then after 30 minutes a staff member found me and said they were closing so i had to leave.  I was quite annoyed but the staff didn't seem to care, they kicked out several other travellers that had just paid the entrance fee and locked the gates.  There was no reason as there was still staff on the island but it seemed they closed at 130pm for lunch and I didn't see it re-open again that day which confused a lot of tourists who saw the opening hours said should be open but couldn't work out why the gates were locked.
Teatro Antico di Taormina – Ancient theatre of Taormina
I would have to say this was one of the most impressive archaeological locations I have visited, the view over the city, Bay of Naxos and Mt Etna is equally impressive consider the Ancient theatre of Taormina was built sometime around the 3rd Century BC followed by an expansion in the 2nd Century AD.
When I visited the theatre was basically in it's natural condition but I could see work had begun to get it ready for the summer concert season as it's still in use for live performances like Teatro Greco in Syracuse.  The ticket price was a little high at €10 but the experience was amazing even with the hundreds of tourists climbing over everything like it was a playground.
There was also a rather impressive museum that showed several artifacts recovered from this site and several other sites in the area.  The sad part is that the artifacts are not protected and open for dumb tourists to touch them which will only cause them to deteriorate faster.
Giardini della Villa Comunale
This is a lovely spot to explore on a warm sunny day, it offers you a great place to go for a romantic stroll or find a cool and quite place to sit down and relax.  It's something most people struggle to find but are happy with they do, I would suggest 60-90 minutes is a good amount of time required to see the gardens and enjoy the amazing view.
The gardens are very well maintained that offers a perfect break from the chaos of the tourists hustle and bustle of the old town.  It's certainly somewhere I would recommend you visiting if you have a chance.
Mendolia Beach Club (Lunch)
I dropped by here as it had just started to rain and when I say rain it was raining cats and dogs. The location was right on the beach along Isola Bella cove so was a wonderful spot to watch the storm roll into the beach.  I ended up ordering the maccheroni alla norma pasta dish as this seemed the most simple and authentic item on the menu that wasn't seafood based.  I also got a large bottle of mineral water to wash it all down.
For dessert I ended up ordering a cannoli which was one of the strangest ones I've see so far on this trip, with chocolate sauce, glazed cherries and chocolate chips. It tasted ok but it wouldn't be something I would consider ordering again giving the option. Considering it cost €5 I would have probably skipped it if I knew what I was getting.
I ended up ordering a cup of team because I was so cold with the weather change brought about by the rain, but they managed to screw up and sent me a cappuccino which I sent back which then meant another 5 minutes waiting for my cup of tea I needed just to warm up. My meal came to €24 which was a little pricey considering I was used to Ragusa prices.
Address: Isola Bella Beach, Taormina, Italy
Da Giovanni (Dinner)
Had a wonderful dinner here, we got in early around 7pm so didn't need a reservation but by the time we left around 830pm the place really started to fill up. So if you are planning on eating later I would suggest you make a reservation you won't be disappointed by the food for sure!
Had a nice maccheroni alla norma pasta dish and my friend had the seafood spaghetti, both meals tasted great and was not a bad price for two of around €25 including a large bottle of sparkling mineral water.  We skipped dessert as the meal and bread was so filling, but I really have to fight the urge not to order dessert.
I would certainly recommend eating here if you get the chance, it's recommended by Cohen Hostel guests for a good reason, it's consistently good and well priced for the location.
Address: Via Nazionale Isolabella, 98039 Taormina, Italy
Il Gabbiano (Dinner)
I had high hopes for this place being it's location was opposite my hostel so was overlooking the beach. The menu was heavily skewed towards seafood but I found penne alla norma which would do me just fine.
It did take more than a bit of effort for myself or other guests to attract the wait staff's attention, I don't really like to work for my meal.
I was going to eat next door but they were full so being after 8pm I was just happy enough to get a table. Sadly the table they gave me while offering water views (only front row got Beach views) my table was right in the middle of the walkway. I was squished into my table and constantly had my chair bumped by people passing thru (mostly staff).  The table was also lopsided so it moved all the time which just added to my annoyance during my meal so once I finished my meal I wanted to leave…
I was happy they had butter to go with the bread and while the food took a bit longer than expected it looked amazing when it came out.  I accepted the constant bumping of my chair and the wonky table while I cleared my plate, the penne alla norma was delicious but I didn't enjoy my meal as much as I wanted to.
I was feeling better once I had finished and was prepared to spend a bit more money so I asked for the dessert menu. Sadly two items I actually wanted to order were not available…  A Sicilian restaurant being out of cannoli just seems impossible, so I gave up paid my meal on my card and left saddened but satisfied…
Could have been better
The table situation was just not good enough
The waiter staff were kinda disorganised and not warm and friendly as I've come to expect in Sicily
No cannoli… How?
Address: Via Nazionale 202, 98039 Taormina, Italy
La Zagara (Dinner)
Located in the main village I have to say I almost walked past this spot as I thought it was closed, they had in fact closed the door because it was so damn cold and to block out the street noise. So if you pass by have a look inside to see if the lights are on and the staff are waiting before you walk past, don't assume it's closed and and it's a sliding door so trying to push or pull it doesn't work 😉
Because of the location in the old city like most places you can be sure of a little road noise once in a while but they have music softly playing so it mostly drowns it out. I wouldn't consider the road noise an issue the ambiance manages to make up for it 🙂
I ended up ordering the Carbonara pasta as it's one of my favourite dishes and the picture I saw of it made it the only choice I could make. I ended up asking them to leave out the pepper as I felt it would mask the beautiful ingredients that goes into the dish. It wasn't an issue for the chef to leave it out.
They did make sure it was just I didn't like pepper and it wasn't an allergic reaction that I wanted to leave it out. Once my dish came out and the staff showed a little bit of their humour by betting me to try just a little pepper and left the pepper shacker on the table with a huge grin. I was eating alone so it was nice to have a bit of interaction with the staff as most restaurants just ignored me and let me eat alone. So thanks for hiring great staff that do make a bit of an effort to ensure the guests are comfortable.
I decided to skip dessert as ive already had three treats today but I'm sure their desserts would be amazing. They have a decent range of seafood and seafood pasta options but don't worry they have a good range of meat alternatives. The staff were great and had a little fun and interacted with the customers which was a nice change.
I would say drop by here if you are in the area you can be sure to have a wonderful meal. Also if you arrive before 9pm you can beat the rush as most Italians don't reserve a table until 9pm or later…
Address: Viale San Pancrazio 3, 98039 Taormina, Italy
Post Tags: