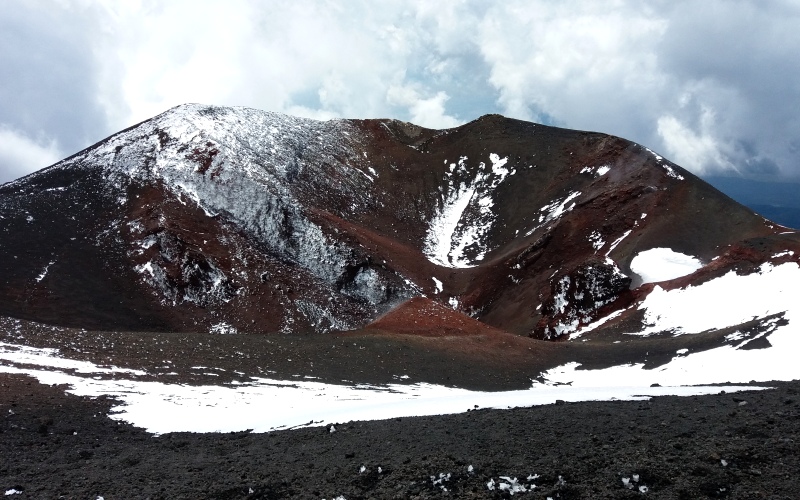 Mt Etna Trip
It was great Claudia at Etna People was able to accommodate my last minute request to take a trip to Mt Etna, they sent two SMS messages with details about my guide Emanuele and that he would pick me up from the entrance of Isola Bella at 9:05am.  It was great they were just 1 minute late as they were stuck behind a truck unloading for one of the nearby cafes.  Once aboard Emanuele introduced me to everyone and made sure we were all ready for an amazing day out exploring Mt Etna.  This wasn't the cheapest tour option but it was all inclusive so you can't really go wrong as all the additional costs add up quickly on other tours.
Our guide was really great on the way to Mt Etna as he made everyone feel part of the group and had some fun true/false questions about Volcanoes and the history of Mt Etna. He was also talking about the age of the different lava flows and how you can tell the age of a lava flow by the colour of the rock and if there is vegetation growing there.  The shots below were from a lava flow about 200+ years ago apparently after 200 years it's very hard to easily notice the difference in age. It was also interesting to hear that the lava flows around Mt Etna had produced several endemic species but due to it's lack of water it's more of a dessert region and due to hunting not many larger species of animals have survived.  It was interesting to watch how the vegetation changed as we drove from the low Mediterranean plain, through the mountainous Mediterranean plain upto the high Mediterranean plain.
After a fun drive upto the chair lifts at the base of Mt Etna we arrived and Emanuele got out the provided hiking equipment.  I would listen to the guides advice and take the hiking shoes they offer as your own shoes will get rather dusty and certainly take a jacket and gloves for sure if you are here in early spring (April-May) as it does get very cold on top of Mt Etna.  It's best not to wear shorts if you are travelling in Spring as two people did on our tour.
It was really great being part of an organise tour as Emanuele was able to organise all the tickets for the chair lift ride and we were able to skip the massive line as we already had our tickets and were in an organised group.  It was the first benefit of getting an all inclusive tour that we didn't waste anytime waiting in line.
Once we arrived at the top of the chair lifts 2000m up Mt Etna we walked down a bit to some massive 4WD buses to take us up to the 2900m point to the base of the main crater. Passing a lot of people in the chair lift and in the 4×4 bus I was glad I opted for the transport option as a number of people we passed were really struggling to climb in mountain ash and loose rocks as you can see from the chairlift view below.
We had a good amount of time at the top of Mt Etna and our guide stopped every 40-50 minutes as we walked around the crater to explain a bit more about what we were seeing and about the geography of the craters and geology of the area.  This gave us plenty of time to take some amazing photos and the only thing that was missing was a great photo of the tour group while on the mountain.
There was still plenty snow around and some amazing ice formations due to the cold temperatures and extremely strong winds.
The smoke from the main crater drifted over once in a while bringing with it the smell of rotten eggs and a slight burning sensation but it wasn't too bad as the winds quickly changed and again we had fresh cold mountain air.  I'd make sure you pick a day that doesn't have too much cloud cover as you won't be able to enjoy as much of the mountain.
If you want to see the true beauty of the area watch this amazing footage in 4k filmed by Vegas video.
After the exploration of the crater finished we headed back down via 4×4 buses to the chairlift and stopped at a lava tube, again all the equipment was provided including hard hats and led lamps to explore the tube.  One of the ladies was claustrophobic so she stayed outside while we explored inside the lava tube. The tube was small but that was because the other 1.5 kilometers was closed off to tourists, but our guide was able to tell us the history of how the tube was created and how the locals used the tubes to create ice in winter.  The locals could sell the ice in summer by covering it in volcanic ash to keep it insulated and even  ship ice packed in volcanic ash to places as far away as Malta, before the arrival on the island of refrigerators in the 1950s.
For lunch we stopped at Cantine Don Saro, a lovely little winery where had a lovely lunch package included in our trip.  We were seated and soon greeted by The Don who talked about his wine, food and enjoying life.  The table had several wines during lunch a white, a red and a rose but I didn't have any but most people seemed to enjoy them all.   Entree was a plate of local salami, soft cheese, potato bake, garlic bread and Parmesan cheese.
The food was good and certainly appreciated by everyone at the table, some of the ladies on our table received some free gifts of jewelry as a thank you for visiting the winery.  They also have a number of great wines for sale in their store so I would suggest you pick up a bottle or two if you can.
Our last stop was Alcantara Gorge which was an amazing lava flow that has been reclaimed by the river for form an awesome natural attraction, it's a paid attraction but yet again it was paid of the all-inclusive tour.
There are a few hundred steps down and back so be prepared to work lunch off but the steps are worth it.
The water was quite cold but it was so refreshing to walk through and some people on our tours were even brave enough to let their friends push them into the stream, but this was not me this day.  Our guide talked a bit more about the rock formations that we were seeing and how they were created and how they were similar to the Giant's Causeway in Ireland.
Probably one of the more expensive tours I've been on but certainly one of the best I have been on, can't recommend it enough, you must do a tour with Etna People for sure! They also have several other tours such as an all-day hiking trip that I would maybe consider doing next time I'm there.
I also missed the Etna eruptions that happened two weeks after my tour which would have been amazing to have witnessed!
https://www.youtube.com/watch?v=UcVcdNfgehk
Post Tags: