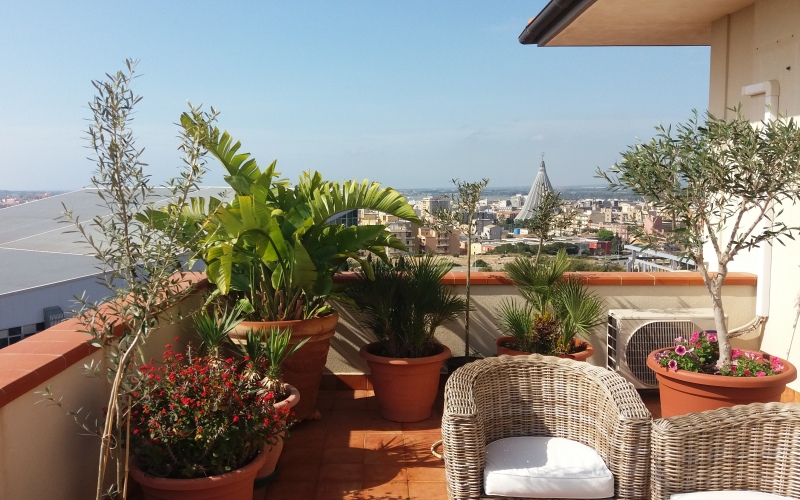 Syracuse Room (Airbnb)
My next lot of Airbnb accommodation for 3 nights was located on the top two floors of a 4 story apartment building, with a large bedroom and private bathroom (not ensuite).  The room also had a shared balcony next to bedroom and large expansive balcony on the top floor overlooking the city of Syracuse. The host was nice enough and offer to pick me up from the train station which saved me something of a 35 minute walk with all my luggage the 2.7km to her apartment.
I stayed 3 nights here and it cost $303AUD which was one of my more expensive parts of my trip but according to TravellersPoint the average place is around A$125 per night so it was cheaper than an average hotel room. I found that it was a good location out of the city which offered a good spot for exploring but next time I'll stay closer to Isola di Ortigia (old town).
I did find the downside of being in the suburbs was that there wasn't a great number of places to eat in the area and I didn't have access to a kitchen in the apartment so I had no choice but to eat out.  The host did offer to make me some food once or twice but I ended up finding somewhere.
The apartment is located outside the old city just near the park Parco Giovanni Paolo II just northwest of Santuario Madonna delle Lacrime.  I walked home at night with no issues but if you were not comfortable walking alone at night there was a bus you can take most of the way to and from the main tourist area.
The bedroom was a good size and remember it also had that small balcony that you can use to hang your clothes if you need to do some washing.  My host was so kind that she offered to throw my clothes in the wash for me, wow that saved me a lot of time I would have wasted waiting around the house.  I felt very special that she was that kind it was not something I would have expected but very much appreciated.
Each morning my host prepared a lovely breakfast with homemade marmalade, juice, pastries and scrambled eggs and toast.
The family also have two cute dogs to keep you company during breakfast and when you are relaxing on the roof deck.
My host was also kind enough to drop me at the train station in the morning on the way to work which again saved me having to hike back the 2.7km to the train station from her apartment.
Summary
Reviewer
Review Date
Reviewed Item
Author Rating