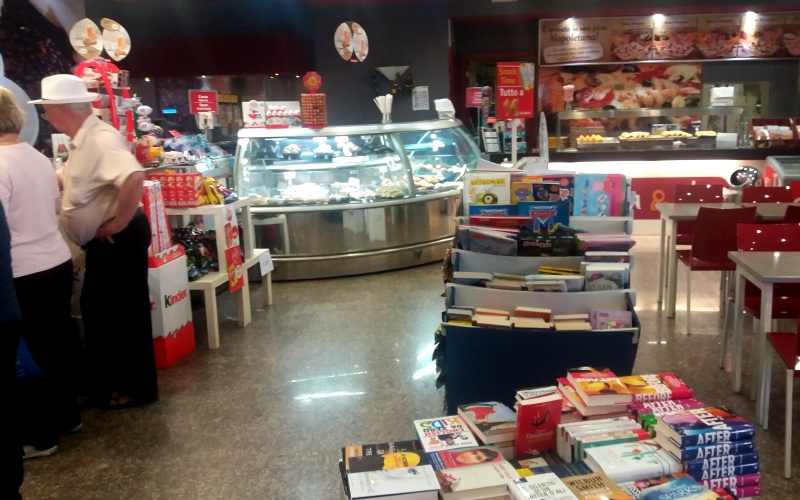 Lipari to Palermo
Wow what an early start to the day, I was up by 5:30am, showered and set off on the short walk to the nearby bus stop.  I was aiming to catch the 6:10am bus so I would be at Lipari marina with plenty of time to spare as I couldn't afford to miss the ferry, sure I could have probably caught the 6:30am bus as I had plenty of time for the 7am ferry but it wasn't worth the risk.  But I knew the biggest benefit of catching the earlier bus was that I got to relax and watch the sunrise over the beach on the last day of my holiday which was worth it! The ferry left just after 7:05am so don't expect to have a lot of time to spare unless you arrive at the port nice and early.
Chef Express (Lunch)
This Chef Express location was inside the main Messina train station terminal and I would have to say the staff do a wonderful job at keeping the place clean and tidy. The food prices are reasonable enough for a train station and the food is quite good quality. I ended up having a toasted ham and buffalo mozzarella panini which filled the spot, it was only €4 which I think is fine for the location and the quality of the food.
It's a great place to burn a bit of time better trains if you are like me and have the 1122am train to Palermo which means I've had almost 2.5 hours to wait since I arrived on the Lipari ferry this morning.
It also feels a lot more comfortable to wait for your train, the red chairs are more comfortable than the wooden benches in the main ticket hall and you have Italian MTV playing to keep you entertained.
They have plenty of items for long train trips such as books for adults, books for kids, toys, snacks, kids packs and plenty of good takeaway food options. They even have fonzies which is the Italian version of twisties the essential Australian snack.
They also have ice cream, chewing gum, candy, 2 meters of kinder chocolate, several beers, ice tea, water and the usual and local soft drinks.
I would have to rate this as my best train station cafe for sure. There is also plenty of space between tables if you have a bunch of luggage which is always appreciated.
Post Tags: