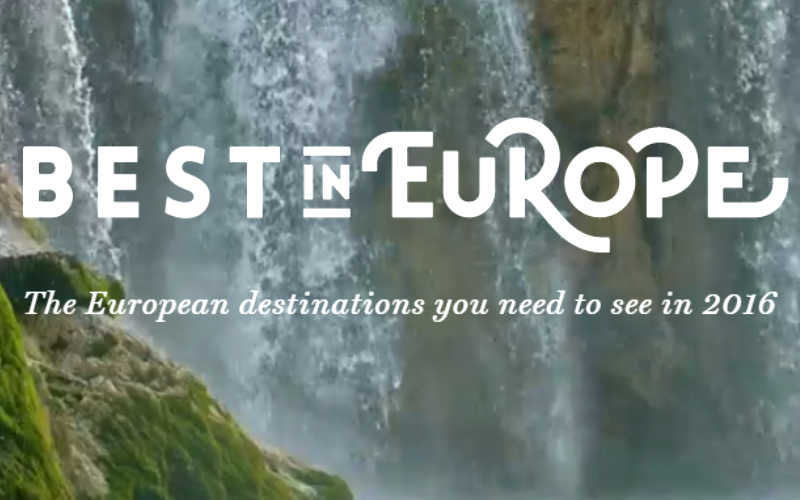 Best European destinations for 2016
Lonely Planet has announced the 2016 top places to visit in Europe, they have also created a fun little quiz to find out which location might suit you best, you can do here.
Lonely Planet's List of Best Places in Europe is
The Peloponnese, Greece
Aarhus, Denmark
Venice, Italy
The Dordogne, France
Lviv, Ukraine
Warwickshire, England
Extremadura, Spain
East Coast Tenerife
Texel, the Netherlands
Northern Dalmatia, Croatia
Congrats to the 2016 winner is Peloponnese, Greece! Below you can see a wonderful video their team produced about the region.
The Peloponnese, Greece
A wonderful part of Greece to explore, with the region containing everything that you could possibly want, and something of a forgotten secret you don't want to miss.  Important ancient locations such as Olympia, beautiful villages, some of the best snorkeling in the region, shipwreck diving, lagoons, Monemvasia rock castle, wineries and get a chance to experience the authentic Greek rural life.
The best thing about visiting The Peloponnese is that it's just a short drive from Athens!
Århus, Denmark
Århus is the second largest city in Denmark, certainly retains the label of the coolest city sorry Copenhagen…. and next year it will be the 2017 Capital of Culture and European Region of Gastronomy.  The city is well known for European city breaks and the perfect location for the Aarhus Festival the largest cultural event in Scandinavia.  Don't worry if you miss that event they have some wonderful other festivals such as: Aarhus Jazz Festival, Northside, SPOT Festival and Denmark's Ugliest Festival. There is so many amazing places if you want to enjoy the rise of Danish cuisine and make sure you wash your food down with some of the best craft beer you can find in the region! There is plenty of culture and history to keep your mind excited and did I mention the Danish love the outdoors and cycling.
If you are wondering how far it is from Copenhagen, it's just a 3 hour drive or train trip from the Capital. Hotels are limited in Aarhus and expensive so expect to pay €139/night on average and for top hotels €133-188/night.
Venice, Italy
Anyone who has been to Venice will understand how it was featured in the top 3 locations, it remains on of the most beautiful cities in Europe. The city has many gems that tourists miss when they are just passing through, if you want to experience the true beauty of the city you want to spend a few days here.  Take some italian cooking classes, enjoy learning about the traditional Venetian glasswork and if the weather is warm enough explore the city canals via kayak.  If you have one tourist item that you must buy that has to be one of the amazing hand painted masks.
Venice is a 4 hour train trip from Rome or a 2.5 hour drive from Ljubljana, Slovenia. Hotels are limited in Venice so expect to pay €121/night on average and for top hotels €400-3600/night.
The Dordogne, France
This region of France is well known as a foodie heaven, mixed in with medieval villages, the breathtaking fortresses of Château de Castelnaud and Château de Beynac, of course plenty of local farmers markets to enjoy.  You will find the markets stocked with truffles by the bucket, tables piled high with fresh berries, seasonal treats, magical honey, and so many amazing delicacies to explore, savour and enjoy!
It's a bit of a hike south of Paris with the option of a 5.5 hour drive or on the train, so maybe consider flying into Bordeaux or Toulouse.
Lviv, Ukraine
Eastern Europe offers some of the most amazing places to visit, while Ukraine has had some significant issues since February 2014 it's still a wonderful place to visit.  Lviv is known as something of a festive city with 100+ events happening this year so you can be sure to find something to your liking.  Oh yeah the currency exchange is pretty damn good so it can make for a cheap holiday or you can really spoil yourself when you are here!
The city has a lot of amazing architecture, history and heritage to keep you happy and plenty of great spots to grab something to eat and drink.  Oh yeah and the insider tip is to pick up the Lviv tourist card that will offer you all sorts amazing discounts, they have a 1 or 3 day option, the best thing is that it costs just a few dollars.
The big caveat when visiting Ukraine make sure you check visa requirements ahead of time as you likely need a travel visa. Hotels are are very cheap in Lviv so expect to pay €5-25/night on average with the top hotels in the €60/night price range.
Warwickshire, England
You probably know the name of this spot because it's the birthplace of William Shakespeare, and there will certainly be something happening for history buffs as it was 400 years since his death.  The main attraction is 10th century Warwick Castle which lies on the River Avon, and still stands as one of the most impressive structures in the UK and certainly worth a visit along with the 12th century Kenilworth Castle ruins. If you want to get back to nature there is also the ancient woodlands the Forest of Arden that is being replenished as much of it was consumed over the last several centuries.
Warwickshire is just 1.5 hours away from London by train or 2 hours by car. Hotels are limited in Warwickshire so expect to pay €65-133/night.
Extremadura, Spain
Most people don't often think about Extremadura when they are thinking of Spain, with some of the best remaining Roman ruins and several medieval structures. There is also the magic of world heritage listed Ciudad Monumental (Monumental City) that makes for beautiful photos along with Monfragüe National Park that is a must visit location for Twitchers (Bird watchers). The final spot for history buffs is Trujillo where conquistadors left for the New World in the 16th century and just an hour away is Mérida that has a well persevered Roman theater that is still being used today.
Extremadura is about 2 hours flight, 5.5 hours by train or a 4 hour drive from Madrid, it's probably quicker to travel there if you are in Lisbon, Portugal.
East Coast Tenerife
To a lot of people Tenerife seems a strange pick for this list, but be aware there is a lot more to this Volcanic island than just packaged holidays and bucks & hens parties.  The best thing about Tenerife is their mild winters and beautiful beaches on the eastern side of the island.  Locals might not what to you know about their secret tourist getaway but head up to Macizo de Anaga north of Santa Cruz to discover true paradise with amazing views and plenty of hiking trails.  If you love seafood then head north along TF-11 past Puerto Deportivo Marina Tenerife to the village of San Andrés and you will be rewarded with some of the freshest seafood on the island.
There are plenty of flights from Madrid, it's just 3 hours and both full service and discount airlines fly direct.  Hotels on Tenerife will cost around €90-220/night depending on the star rating, quality and the time of the year, but you can get a budget place for €18-29 if you are lucky.
Texel, the Netherlands
One of the most popular spots for Dutch residents is Texel part of the Wadden Sea Islands chain and located just a short ferry ride from Den Helder.  When visiting you will find white sandy beaches, villages, wildlife reserves and home of dark sky nature reserve De Boschplaat.  Dark Sky Terschelling consists of 4,400 hectares and the perfect spot for amazing views of the night sky.  This island is also a brilliant spot for all types of water sports… Surfing, Kite-Surfing, Boat Tours and Fishing trawlers.
Texel is just 2.5 hours by train from Amsterdam
Northern Dalmatia, Croatia
While most people think of Split and Dubrovnik when it comes to Croatia, you don't want to miss the beauty of the north around Zadar. The region has the same beautiful beaches, some breaktaking national parks and some of the cutest towns in Croatia.  In summer there are so many wonderful things to do in Krka National Park such as white-water rafting, swimming and exploring waterfalls.  Another amazing place to explore is Paklenica National Park if you love climbing and caving or prefer activities like canoeing.  Some of the most amazing things to do is sailing through the Kornati Islands, exploring Pag Island or admiring the beauty of the costal village Šibenik.
The Northern Dalmatian town of Zadar is just over 3 hours drive from Zagreb, Croatia but it's also just a short 40 minute flight but takes about the same total time to get there.
Post Tags: