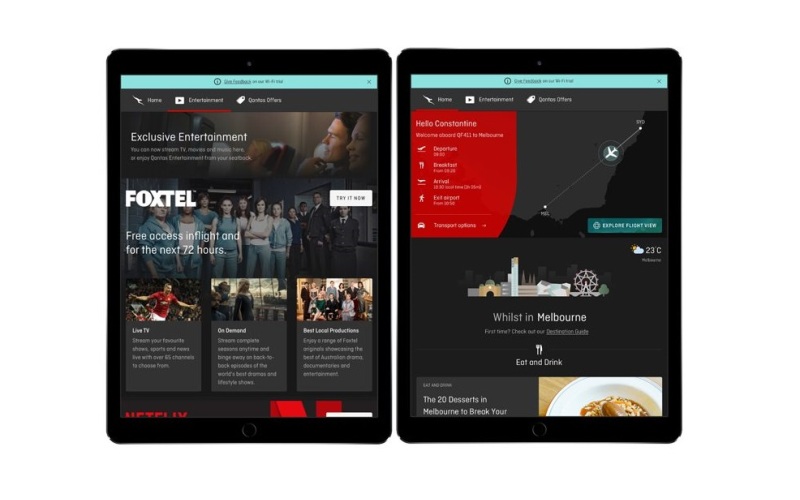 Qantas offers Free Netflix, Foxtel & Spotify
Last week Qantas announced the are rolling out Free access to Netflix, Foxtel & Spotify on WiFi enabled domestic flights starting towards the end of February 2017. While these services require subscriptions the deal is they will be made available free to Qantas flyers even once they depart their flight.
To ensure passengers won't get bored when flying Qantas has allowed them to have full access to Netflix and Foxtel digital catalogs which continue to grow.
Netflix and Spotify will require customers to sign-up to access the free trial, Foxtel has no sign-up required.
Foxtel will offer 3 days free access to its Foxtel app every time a customer flies, allowing customers to stream live sports, news and TV shows as well as its full range of on-demand content.
Netflix will offer new customers access to the entire Netflix service as part of a 30-day free trial.
Spotify will offer a 30 day free trial of its Premium music service, which has no ads, shuffle play and unlimited skips.
Qantas Group Executive of Brand, Marketing and Corporate Affairs, Olivia Wirth, said that fast, free internet will open up a huge range of options for customers inflight.
"The usage data from the collection of albums we already have on our aircraft shows that music is a great way for passengers to relax as they watch the world fly by. Spotify will open this up so you can listen to virtually any song you like," she added.
To access the WiFi services, travellers will have to use their own devices and log-on to Qantas WiFi to access the streaming services along with the following information:
real-time flight data
hotels & restaurants destination
transport options
latest weather
also more content is coming soon
Qantas installed ViaSat satellite equipment on first 737 to be WiFi enabled back in November 2016, as they began the hardware and software testing before being available for their passengers. The new WiFi system being rolled out is planned to be 10 times faster than traditional in-flight systems.
Qantas is also exploring how it can extend WiFi services onto their QantasLink and international services while retaining a high level of quality service customers expect when it comes to traditional WiFi.