Eerste 500 Glasgow shuttle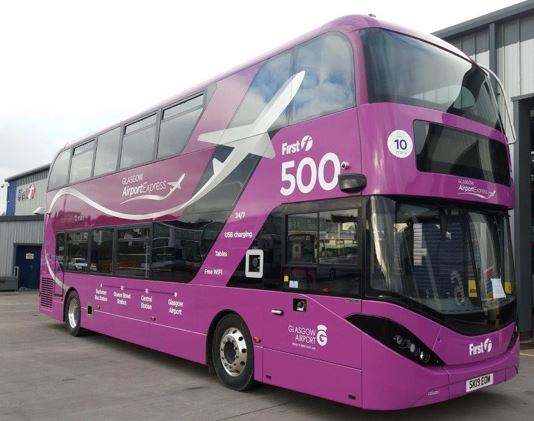 De Glasgow Airport Express is de officiële busdienst die de luchthaven van Glasgow en het centrum van Glasgow verbindt in slechts 15 minuten en 25 minuten van buchanan busstation. De eerste 500 shuttle vertrekt elke 10 minuten vanaf Stance 1 (Glasgow Airport) en Stance 46 (Buchanan Bus Station en werkt 24/7 elke dag van het jaar, behalve eerste kerstdag.
Hun snelle, vriendelijke en handige service is ontworpen om uw korte reis van en naar Glasgow Airport zo aangenaam mogelijk te maken.
Gratis WiFi – blijf verbonden met gratis WiFi aan boord
USB-opladers – USB-oplaadpunten op elke stoel
Bagageberging – speciaal ontworpen bagagerek & bovendekopslag
Comfortabele zitplaatsen – dubbelgewatteerde luxe stoelen
Contactloos betalen – VISA, MasterCard, Apple of Android tot £ 30
SmartVision – verbeterde zichtbaarheid voor onze chauffeurs met digitale schermen
Informatie aan boord – tv-schermen gemonteerd op elke bus
Tafels – Bussen zijn uitgerust met tafels & draadloos opladen!
Draadloos opladen – draadloze oplaadwiegen op rugleuningen
Koop je ticket voor de Eerste 500 Glasgow shuttle
Online voorafgaand aan uw reis hier
Via iPhone app of Google Play op Android
In de bus – betalen aan boord bij het instappen (contactloos & contant geaccepteerd)
Voor meer informatie u contact opnemen met First 500 Customer Services team op 44 (0) 345 646 0707.
Post Tags: