Premier Inn & Brewers Fayre Propriétaire de Whitbread Coupe 18% des employés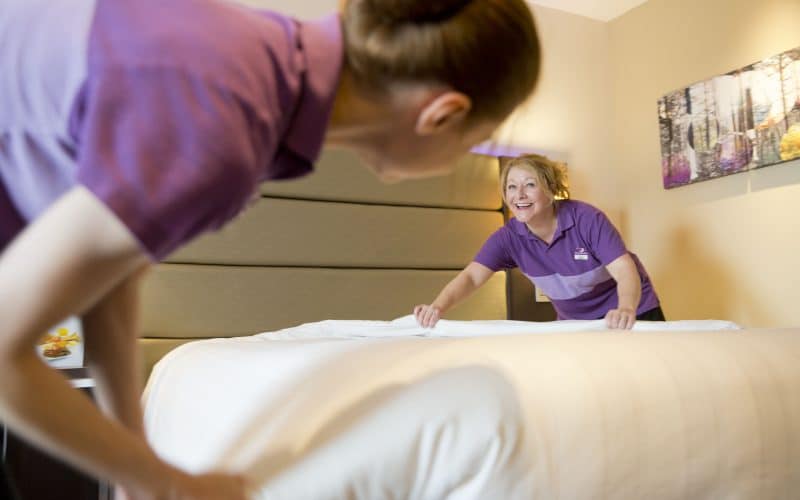 Whitbread est l'un des plus grands exploitants d'hôtels et de restaurants du Royaume-Uni, avec plus de 35 000 employés travaillant sous les marques Premier Inn, Brewers Fayer, Beefeater, Cookhouse & Pub, Bar + Block Steakhouse, Thyme et TableTable. Leur équipe sert environ 5 millions de clients chaque mois au Royaume-Uni, de sorte que Coronavirus a eu un impact massif sur leur activité, la demande des hôtels ayant chuté.
Whitbread a annoncé une baisse de 78 % du chiffre d'affaires des hôtels au cours du premier semestre 2020 par rapport à l'année précédente, et les ventes de nourriture et de boissons ont chuté d'environ 77 %. Mais en raison de la nature intégrée des hôtels et des restaurants sur place, lorsque le taux d'occupation est en baisse, il en va de même pour l'ensemble de l'activité.
Selon la BBC, la patronne de Whitbread, Alison Brittain, a déclaré qu'elle s'efforçait d'éviter les licenciements. Environ les trois quarts de ses 35 000 employés sont toujours payés par le programme de mise à pied du gouvernement britannique. Le Coronavirus Job Retention Scheme (CJRS), qui a débuté en mars, couvre 80 % des salaires mais est réduit à 60 % en octobre. Le mois de novembre marquera la fin du Coronavirus Job Retention Scheme pour les employeurs britanniques, lorsque les avis de licenciement commenceront à être envoyés.
Ces derniers mois ont été difficiles pour les opérateurs du secteur de l'hôtellerie et de la restauration : Pizza Express a averti qu'environ 1 100 emplois étaient menacés, Upper Crust pourrait en supprimer jusqu'à 5 000 et le propriétaire de Frankie and Benny's, The Restaurant Group, supprimera environ 3 000 travailleurs. JD Wetherspoon a également averti que la moitié du personnel travaillant sur leurs sites aéroportuaires perdra probablement son emploi.
Post Tags: