Ibis Madrid Alcobendas Review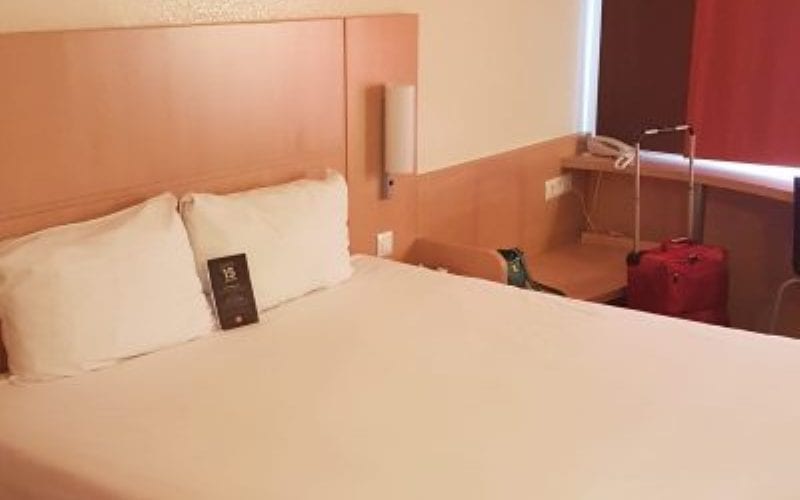 Dit 120 kamers tellende 2-sterren ibis Hotel Alcobendas ligt net naast een industrieterrein wat prima was, omdat we alleen een hotel nodig hadden voor de nacht die op een niet al te dure locatie in de buurt van het vliegveld was. We zijn hier in juni 2017 geweest, dus het was een beetje vervelend omdat de airconditioning in de kamer gewoon hete lucht leek te blazen en vreemde geluiden maakte. Maar aangezien we een vroege ochtendvlucht hadden naar Londen op 15 km van het vliegveld en dicht genoeg bij Madrid konden we de stad in voor het avondeten was het belangrijk.
Als je hier met het openbaar vervoer komt, weet dan dat de nabijgelegen metro iets meer dan 10 minuten lopen is door het nabijgelegen industrieterrein, dat 's nachts niet zo veilig leek. We hadden geen problemen, maar je moet je hiervan bewust zijn en misschien een taxi nemen naar het hotel als je alleen bent of veel bagage hebt.
Het was een eenvoudige hotelkamer, maar het was prima voor een kort verblijf, want de kamer was schoon, het bed was comfortabel, maar als je hier meer dan een nacht zou blijven zou ik voorstellen om een hogere verdieping te nemen, want er was een beetje lawaai in de straat of een kamer aan de kant van de ingang. Toen we daar verbleven was het de 2017 UEFA Champions League Final tussen Juventus en Real Madrid dus er verbleven ook een aantal voetbalfans in het hotel die er in slaagden om meer dan een beetje lawaai te maken.
We konden het ontbijt niet proberen omdat we te vroeg uitcheckten voor onze vlucht terug naar Londen, maar ik neem aan dat ze een fatsoenlijk ontbijt voor de gasten zouden hebben gemaakt.
ibis Madrid Alcobendas Hotel Adres
Francisco Gervás, 1, 28108 Alcobendas, Spanje
Post Tags: