Harry Potter 9 3/4 Shop eröffnet am London Kings Cross Station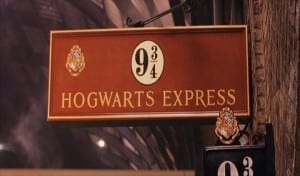 Die berüchtigte Plattform Nummer 9 3/4 an der King Cross Station in der Harry Potter Serie, ist der Ort, an dem Hexen und Zauberer den Hogwarts Express besteigen, um ihre neue Amtszeit in Hogwarts zu beginnen. Bis jetzt haben Muggel noch nie diese Plattform gesehen oder waren auf ihr, aber seit Samstag, den 15. Dezember, öffnet der Harry Potter 9 3/4 Shop seine Türen für das nicht-magische Publikum.
Von den nationalen Zeitungen, darunter The Guardian und The Independent, berichtet, wenn Sie den magischen Harry Potter Store 9 3/4 besuchen möchten, dessen Türen jeden Tag der Woche von 7:30 bis 22:00 Uhr geöffnet sind. Der neue Shop befindet sich zwischen Gleis neun und Gleis zehn am Kings Cross Station und befindet sich in Unit 1, King's Cross Station, London N1 9AP.
Erstellt von Jonathan Sands, dem Gründer und Geschäftsführer des London Film Museums, und Partnern unter Lizenz von Warner Brothers. Vor der Eröffnung von Grande gab Sands eine Erklärung an die Presse ab, die bestätigte, dass die Spekulationen über einen Harry Potter Shop auf Plattform 9 3/4 in Kings Cross Station wahr waren:
"Wir sind stolz darauf, den offiziellen Harry Potter Shop auf Plattform 9 ¾ in Zusammenarbeit mit Warner Bros. Consumer Products zu eröffnen, da Harrys Reise nach Hogwarts genau hier begann. King's Cross Station wurde vor kurzem einer der erstaunlichsten Neuerungen unterzogen, und wir freuen uns, dank Network Rail Teil davon zu sein."
Der Harry Potter Shop auf Plattform 9 3/4 wurde entwickelt, um den Look von JK Rowlings Ollivander's Zauberstab-Shop nachzubilden und verkauft Replikate, die von Charakteren wie Professor Dumbledore, Hermine, Ron und dem verlorenen Harry Potter selbst verwendet werden. Der günstigste Zauberstab kostet £22.99, wobei die Preise je nach Modell variieren. Alle Waren sind von Warner Brothers freigegeben und stellen somit einen Standardpreis dar.
Mit jedem erdenklichen Sammlerstück für den Harry-Potter-Fan, gehören zu den Produkten, die im Laden erhältlich sind, Hogwarts, die in Hausfarben einheitlich sind, für die der Preis einer Strickjacke 59,99 £ beträgt, obwohl sie aus Kaschmir hergestellt sind. Andere Sammlerstücke zum Kaufen sind Quidditch-Kits, Gewänder von Hogwarts, Sammelzugtickets, der Triwizard Quidditch Cup und Horkruxe. Eine große Auswahl an Harry Potter-Artikeln ist ebenfalls erhältlich, darunter Brettspiele, Poster, Schlüsselanhänger, Plüschtiere und Actionfiguren.
Erwecken Sie die Bücher zum Leben, indem Sie diesen malerischen Laden besuchen, um ein kostenloses magisches Harry-Potter-Erlebnis zu erleben, das sowohl von Kindern als auch von inneren Kindern bei erwachsenen Fans der Harry-Potter-Serie genossen werden kann. Der Besuch des magischen Harry Potter Shops am Bahnsteig 9 3/4 ist nur eine Zugfahrt entfernt und bietet ein unvergessliches Erlebnis.
Post Tags: