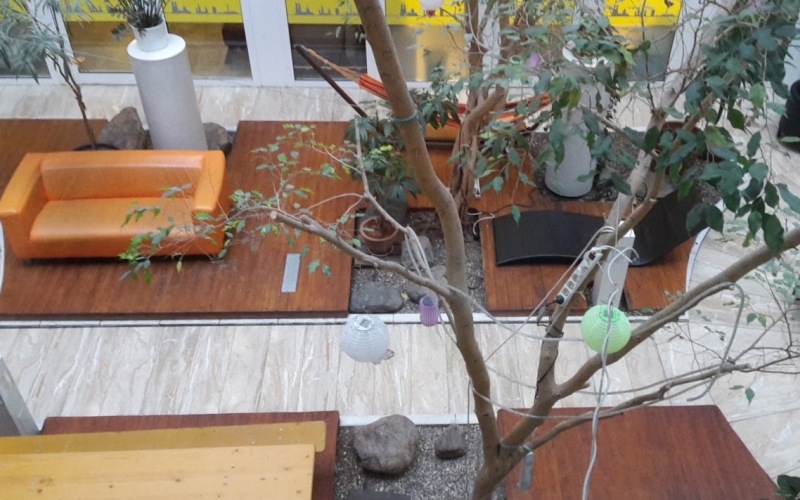 Wombats City Hostel München
This is the second Wombat's City hostel that I've stayed at, previously it was Wombats London location so I had such a great experience last time I thought I'll book a night at their Munich location. The location is perfect for travellers as it's right opposite Munich Hauptbanhof (main train station) it's a bit more of a party hostel but I didn't have any issues with other guests as they partied downstairs in the WomBAR and then went out in Munich on a pub crawl. There is also plenty of bars, restaurants and a Lidl supermarket nearby so you can be sure you won't have to walk far to find what you want.
The most interesting feature of this hostel was the glass-roofed courtyard atrium that was at the heart of the hostel, this made the rooms feel much more open and made the hostel feel as if it was much more open and friendly. It also had an interesting aspect that you could peer down into the communal area below and watch how other travellers were interacting as I saw several other guests doing from their rooms, but also a great way to spot fellow travellers you are due to catchup with. The WiFi could have been a bit better but that is a minor issue as I didn't really need to stream Netflix or upload a heap of photos to Facebook. There are plenty of power outlets in the room to ensure you can charge your items easily enough which is always welcome these days.
The dorm rooms all feature awesome furnishings like a full size picnic table in my room, private showers and toilets. The bathroom (combined toilet/shower) wasn't as awesome as Wombat's London but this hostel is slightly older but still was decent by hostel standards, there are also extra common showers on the 2nd floor if your room mates are taking too long to get ready. The beds were slightly noisy/creaky when anyone moves and I found the top bunk was not the easiest to get in and out of, so if you stay try and get a bottom bunk if you can and bring ear plugs if you are a light sleeper. Each personal locker used the same NFC room key method as London but didn't work as easily as they have probably had a bit more wear and tear since they were installed. The linen is supplied in a nice package which ensures you know you have clean linen to sleep on which is an interesting way to ensure quality but again annoys me that I have to make my own bed and I noticed atleast two other people in my room didn't bother and just slept on the mattress without taking the sheets out of their packet.
The hostel staff do an amazing job to ensure guests are comfortable and offer great things like ensuring guests are made aware of free walking tours, be aware the free walking tours often sell out so being a guest of Wombat's City Hostel ensures you get a spot guaranteed. They also have a decent free luggage storage area which is quite secure as it requires staff to buzz you in to access it unlike a lot of other hostels that allow anyone to access the storage area at anytime they want.
I didn't spend much time in WomBAR just walked through to have a look but it seemed like it had a brilliant atmosphere with plenty of the guests interacting and being social, this is a perfect hostel if you want bit more of a social experience and mix with other travellers. I would suggest taking a 4 bedroom dorm if your budget allows as the other HostelWorld reviews I read when booking were not as kind towards the 8 bedroom dorms but certainly would recommend this hostel.
Hostel Inclusions
Free WiFi
Linen included
Free towels (just ask at reception)
Welcome drink
City Map
Wombats City Hostel Munich Address
Senefelderstraase 1, Munich, Germany
Stayed 2nd January 2016
This article is also available in:

Post Tags: