Pemakaman Highgate, London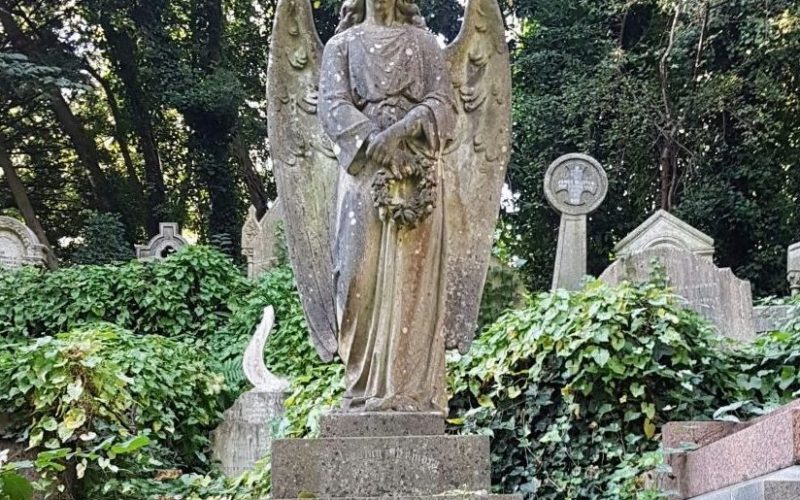 Apakah Anda pernah melakukan tur ke Highgate Cemetery di London, itu adalah situs sekitar 170.000 pemakaman di 53.000 kuburan di Timur & pemakaman Barat. Dua Stasiun terdekat adalah Archway (Northern Line) & Upper Holloway (National Rail) jaraknya walkable tapi kami sarankan menangkap salah satu dari beberapa bus di dekat Stasiun Archway seperti W5, 210, 143 atau 271 ke puncak bukit dan keluar di St Joseph's Church berhenti dan berjalan melalui Waterlow Park ke Swain Lane di mana pintu masuk pemakaman adalah lokasi.
Pemakaman Timur adalah tempat Karl Marx, George Elliot, Patrick Caulfield & Douglas Adams dimakamkan. Pengunjung mungkin berkeliaran dengan bebas di sisi ini, tapi ada biaya masuk. East Cemetery juga menawarkan wisata biasanya pada hari Sabtu dari jam 2 siang tetapi tidak berjalan setiap minggu dan biaya £8 untuk orang dewasa dan £4 untuk anak dan berlangsung sekitar 60 menit.
Tiket masuk ke West Cemetery hanya dengan dipandu tur dan Anda dapat mengunjungi Egyptian Avenue, Circle of Lebanon, Terrace Catacombs & Mausoleum Julius Beer. Biaya tur £12 untuk orang dewasa dan £6 untuk anak dan berlangsung sekitar 70 menit, tetapi tidak termasuk kunjungan ke kuburan George Michael. Konten tur dapat bervariasi sehingga jika Anda memiliki kuburan tertentu dalam pikiran silahkan menyebutkan kepada staf ketika membeli tiket Anda jika permintaan Anda dapat dipertimbangkan.
Sementara syuting tidak disarankan lokasi telah digunakan untuk beberapa film selama beberapa tahun terakhir dengan persetujuan seperti Fantastic Beast: The kejahatan Grindelwald, Tales from the crypt (1972), Dorian Gray, Hampstead, dan baru-baru ini BBC TV seri Bodyguard.
Ini patut dikunjungi dengan pasti Anda dapat menemukan rincian lebih lanjut dengan mengunjungi situs resmi mereka, kami sangat menyarankan pergi tur karena juga berarti Anda dapat mengunjungi pemakaman Timur gratis setelah tur pemakaman Barat.
Post Tags: