Highgate Friedhof, London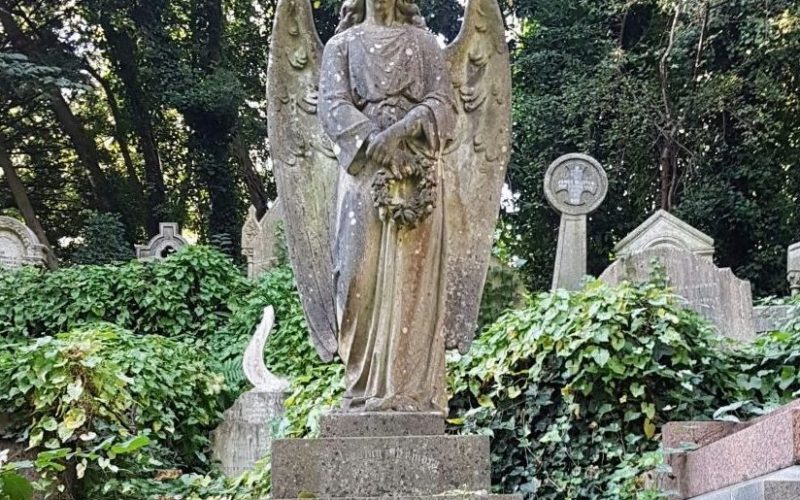 Haben Sie schon einmal eine Tour zum Highgate Cemetery in London unternommen, es ist der Ort von rund 170.000 Bestattungen auf 53.000 Gräbern auf dem Ost- und Westfriedhof. Die beiden nächstgelegenen Bahnhöfe sind Archway (Northern Line) & Upper Holloway (National Rail), die Entfernung ist begehbar, aber wir empfehlen, einen der mehreren Busse in der Nähe des Archway-Bahnhofs wie die W5, 210, 143 oder 271 zur Spitze des Hügels zu nehmen und an der Haltestelle St. Joseph's Church auszugehen und durch den Waterlow Park zur Swain Lane zu gehen, wo sich der Eingang des Friedhofs befindet.
Auf dem Ostfriedhof sind Karl Marx, George Elliot, Patrick Caulfield und Douglas Adams begraben. Auf dieser Seite können sich die Besucher frei bewegen, der Eintritt ist jedoch kostenpflichtig. Der Ostfriedhof bietet auch Touren an, die normalerweise am Samstag ab 14 Uhr stattfinden, aber nicht jede Woche stattfinden und £8 für Erwachsene und £4 für Kinder kosten und etwa 60 Minuten dauern.
Der Zugang zum Westfriedhof ist nur mit Führung möglich und Sie können die Egyptian Avenue, den Circle of Libanon, die Terrace Catacombs und das Mausoleum von Julius Beer besuchen. Die Tour kostet £12 für Erwachsene und £6 für Kinder und dauert ca. 70 Minuten, beinhaltet aber nicht den Besuch des Grabes von George Michael. Der Inhalt der Tour kann variieren, wenn Sie also ein bestimmtes Grab vor Augen haben, erwähnen Sie bitte das Personal beim Kauf Ihres Tickets, wenn Ihre Anfrage berücksichtigt werden kann.
Während das Filmen entmutigt wird, wurde der Ort in den letzten Jahren für mehrere Filme mit Zustimmung wie Fantastic Beasts genutzt: The Crimes of Grindelwald, Tales From the Crypt (1972), Dorian Gray, Hampstead und die aktuelle BBC-Fernsehserie Bodyguard.
Es ist einen Besuch wert, denn Sie können mehr Details auf der offiziellen Website finden, wir empfehlen dringend, die Tour zu machen, da es auch bedeutet, dass Sie den Ostfriedhof nach der Tour durch den Westfriedhof kostenlos besuchen können.
Post Tags: