Cementerio Highgate, Londres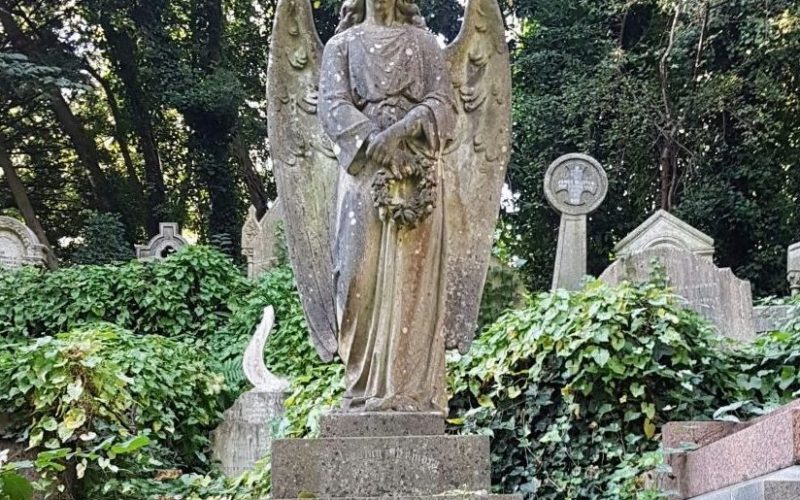 ¿Alguna vez has hecho un recorrido por el Cementerio Highgate en Londres, es el sitio de alrededor de 170.000 entierros en 53.000 tumbas a través del Cementerio East & West. Las dos estaciones más cercanas son Archway (Línea Norte) & Upper Holloway (National Rail) la distancia es transitable a pie, pero sugerimos coger uno de los varios autobuses cerca de la estación de Archway como el W5, 210, 143 o 271 a la cima de la colina y salir en la parada de la Iglesia de San José y salir en la parada de la Iglesia de San José y caminar a través de Waterlow Park hasta Swain Lane, donde se encuentra la entrada del cementerio.
El Cementerio del Este es donde está enterrado Karl Marx, George Elliot, Patrick Caulfield & Douglas Adams. Los visitantes pueden vagar libremente por este lado, pero hay un cargo de entrada. El Cementerio del Este también ofrece excursiones por lo general los sábados a partir de las 2pm, pero no se ejecutan cada semana y cuesta 8 libras para adultos y 4 libras para niños y dura alrededor de 60 minutos.
La entrada al Cementerio del Oeste es solo por visita guiada y se puede visitar la Avenida Egipcia, el Círculo del Líbano, las catacumbas a la terraza y el mausoleo de la cerveza Julius. El tour cuesta 12 libras para adultos y 6 libras para niños y dura alrededor de 70 minutos, pero no incluye una visita a la tumba de George Michael. El contenido del tour puede variar, por lo que si tiene una tumba en particular en mente, mencione al personal al comprar su boleto si su solicitud puede ser considerada.
Mientras que el rodaje se desaconseja la ubicación se ha utilizado para varias películas en los últimos años con aprobación como Fantastic Beasts: The Crimes of Grindelwald , Tales From the Crypt (1972), Dorian Gray, Hampstead, y la reciente serie de televisión de la BBC Bodyguard.
Vale la pena una visita seguro que puede encontrar más detalles visitando su sitio web oficial le recomendamos encarecidamente ir en el recorrido, ya que también significa que puede visitar el cementerio este de forma gratuita después del recorrido por el cementerio oeste.
Post Tags: