Albergues en Nueva York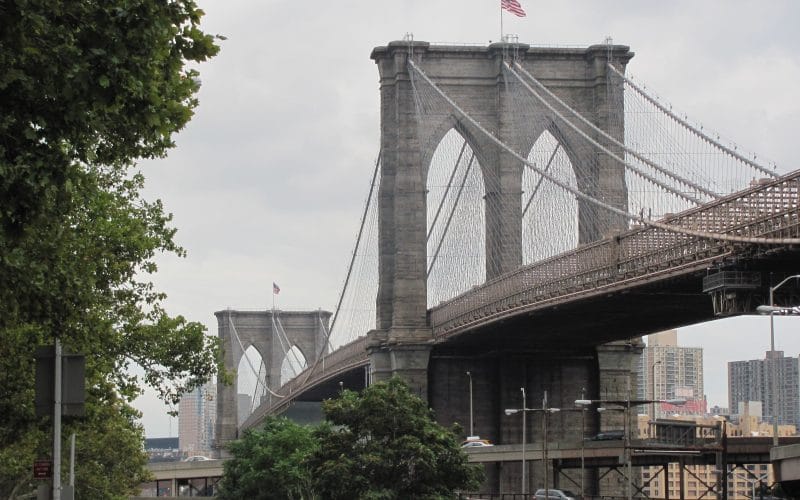 La ciudad de Nueva York es uno de los principales destinos turísticos del mundo, es la ciudad que realmente nunca duerme. Lo primero que debe entender es que esta página se centrará en la ciudad de Nueva York, que se encuentra en el estado de Nueva York, en la costa este de los EE.UU. La ciudad se compone de 5 distritos De Manhattan, Queens, Brooklyn, El Bronx y también Staten Island.
Cuando la mayoría de la gente piensa en la ciudad de Nueva York que en realidad están pensando en Manhattan, que es el hogar de muchos vecindarios que ha visto referenciado en programas de televisión y películas a lo largo de los años.
Midtown (Times Square, Broadway, Chrysler & Empire State Building, MetLife)
Central Park (Central Park Zoo, Carnegie Hall, The Plaza, MoMA)
Chinatown (Mercado de Canal Street)
Little Italy
Soho
Tribeca
Upper East Side (Museo Guggenheim)
Flatiron District (Flatiron Building, Madison Square Park)
Distrito Financiero (Wall Street, World Trade Center, 9/11 Memorial)
Lower East Side (Puente Williamsburg)
Lower West Side (La Línea Alta)
Dos puentes (Manhattan Bridge y Brooklyn Bridge)
Harlem (llamado así por Haarlem en los Países Bajos)
East Harlem (Harlem español o El Barrio)
East Village & Alphabet City
Gramercy Park
Chelsea
Greenwich Village
East Village
Pequeño Brasil
Nómada
Koreatown
Hell's Kitchen (Intrepid Sea, Air & Space Museum)
Hudson Yards (Javits Center, B&H Photo Video & Electronics)
Si te alojas en Nueva York es importante pensar en lo que quieres ver y hacer como Manhattan cubre casi 60m2, que es una gran cantidad de área para cubrir incluso con la eficiencia de su sistema de metro. Si se aloja demasiado lejos, pasará su tiempo viajando en el metro o atascado en el tráfico en un famoso Taxi Amarillo.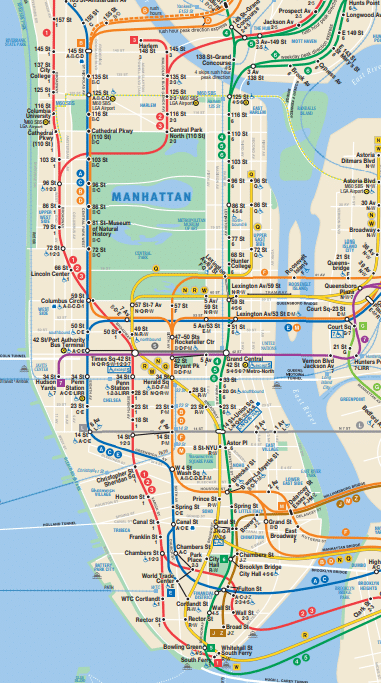 I've se aloja en varias partes diferentes de la ciudad de Nueva York y también vivieron en Lower East Side por un período de tiempo. Hace años me alojé en un hostal Brownstone en East Harlem «Spanish Harlem» que encontré que era una gran relación calidad-precio en términos de alojamiento y comida… casi 2-3 veces más barato que el área del centro de la ciudad. Me encantó la zona, pero tomar el tren 6 después de un largo día jugando turista era agotador y era demasiado caro para coger un Yellow Cab más de un par de veces. Me he alojado en un hostal justo al lado de Times Square, que era una ubicación brillante, pero el hostal era caro y muy pequeño y pasamos la mayor parte de nuestro tiempo explorando otras partes de la ciudad.
Si usted iba a pasar algún tiempo en Nueva York que casi sugerimos quedarse en 1-2 partes diferentes de la ciudad si su horario y presupuesto lo permite. También hay un montón de cosas para ver alrededor de Manhattan, como The Bronx Zoo & New York Botanical Gardens, The Statue of Liberty & Brooklyn es un excelente lugar para explorar.
Según HostelWorld los 10 mejores albergues en NYC son
A mano alzada Nueva York (Distrito de Flatiron)
NY Moore Hostel (East Williamsburg, Brooklyn)
HI NYC Hostel (Upper West Side)
Giorgio Hotel (Long Island City)
YMCA del lado oeste (lado oeste superior)
La ciudad de Nueva York Local (Ciudad de Long Island)
American Dream Hostel (Gramercy Park District)
El Brooklyn Rivera (Brooklyn)
Centro Internacional de Estudiantes (Upper West Side)
Chelsea International Hostel (Chelsea)
Aeropuertos de la Ciudad de Nueva York
Aeropuerto LaGuardia de Nueva York (LGA) (8.2 millas / 13.3 kilómetros)
Aeropuerto Internacional Newark Liberty de Nueva York (EWR) (8,7 millas / 13,9 kilómetros)
Aeropuerto Internacional John F. Kennedy de Nueva York (JFK) (13,0 millas / 20,9 kilómetros)
Aeropuerto del Condado de Westchester HPN) (29.0 millas / 46.6 kilómetros)