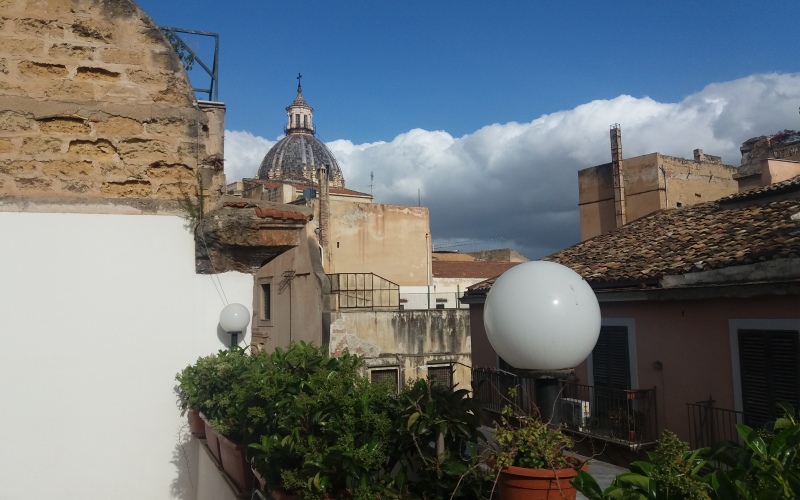 Allegretto House Palermo (Airbnb)
When you arrive at the street Allegretto house is located on, just look closely at the buzzer and you can see a small hand written note Allegretto house and buzz that floor.  Be aware that the apartment is on the top floor and there is no lift so be prepared to carry your bags up several floors of stairs.
If you are arriving at night there is a light switch that turns on the lights in the stairwell for about 30 seconds which is enough to almost make it to the top of the stairs.  If you don't make it to the apartment before the lights turn off again be aware the difference between the light switch for the stairs and a neighbours door bell… I accidentally rang their neighbours door bell at around 11pm one night but luckily no-one appear to be home and I found the light switch with the help of my phone light.
Great host welcome
MY Allegretto house host Ermanno was super friendly and spent a decent 10-15 minutes explaining how to get the most out of my time in Palermo, he then marked the best spots to visit on the map her provided me including his favourite restaurant Trattoria Ai Cascinari (Via D'Ossuna, 43/45, 90138 Palermo, Italy).  Sadly I never got a chance to visit the restaurant as it wasn't yet opened (12noon onwards) when I went there on the last day so it will have to be next time I visit.
Nice private room with desk
The private room has a cute little private balcony at the back that is great to open up in the morning when you are brushing your teeth in the bathroom.  The only downside to this place was that there was only hand soap and no shower products so consider bringing your own toiletries along.  The room was fairly nice with a decent sized bathroom and there is a writing desk in the room if you need to write up a long article about Sicily or want somewhere to sit while you plan the next part of your trip.
Free WiFi and A/C
There is free WiFi so you can be sure you are able to watch Netflix or stream Spotify, backup photos from your phone to Dropbox and try to record some holiday Snapchat moments as the WiFi is a decent speed.  The room I stayed in has a TV and air-conditioning which is an important necessity if you are staying here in summer.
Comfy bed
The bed had two different types of pillows a soft and a hard one depending on your preference which is a nice little touch.  If you do want to sleep in the tip I would say is to make sure you close the wooden shutters on the outside of the window before you head to bed, I left them open as I wanted to wake up early so I could explore the city without needing to use my phone alarm.
Unplug the TV at night
But one thing I didn't do the first night that I ended up doing the next night was to unplug the TV as the blue standby light is quite annoying and lights up the whole room, which if you wake up in the middle of the night you think aliens have come to kidnap you… I dozed back off asleep when I noticed it was just the Telefunken TV.  I unplugged the TV on the second night and had a most wonderful uninterrupted sleep.
Breakfast not included
Breakfast is not included but there are plenty of places to grab something light to eat in the morning around Palermo so I wasn't too concerned.  There is a restaurant downstairs but I found it was never open for breakfast when I wanted breakfast and was only open when I was on my way home after already eating somewhere else.
Good central location in Palermo
The accommodation is not a bad spot to stay when in Palermo as it's a nice authentic home right near several tourist spots (name several of time) and walking distance to the main train and bus station (name and walking distance).  I had a good rest in Palermo and it was a good start to my holiday and would recommend staying here if you get the chance.  This is also a great spot if you have young kids as the owners have a young family of three boys your kids can interact with.
Summary
Reviewer
Review Date
Reviewed Item
Author Rating