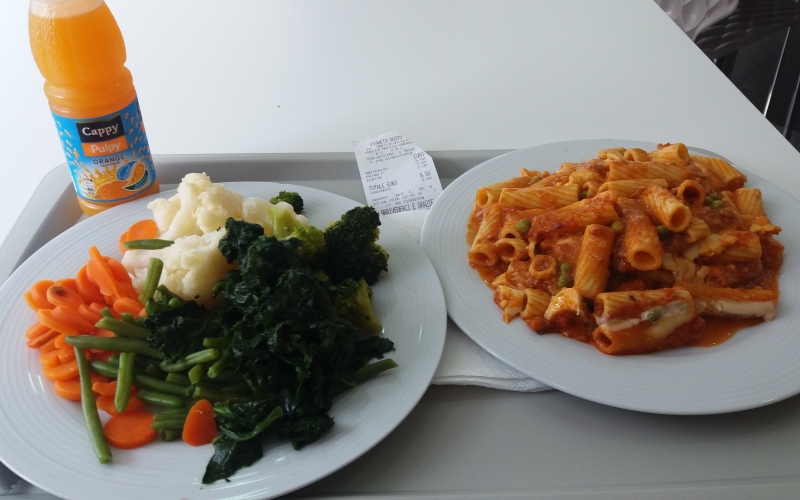 Gela (layover)
Having caught the bus from Agrigento to Gela and the bus arrived at the train station just after 2pm there was quite some time to spare before the train was due to depart Gela to Ragusa.  I found that Gela was something of a depressing city, the station's public toilet was one of those magical moments I'm glad I don't throw up easily due to strong smells, and there wasn't really anywhere decent to get some food.  I was feeling hungry and took the gamble and bought a custard croissant as apparently there wasn't really much else on offer, I really needed to get some proper food for lunch.
I had spent the time with a lovely English couple on the bus and they were also wondering what other options were available as they didn't want to spend the next few hours in the train station and wanted to get some food.
Gastronmia Self Service (Lunch)
We took the gamble and walked into town to try and find a decent place to eat, after several false starts we settled on Gastronmia Self Service, it was a lovely clean, modern and friendly cafeteria that offered a good range of food at a decent price. I ended up ordering a plate of vegetables and pasta as I wasn't sure how it worked but I needed my fix of veggies so not such a bad end result and it was only €8.50 which was amazing value!
The place we ate at was located at Via Generale Cascino, 249 which is on the corner of Via Generale Cascino and Via Niscemi which is a 15 minute walk from Stazione FS di Gela (Gela Station).
After a nice lunch break we headed back to the train station but not before stopping by a fruit vendor to buy a kilo of apples and two punnets of strawberries for snacks. It was an interesting conversation with the vendor who only spoke to me in German but I managed to scrape by and I paid him the right amount he asked and I left with my fruit and more things to carry…
Post Tags: