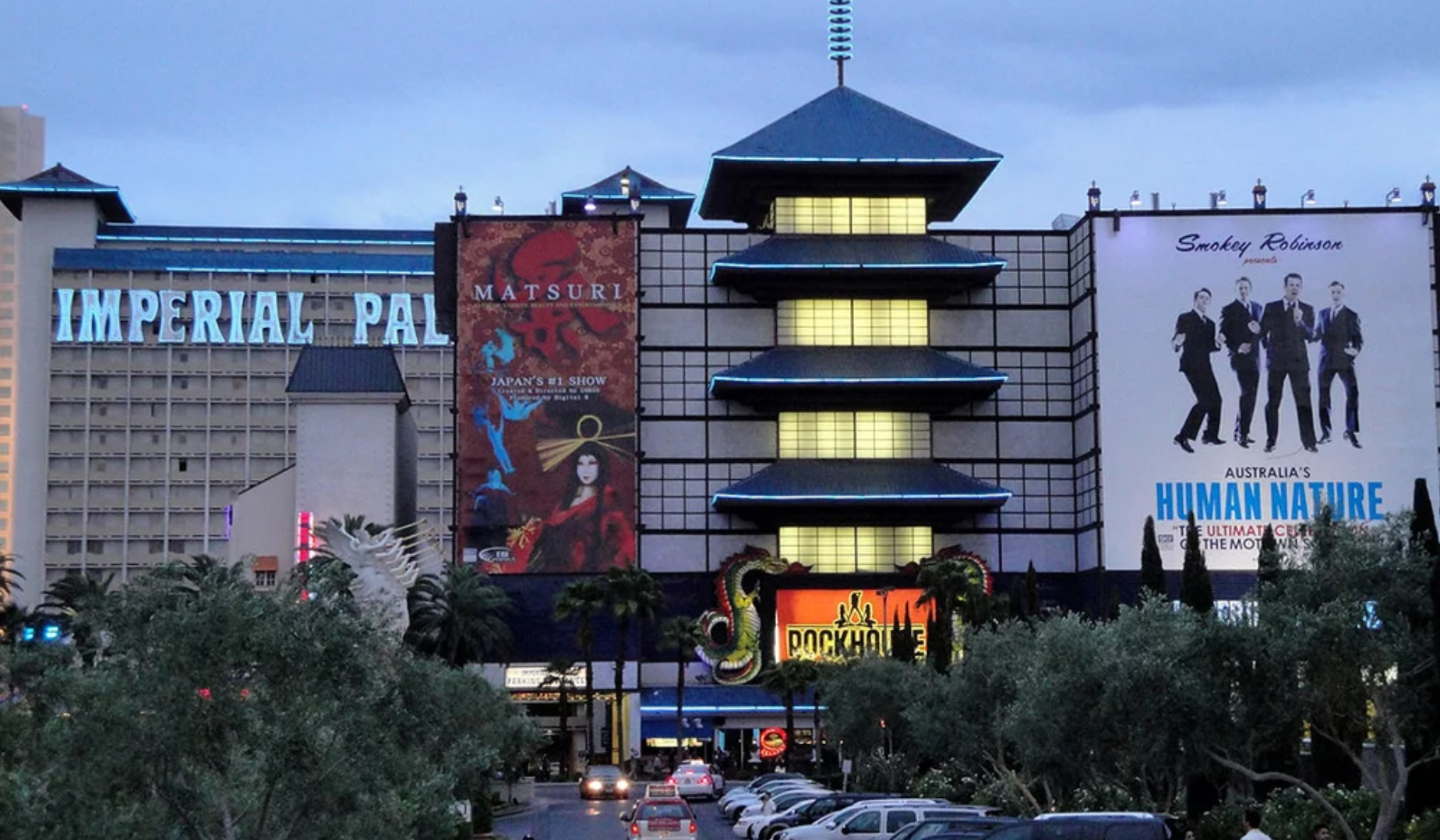 Imperial Palace Las Vegas
Note: This hotel is now closed!
The old Imperial Palace changed to The Quad before being finally replaced in 2014 by The Linq which underwent a $223 million dollar renovation project that now offers visitors a 2640 room hotel, casino and shopping promenade right on the Las Vegas Strip.
Located centrally on the Las Vegas Strip, the Asian-themed hotel across the street from the Forum Shops at Caesars and just 4.8kms from the Las Vegas Convention Center. The Imperial Palace Theatre has capacity for 850 guests.
Imperial Palace Entertainment Options
The resort features 23 metre by 14 metre outdoor pool boarded by a rock garden and also features a 12-person spa tub. The resort offers rental cabanas with TVs, ceiling fans and padded lounge chairs.
Imperial Palace Entertainment Options
The Imperial Palace's Auto Collections is the largest classic car showroom in the world with more than $100,000,000 worth of inventory on display and also available for sale. The imperial Palace Auto collection features more than 250 classic, antique, muscle and historically significant cars on display and nearly all vehicles are for sale. Human Nature are now featured at Imperial Palace 6 nights a week.
Imperial Palace Dining Options
Embers – Fine-dining restaurant featuring steak & lobster
Emperor's Buffet – Breakfast, lunch, & dinner buffet
Ginseng 3 – Traditional Korean cuisine – Open 24 hours
Teahouse – 24-hour coffee shop
Pizza Palace – Pizza and salad bar
Burger Palace – Burgers, fast foods and breakfast items
Betty's Diner – Snacks, ice cream, and desserts
Shangri-La – Seasonal pool bar serving snacks and drinks
Hash House A Go Go – "twisted farm food" restaurant
Tropical-decor featured rooms
The Imperial rooms furnishings include armoires and dining sets with bedding sets either white, tan or foral styled. Standard and Deluxe bathrooms feature shower/tub combinations with deep soaking tubs only featured in Luv Tub rooms.
Imperial Palace Accommodation Options
Imperial Palace Deluxe Luv Tub
Imperial Palace Deluxe Room
Imperial Palace Capri Room
Imperial Palace Classic Room
Imperial Palace Deluxe Room Non-Smoking
Address:3535 Las Vegas Blvd S Las Vegas, Nevada 89109
Airport Distance: 4.2km from McCarran International Airport
Luxury Suites: 2640 suites
Penthouses:
Height: 4x 19 story buildings
Built: 1979
Refurbished:1981, 1982, 1986, and 1989
Rules:
Guest Age: Minimum check-in age is 21
Pets: Are allowed (dogs only)
Check-in Time :4pm
Check-out Time :11am
Average Price Low: AUD $35 per suite
Average Price Mid: AUD $75 per suite
Average Price High: AUD $110 per suite
Post Tags: