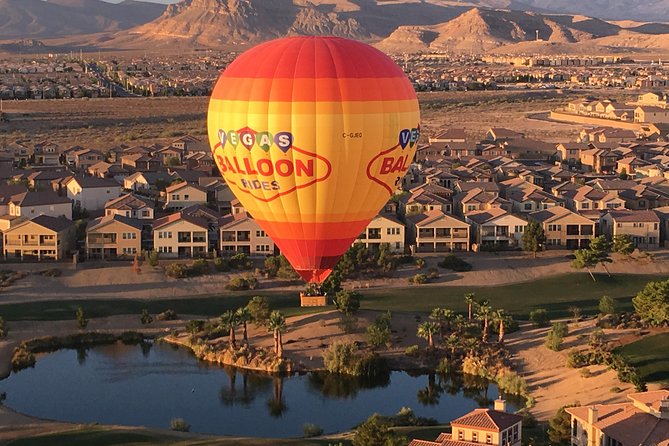 Las Vegas Hot Air Balloon
One of the most romantic times to fly over Las Vegas is at sunrise and the best way to experience it is in a Hot Air Balloon. Escape the hustle and craziness of the Las Vegas strip and gently float where ever the wind takes you for a magically hour before landing to enjoy a champagne breakfast. From your Hot Air balloon you float through the tranquil the Nevada sky feeling the true meaning of peace and tranquillity and unobstructed 360 degree views of Las Vegas, its numerous golf courses and the surrounding landscape.
Your Hot Air Balloon starts in the southwest valley and you rise up over Las Vegas's residential areas with the majestic Red Rock Mountains shown below in the photo to your west and the amazing Las Vegas strip to your east. In a hot air balloon you will rise into the morning sky in silence hardly noticing that you are moving as you float with the gentle Nevada breeze. Its guaranteed that a hot air balloon trip with be the highlight of your Las Vegas vacation.
What is included in your Hot Air Balloon tour?
An experienced licensed FAA pilot
Champagne breakfast
1 hour-long sunrise balloon flight over Las Vegas
Unobstructed views of Las Vegas & surrounding area
Some of the best vacation experiences available
You can now find and book this Las Vegas tour so many other activities directly from Viator.com, but we advised that since many of these sunrise balloon trips sell out quickly you should book ahead to save time and money!