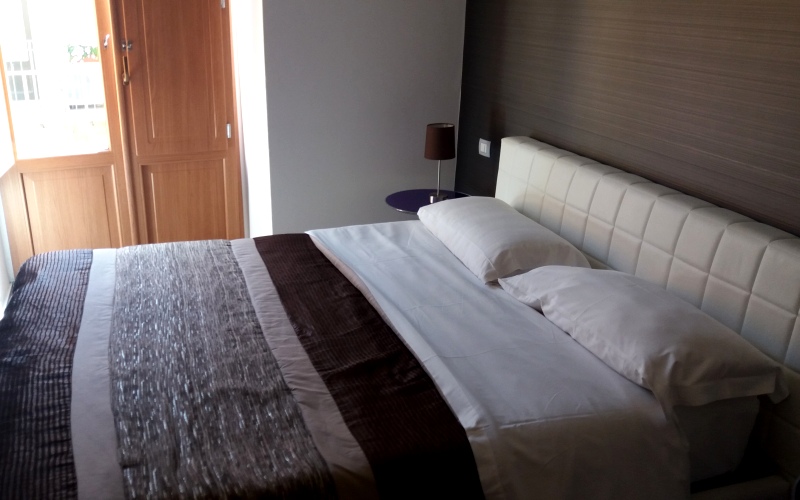 Sogni d'Oro (Airbnb)
When I was planning my trip I felt that one day in Agrigento is enough but to make sure I made the most of my time there I left Palermo earlier than planned to depart on the 12:43pm train instead of the original 15:43pm train I had in mind.  Keep in mind the checkin times for your accommodation as my B&B was from 4pm-830pm so I was lucky that I advised my Agrigento Airbnb that I would be arriving earlier and it was good timing as one of their team Mariarita had just arrived at work early to get everything ready for checkin time. If you arrive outside of these times you can call them direct on +39 347 13 97 653
The Airbnb spot that I had been allocated was a short 5 minute walk from their office location and Mariarita advised that they had upgraded my booking and I was staying in their lovely modern Sogni d'Oro B&B.
This is certainly a lovely modern b&b spot with two wonderful rooftop terraces, and in summer breakfast is served on the top terrace which overlooks the town towards the ocean. Sadly I was too early in the season so it was still a bit cool to eat breakfast on the rooftop patio, but the staff reminded me that I could have easily taken my breakfast outside to the patio if I wanted.
The staff do a wonderful job making sure you have a nice breakfast prepared each morning, the only hiccup was when I asked for Tea and got a lovely cappuccino, after some awkward moments I used Google Image search to show what I wanted. The poor staff member was embarrassed and quickly put the kettle on and found some tea bags in the cupboard.
I had a lovely nights sleep here and the bathroom was modern a good size and the bedroom was a good size. The bed was very comfortable and it was great to have some decent shutters so I could get a bit of a sleep in after several days of getting up early playing tourist.
It was very peaceful at night and I ended up hanging out upstairs taking some photos of the night sky. They also have a common lounge area inside you can spend sometime hanging out if you don't want to spend the whole time in your bedroom or the weather is not nice enough to spend the time on the upstairs patio.
The only negative point is the kitchen in the apartments is for exclusive use for their staff and not guests, not an issue if you are staying one night but for longer it could be useful. The property does have a chilled water filter for fresh water during your stay which is a lovely touch as the local water in Sicily is not always drinkable.
I would certainly recommend staying here if you are coming to Agrigento if it's just for a night like I did or for several nights just be aware you don't have access to the kitchen.
Summary
Reviewer
Review Date
Reviewed Item
Author Rating