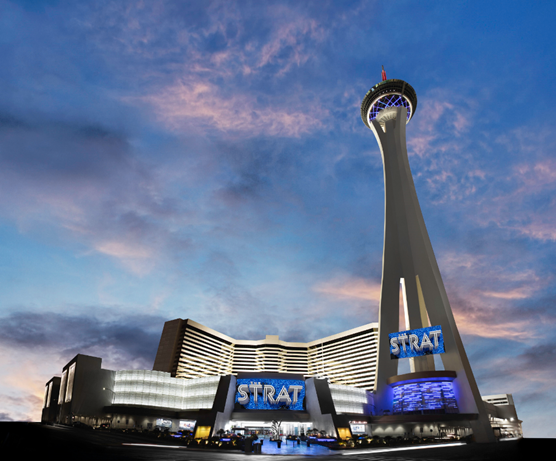 The STRAT Las Vegas
The Las Vegas Stratosphere is now known as The STRAT. Guests are able to take in views of the Las Vegas Strip Stratosphere Tower observation deck (SkyPod) offering 360-degree views of the desert valley. The most northern of the major strip casinos it is the only one actually located in the city of Las Vegas.
The renovated STRAT complex features 80,000 square metre casino offering 750 slot and video poker machines, a poker room, centre bar, race and sports book and 44 table games.
The STRAT Dining Options
Top of the World Restaurant (Revolving restaurant)
Blvd & Main Taphouse
Strat Cafe
McCall's Heartland Grill
108 Eats
Crafted Buffet
Elation Pool cafe & bar
Nunzio's Pizzeria
Starbucks
The STRAT Recreation Facilities
RADIUS° is a European-style, top-optional adult pool experience featuring DJ sets, panoramic skyline views of Vegas and breathtaking mountain scenery 25 stories right above the Las Vegas Strip. It's fully featured 24 hour fitness centre offers free weights, cardio, strength-training for all guests. The renovated property now also features 30 speciality stores including clothing, novelties, arcades and food and drink outlets.
The STRAT Permanent shows
LA Comedy Club
Celestia
MJ Live – Michael Jackson Tribute Concert
The STRAT Signature attractions
The Big Shot – at 329m is the highest thrill ride in the world and accelerates riders from the base at 281m to the top at 329m. The shot reaches 72 km/h generating up to 4Gs with the drop back down being a free fall.
Insanity the Ride – at 270m is the 2nd highest thrill ride in the world and dangles riders over the edge of the tower spinning them in a circular pattern at 64 km/h
XSCREAM – a single top open top car runs along a 21m roller coast track and pivots the riders vertically in a see-saw motion past the edge of the building before breaking sharply.
SkyJump Las Vegas – controlled descent allowing riders to plummet 261 metres holding the Guinness World Record for the highest commercial decelerator decent offering an effect similar to bungee jumping.
The STRAT Room types
Elevate King (1 king)
Elevate Queen (2 queens)
Elite King (1 king)
Elite Queen (2 queens)
Select King (1 king)
Select Queen (2 queens)
Standard King (1 king)
Standard Queen (2 queens)
Tower suite (1 king/1 sofa queen)
Classic family suite (2 queens/1 sofa queen)
Boulevard suite (1 king/1 sofa queen)
Classic grand suite (1 king/1 sofa queen)
The STRAT Las Vegas
Airport Distance: 6.9km from McCarran International Airport
Luxury Suites: 2427 suites
Penthouses:
Tower Height: 113 Stories (350 metres)
Hotel Height: 2x 24 Story buildings
Built:1996
Refurbished:2001 & 2019

Rules:
Guest Age: Minimum check-in age is 21
Pets: Not allowed
Check-in Time :3pm
Check-out Time : 11am
Average Price Low: USD $211 per night
Average Price Mid: USD $415 per suite
Average Price High: AUD $564per suite
Address: 2000 Las Vegas Blvd S Las Vegas, Nevada 89104
Post Tags: