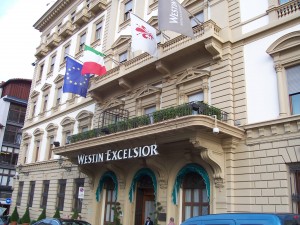 Westin Excelsior Hotel Florence
Florence, Italy is known for its incredible history and romantic views. It's also becoming known for the Westin Excelsior Hotel Florence, the amazing service, and stunning opulence that has come to be expected of a Westin Excelsior Hotel.
Relax from a balcony while taking in a brilliant view of the Arno River and enjoy gorgeous, picturesque spreads of the city sprawled below.
Surrounded by seven centuries of Florentine tradition, this hotel will dazzle the eyes and replenish the spirit. The location is the perfect location for a honeymoon or weekend escape, and it's one of the Florence's preferred venue for official delegations due to it's banquet and meeting facilities.
Rooms & Suites
With a total of 171 rooms and suites, the Excelsior has a price range for everyone and offers period-dated decor to steep the visitor in the experience.
Every room boasts a pillowtop bed for cloud-like perfection and revitalization, soaring ceilings for plenty of space, and sumptuous furnishings to provide a warm stay.
Suites are progressively more spacious and beautiful, culminating in the palatial Presidential Suite on the topmost floor. You can see the amazing rooftop deck you can enjoy in the photo below.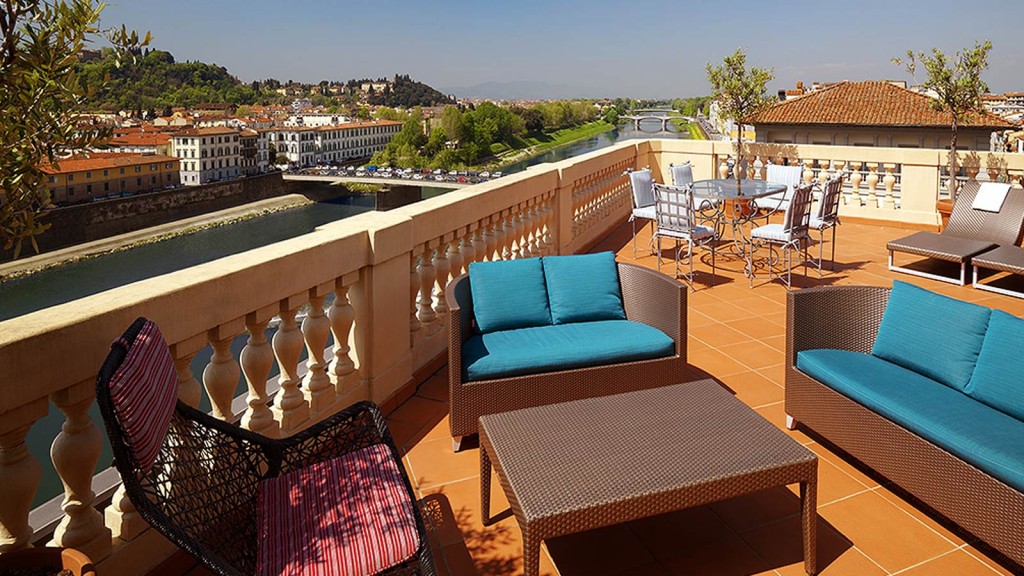 Eateries and Spirits
24-hour room service is just icing on the cake where dining is concerned; the SE-STO on Arno is a glass-encased rooftop restaurant and garden with a phenomenal 360 degree view of the city. Delicious cuisine with bold interpretations wait to delight the tongue whilst the edgy, retro decor ignites the imagination. For light meals and refreshing cocktails try the ORVM lounge off the lobby.

As for nearby attractions, the hotel is uniquely positioned to provide a springboard for many; in fact, most visitors spend the day walking as most museums and other sights are within walking distance of the hotel. Peruse the Stibbert or Bardini Museums, or stroll the Piazza Dè Pitti, one of the most famous Squares in Florence.
Additional Hotel Information
2 kilometres to the Train Station (S M Novella)
8 kilometres to the Airport
Westin Excelsior Hotel Florence Address
Piazza Ognissanti 3 Florence, Italy 50123