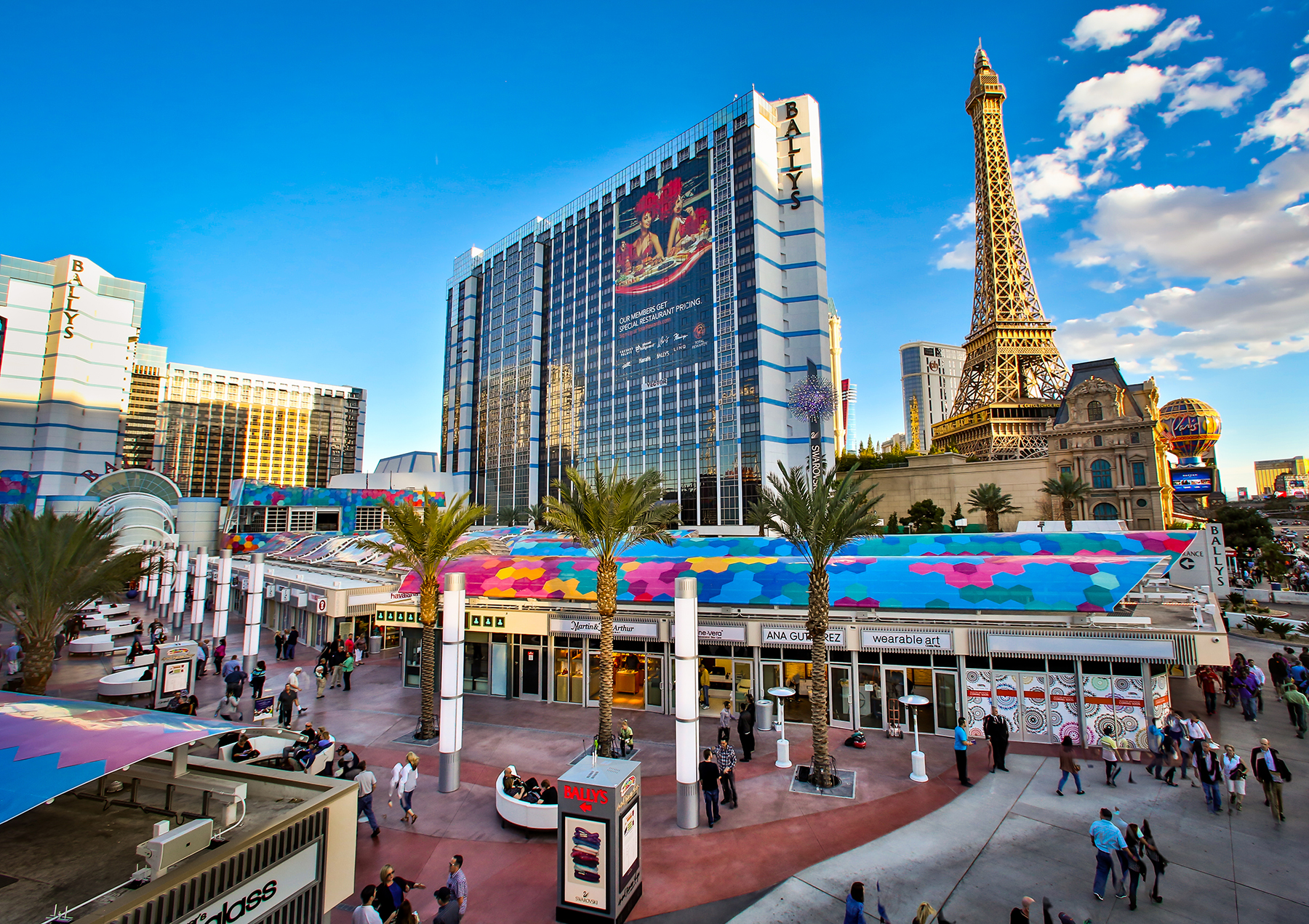 Bally's Las Vegas
As you walk along the Las Vegas strip you will notice that one of the signature features of the hotel is the neon lighting wrapped around the covered moving sidewalk that brings guests from Las Vegas Boulevard to the entrance of the casino while you can hear hits from the Rat Pack blasting out. The Bally's resort has a very large shopping area floor below its gaming level and includes several restaurants. There is also a Las Vegas Monorail station at the rear of the property linking guests to other Las Vegas resorts quickly.
Bally's resort offers a tropical garden with massive 30-person spa tub, a very large swimming pool, open-air bar, and cabanas rentals, complimented by a full-service health spa with multiple spa tubs.
Bally's Entertainment Options
Bally's is home to the long running Jubilee! burlesque show which opened in 1981, the Jubilee! showgirls are an icon of the old Vegas.
Bally's Restaurant Options
Bally's Steakhouse – Reminiscent of a New England hunt club
al Dente – Classic Italian trattoria
Ichiban Sushi – Authentic Japanese cuisine with Rotating sushi bar and traditional table seating
The Tequila Bar – Sidewalk cantina offering Mexican fare with more than 50 different tequilas.
Sidewalk Cafe – Casual dining with American favourites
Java Coast – Coffee house Open 24 hours
Cafe Sbarro – Thin- and stuffed-crust pizzas, other Italian fare
Johnny's Delicatessen – New York-style deli
Nosh – Snack bar
The Terrace Cafe – Poolside café
Room service available 24 hours
Ballys Accommodation Options
Ballys Classic Suite
Ballys Deluxe Suite
Ballys Deluxe Room
Airport Distance: 3.5km from McCarran International Airport
Luxury Suites: 2814 suites
Penthouses:
Height: 26 stories
Built:1973
Refurbished:1981, 1994, 2004

Bally's Rules:
Guest Age: Minimum check-in age is 21
Pets: are considered (dogs only)
Check-in Time :4pm
Check-out Time :11am
Average Price Low: AUD $89 per suite
Average Price Mid: AUD $139 per suite
Average Price High: AUD $214 per suite
Address: 3645 Las Vegas Blvd South, Las Vegas, Nevada 89109
Post Tags: