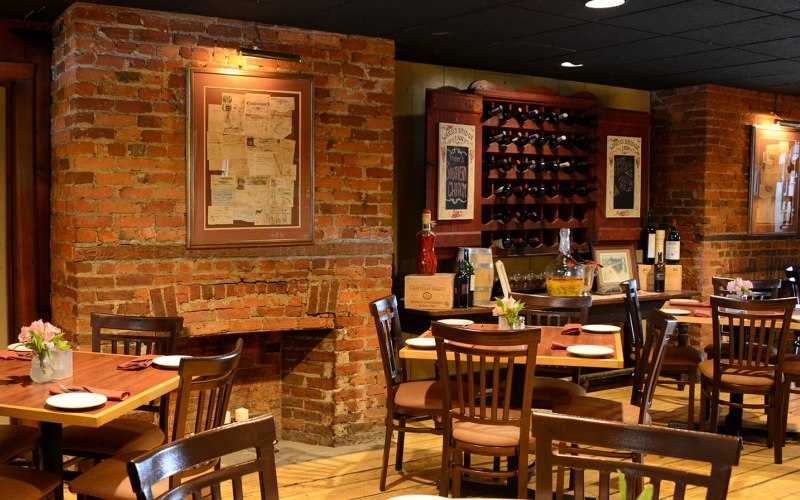 Bridge Cafe NYC
It was almost 6 years ago that I lived in NYC back then I found the Bridge Cafe was a seriously wonderful place for dinner, and being located just between the Brooklyn bridge and south street pier it was a short walk from my apartment in Madison street where I was living.  I found cafe the atmosphere was warm and welcoming with a decent range of beers on tap and one of the best ranges of Whiskey in Manhattan!
The Bridge cafe is the oldest drinking establishment in NYC dating back to 1794 and they have some interesting history such as being a brothel back in the 19th century.  Some of the unexplained activity that was reported included sounds of footsteps from above the bar, feelings of being watched and the smell of perfume, sadly the times I visited I never experienced any of this.
I visited this cafe several times for dinner and every-time the food was amazing and I had an enjoyable time with the staff friendly and the prices were good.  I think I loved most about this place was they were open late which was good if you were looking for a great late night meal.
I often had the almond crusted chicken and only once was lucky enough to try their famous buffalo steak.  They did have a great range of seafood dishes but not really being a fan of seafood I didn't try anything but they have a great reputation for fresh seafood. Below is their recent menu they were serving before they closed for renovations in October 2012 due to hurricane Sandy.
Bridge Cafe Appetizers
Corn & Red Onion Fritters / Jalapeño Cheddar $ 8
Bridge Cafe Salad / Mixed Greens, Baby Spinach, Sliced Bosc Pears, Maytag Blue Cheese, Candied Walnuts & Citrus Vinaigrette $ 9
Herb Breaded Calamari / Spicy Aioli $ 9
Grilled Polenta with Goat Cheese & Woodland Mushroom Ragu $ 12
Steamed P.E.I. Mussels / Appetizer $ 13 or Entree $ 20
Andouille Sausage, Jalapeno Peppers, Cilantro, Spicy Tomato Broth
Sautéed Crab Cakes / Appetizer $ 14 or Entree $ 25
Key Lime, Mango & Avocado Mustard, Floribbean Rice, Sweet Plantains $ 25
Bridge Cafe Entrees
Strata Bercovici / Grilled Vegetables, Roasted Garlic, Caramelized Onions, Coach Farms Goat Cheese, Quinoa with Sweet Pea & Spinach-Chive Puree $ 24
***Smoked Gouda & Almond Crusted Paneed Chicken*** / Sun Dried Tomato & Pesto Beurre Blanc, Mashed Potatoes & Pancetta, Balsamic Glazed Pearl Onions & Shallots $ 24
Grilled Hanger Steak / Shallot Reduction, Pommes Frites $ 24
Honey Lacquered Duck Breast / Dried Fruit & Fig Compote, Cranberry, Pecan & Mushroom Bread Pudding, Onion & Garlic Confit $ 27
Pan Seared Diver Scallops / Bacon & Tomato Jam, Creamy Goat Cheese & Cheddar Grits, Basil Cream $ 27
Grilled Wild Pacific Salmon / Wasabi-Avocado Cream, Grilled Shiitake, Mizuna & Asian Greens, Three Mustard- Miso & Ginger Vinaigrette $ 27
Our Famous Buffalo Steak / Lingonberry Sauce, House Made Potato Gnocchi $ 29
Hereford Beef Filet / Herb Demi-Glace, Rosemary & Parmesan Roasted Fingerling Potatoes, Woodland Mushroom Sauté $ 34
***All Chicken & Eggs Served at the Bridge Cafe are Organic & Free Range***
Brunch Served
Sundays 11:45am-4:00pm
Lunch Served
Monday through Friday 11:45am-4:00pm
Dinner Served
Sundays and Mondays 4:00pm-10:00pm
Tuesdays, Wednesday, and Thursday 4:00pm-11:00pm
Fridays 4:00pm-12:00am
Saturdays 5:00pm-12:00am
Bridge Cafe Address
279 Water Street, New York, NY 10038, United States
Update: This cafe has now temporarily closed for renovation due to Hurricane Sandy damage that is being repaired and due to re-open in May 2016.