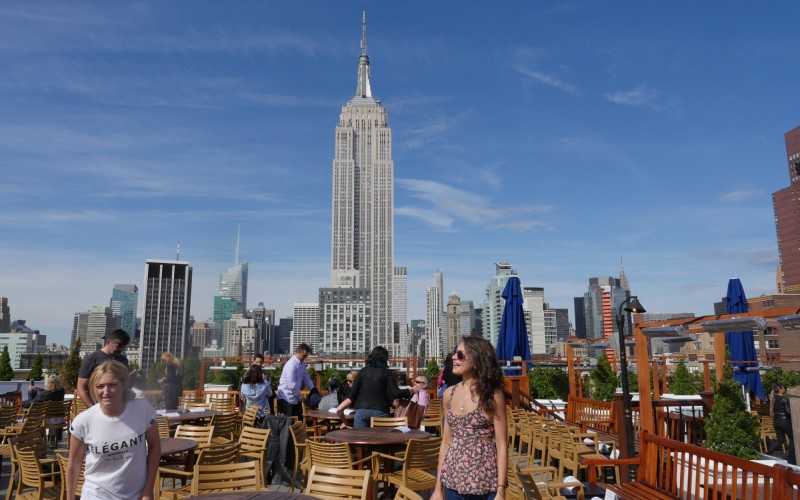 230 Fifth Rooftop Bar Review
230 Fifth Rooftop Bar is one of the largest and best rooftop bars in NY, the club's view of New York City is just amazing.  It is the perfect spot to visit when you are in NYC during almost all seasons, but it's at it's peak in Summer.  Don't worry if it's a colder days as it's partially heated and offers giant dressing gowns to keep you warm.
During the colder days you can grab one of their giant dressing gowns and relax by the heaters as you can see I did when I visited in May 2010 as there is often a bit of a breeze up there.
If you want something a bit more club like you can hang out downstairs in the lounge, but I often ended up my nights out in NYC at this location as I just fell in love with the view.  While it's not the cheapest place to drink, you are here for the social life and to enjoy the view so accept there is a slight premium on the drink prices.
The cocktail prices are reasonable enough for Manhattan with a cocktail for around $14-15 and hot drinks starting from around $5.  So I would suggest you order something you want to enjoy rather than trying to get drunk here, but they do bottle service if you really want to have a big night which is cheaper than buying individual drinks.
So if you are in Manhattan I would suggest visiting 230 @ Fifth for sure, it has the most amazing views of the city and a spectacular view of the Empire State Building without the lone lines.
Dress code tips?
If you are visiting during the day the dress code is fairly relaxed we got in wearing shorts, sandals and a tshirt but if you are going after dark on a Friday or Saturday night you might want to dress up a bit more….
Other NYC Rooftop Bars?
Berry Park (Greenwich Village)
Bar 13 (Greenpoint)
Bookmarks Rooftop Lounge (Midtown)
Plunge Rooftop Lounge @ The Gansevoort (Meatpacking District)
Le Bain @ Standard Hotel (Meatpacking District)
Sky Room (Hells Kitchen)
Vu Bar (Midtown)
Upstairs @ The Kimberly Hotel (Midtown)
The Empire Hotel Pool Deck (Midtown)
Top of the Strand (Midtown)
Gallow Green (Chelsea)
The Delancey (Lower East Side)
230 Fifth Rooftop Bar Address
230 Fifth Avenue, New York, NY 10001, United States