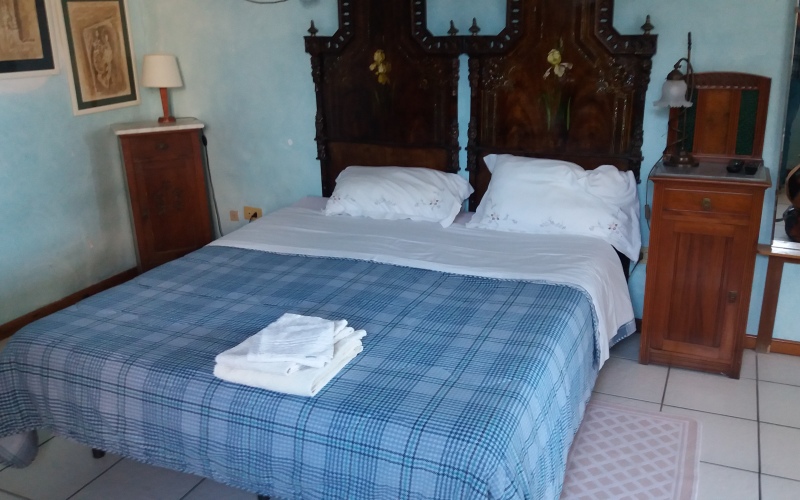 B&B Da Patrizia (HostelWorld)
I ended up looking on HostelWorld for my Lipari accommodation as I had been staying at more expensive Airbnb options for most of the trip.  I decided to pay a little bit extra €45 a night for the deluxe twin private with ensuite since it was my last 4 nights of my holiday.  I sent a WhatsApp message to the property to inform them of my arrival date/time as per their request. The property was located in Canneto which was about a 10-15 minute bus ride from the main town of Lipari.  The town of Canneto is a wonderful spot with a lot of friendly locals and a lovely pebble beach.
One note is that you need to pay for your stay in cash, so either get some money out when you arrive on the ferry or if you walk to the Bar Blu Cafe just a few hundred meters up the beach there is an ATM at the Banca Agricola Popolare Di Ragusa.
The guest house I was staying in was quite nice with a large LCD TV, a comfortable double bed and plenty of power points.  I would advise to close the shutters if you want to sleep in but you can be assured of a peaceful nights sleep.  If you love seeing stars at night you will see some of the most amazing skies that I saw during my whole trip across Sicily because of the low amount of light from the town.  I woke up at 2am and went down to the nearby Canneto pier and enjoyed staring up at the milky way and would also recommend catching a sunrise/sunset or two if you can.
The apartment had a nice sized kitchen with gas stove and dishwasher which I used a few times as it was getting to the end of my trip and my budget was spent.  The only point is that you can't drink the local tap water so get used to drinking and cooking with bottled water only. The apartment also has a washing machine if you are running out of clean clothes which is a nice bonus and you can just hang your clothes on the line outside the kitchen window.
There is a nice kitchen table and small lounge area which I didn't really use much as I usually ate my meal in bed while watching a movie on my laptop.  The only issue was the main fridge was not working but they had organised a small bar fridge that was more than sufficient for my needs.
It was really nice of Patrizia who took me into the garden in the courtyard when i arrived and gave me a large handful of Loquat fruit picked off the tree and three lemons for my tea that were the size of my hand. I had several lovely cups of tea each time with a slice of freshly cut lemon.
I would have to recommend staying at this property if you are looking for somewhere relaxing, I love the town of Canneto and really enjoyed the peace and quite of the area.
B&B Da Patrizia Address: Via Risorgimento 21, Canneto di Lipari, Lipari, Italy
Summary
Reviewer
Review Date
Reviewed Item
Author Rating