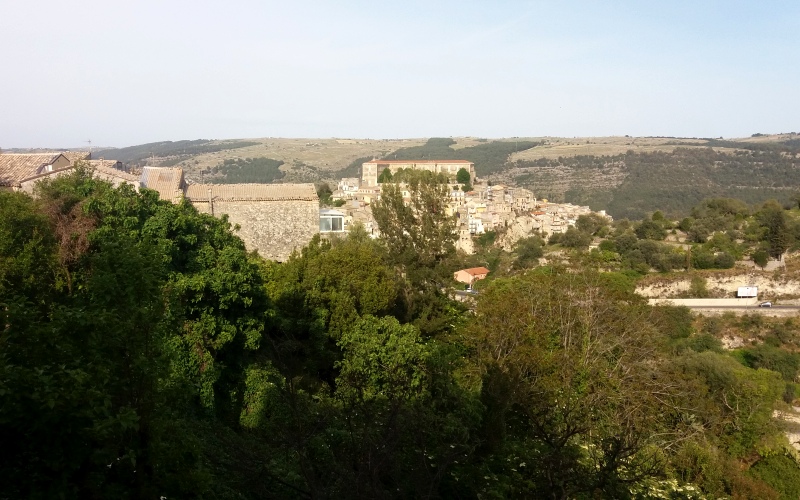 Exploring Ragusa
Ragusa was a most wonderful place, with beautiful buildings, amazing scenery and wonderful food! There are a few areas to Ragusa, the more modern part of the city near Ragusa train station, the area around Piazza Matteotti that has larger hotels, the area of old town "Ragusa Ibla" where I stayed near Chiesa di Santa Maria delle Scale.  There is also the much more expensive places on the upper town "Ragusa Superiore" that offers accommodation nearby Duomo di San Giorgio, San Giuseppe Church or Parrocchia San Tommaso Apostolo.
I had a lovely stay in Ragusa which involved a walk to the upper town just in time for lunch which involved walking down a heap of steps and took around 20-30 minutes.  After lunch I began the trip back up all those hundreds of steps that took about 30-40 minutes with plenty of stops for gorgeous photos.  This town was simply wonderful but is a place that you really gotta love steps and if you really really must drive get the smallest car possible as the streets are crazy narrow.
The only thing I hated about the old town was I couldn't stand walking past Duomo di San Giorgio who had installed some high pitched speakers to deter bats/birds from nesting there but gave me one hell of a headache and made me feel lightheaded and wanting to cry. For this reason I'm glad I wasn't staying anywhere there this church and often took the long walk around to avoid passing nearby it.
Antares PUB Pizzeria di di Benedetto / Giuseppe (dinner)
They have a great range of pizza, red pizza(tomato sauce) , white pizza (cheese) and pizza with diced tomatoes and for those with a sweet tooth the sweet pizzas. I went for the Al porcini which was a pizza with diced tomatoes, mozzarella, porcini mushrooms and ham. It was only €10 which was more so a point that it was their most expensive one so you can easily get a pizza from €3 which is how much I've seen people pay for a single slice on this trip….
The location is great right next to San Giuseppe Church which is a great spot to relax after a busy day sightseeing. They have both an indoor and outdoor seating area I went for the outdoor option as it was still light and I could watch the setting sun change the colours of the buildings which was awesome. They have both English and Italian menus. I've just finished my pizza and it was most magical, the cheese was perfect and not too oily, the base was crisp but not over cooked that you couldn't fold it and shovel it into mouth. Must say you have to drop by and try their pizzas if you are in Ragusa.
Da Luigi (Lunch)
This was probably one of my favourite meals in Sicily for sure, I had amazing Ravioli with tomato and pork sauce that included a pork rib to show it's authenticity.
For dessert I had the best Cannoli with pistachio nuts, it was actually my favourite cannoli of the entire trip. I really should have gone back here for dinner again it was that good, and some of the photos of their other dishes looked amazing!
Address: Corso Vittorio Veneto 96, 97100 Ragusa, Italy
Ristorante Il Barocco (Dinner)
I dropped by here early around 6:30pm and they were not open until 7:30pm so I sat outside in a chair on the patio and read until they opened. The staff didn't mind and they just setup the outside tables for dinner around me.
They were even nice enough to take my order before they officially opened, I went for Tagliatelle Zucca e Ricotta (Tagliatelle with Pumpkin & Fresh Ricotta) which was only 7 euros which was a great deal!
My pasta dish was wonderful and the staff were really great I would recommend dropping by here for dinner if you are in Ragusa.
Address: Via Orfanotrofio 27/29 | Piazza Pola, 97100 , Ragusa, Sicily, Italy
La Bettola (Lunch)
I dropped by here for lunch, sadly all the seats outside were already taken as the sun was out so I ended up sitting inside. The staff were nice and friendly and the place felt really authentic, I started off with Porchetta e mozzarella which was basically mozzarella cheese wrapped in ham and thrown on the grill for a bit…. it was a magic start to my lunch.
For my main dish I went with spaghetti alla siciliana which was quite tasty and a really good deal for just 5 euros.
For dessert I went with 3 small cannoli which tasted nice and was a lovely end to my lunch.
It was a really nice atmosphere and I would recommend this place for lunch for sure and try and reserve a table outside if the weather is nice.
Address: Largo Camerina 7, 97017 Ragusa, Province of Ragusa, Italy
Magna Magna (Dinner)
I had to say I had a pretty good run when it came to pizzas, I picked Magna Magna as it was on the way to the train station. I assumed it would offer takeaway and I was lucky that they just opened when I arrived. The place was mentioned several times as a place that locals choose to go for pizza so I thought I couldn't go wrong. If you check TripAdvisor a majority of the reviews are from Italians which is also another sign that this was a good choice.
The place has won a huge amount of awards for their pizza and watching their staff work was like watching a well choreographed routine, they were experts at work preparing my dinner.
I recall that you can pay with card but cash was preferred by them for smaller orders. I got takeaway and enjoyed my pizza sitting outside of the train station thinking about how Ragusa is such a wonderful city with such amazing food!
Address: Via Dottor Filippo Pennavaria, 44, 97100 Ragusa RG, Italy
Post Tags: